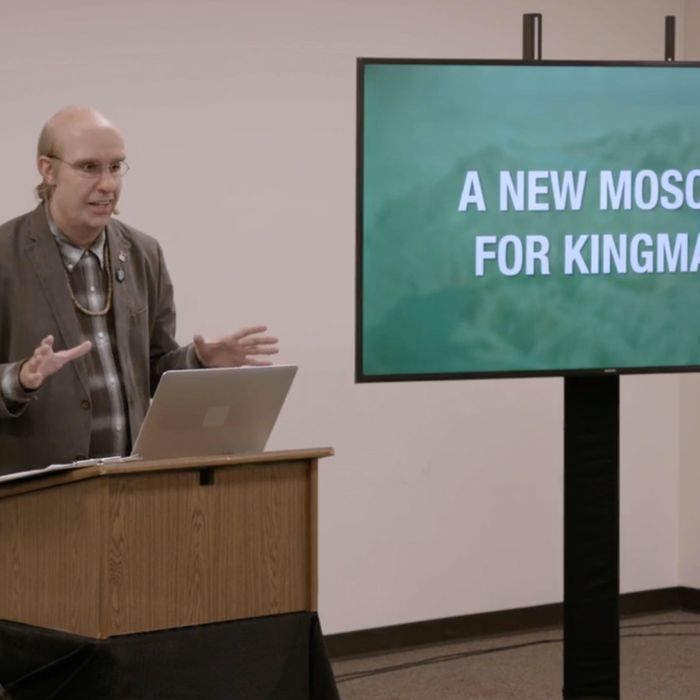 Sacha Baron Cohen on
Who Is America?
Photo: Showtime
When Sacha Baron Cohen went to Kingman, Arizona, to film a prank for Who Is America? episode two, he got exactly what he wanted. After his liberal character, Dr. Nira Cain-N'Degeocello, led a focus group about plans to replace a local shopping center with a $385 million mosque funded by the Saudi government and the Clinton Foundation — plans that, to put it lightly, did not go over well with the attendees — the event received coverage in a local newspaper, well before Baron Cohen's prank victims knew who they were dealing with.
A Mohave Valley Daily News article published on January 3 describes how a reality TV production company called Clear Meadow Films recruited and paid people through Facebook, Craigslist, and other local ads to attend the focus group, in which they signed consent forms before attending what would ultimately become a segment on Who Is America?, where one of the attendees bluntly announced, "I'm racist toward Muslims."
"He said the project was going to be building the world's largest mosque outside of the Middle East. He implied that Muslims would take over our town and we'd all be converted or one would have to move," one attendee told Daily News reporter D.K. McDonald. "I think they were trying to piss us off, just for reactions," another attendee said, "because the stuff they were stating was just absurd."
Here's more from the Daily News report:
"He showed pictures of our town with business signs photoshopped into Muslim languages," Mudge said. "He used many trigger statements like the Muslims would be protected from regular citizens to make sure there were no terror attacks from us."




Mudge, who attended with her husband, said she and some of the other attendees speculated the purported focus group was going to be used to create a show or documentary about hate toward Muslims using the responses from the meeting.




"They claimed it (the filming) was for the architectural firm that was going to build the mosque," she said. "We even tried pointing out to those around us to stop playing into the speaker's hands by responding because it was all a set up. So many members responded with hate, some with blatant racism and a whole lot of ignorance."
The Daily News also reached out to the owner of the Bullhead City Marina Plaza, which Baron Cohen's character claimed would be bulldozed to build the mosque, who called the claim a "bold-faced lie … So to whoever brought this up, it is totally not credible."
When the article was published in January, it quickly circulated on Facebook and several people who attended, or knew people who attended, chimed in with comments:
"My son went to this focus group. He was expecting someone to pop out and say they were on candid camera or some kind of show."




"Hey this did actually happen. I was there and collected my 150.00 thank you very much."




"I don't know about that but we left after the guy in front of us left because it just didn't seem real and $100 each wasn't enough to stay. Another problem we had was not being allowed to have our phones and if an emergency had came up at home then we'd have problems. It wasn't a real focus group and that's why we came. Glad it was fake."




"Reality show sponsored it. Not Trump's but who knows. Have a feeling that they were bad mouthing Arizona due to our heavily right wing reputation. We're not all that way."
In late December, the Bullhead Area Chamber of Commerce addressed the mosque rumor and even claimed that the meeting with Baron Cohen's character never took place. "THE BULLHEAD CITY MARINA PLAZA HAS NOT AND WILL NOT BE SOLD, BULLDOZED, AND BE THE SITE OF A NEW MOSQUE! This is a ridiculous rumor that someone made up, posted on Facebook and it has since sprouted legs with the 'Sky is Falling' crowd," Chamber of Commerce Executive Director John C. Pynakker wrote. "It has even been reported by some of these trolls, that the Bullhead Area Chamber of Commerce was the site of this 'Secret Meeting' where it was hashed out and decided. I can tell you unequivocally, that this meeting NEVER HAPPENED." Under the post are several comments from people who attended the meeting, with one writing, "My husband and I went to it. We were actually paid $150 each because they bused us in from Kingman."
Other Facebook commenters noted that two mosques already exist in Bullhead City and the nearby town of Kingman.
The most prescient Facebook comment in response to the Daily News coverage of the meeting? "Well, except for the part where they take some targeted footage of locals and blanket us as continuing to be back-woods racist morons. Not cool for a community that profits so much from tourism."