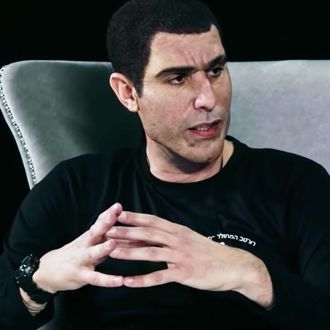 An avalanche of free publicity didn't do much to boost the linear ratings for Sacha Baron Cohen's new Showtime series Who Is America?. Nielsen estimates the same-day linear audience for Sunday's 10 p.m. premiere at 327,000 viewers, a little more than half the tune-in for lead-in The Affair (538,000 viewers) and well below the million-plus viewers who watch Showtime scripted hits such as Shameless and Homeland as soon as they premiere.
That said, the actual audience for the debut of America is already much larger. Including four reruns of the premiere on Sunday night and early Monday morning, the Nielsen tally has already jumped to 702,000 viewers; throw in the 301,000 viewers Showtime says streamed the series, and the number edges just past 1 million. Once delayed viewing kicks in over the next few weeks, it wouldn't be surprising if America — like many premium cable shows these days — ends up quintupling its premiere-night ratings to score an actual audience of 2 or 3 million viewers. Showtime also notes that a ten-minute preview of the series has tallied 10 million views on YouTube since Sunday and that Baron Cohen's controversy-courting comedy contributed to the biggest day of sign-ups for the service's streaming offering (as well as the third-biggest sign-up day since the network began offering a direct-to-consumer option).
All of these caveats sound like spin by Showtime because, well … they are! But it's somewhat justified spin, because in 2018, Nielsen's linear numbers often paint an inaccurate picture of how shows actually resonate (or not) with viewers, or how valuable they are to a network (particularly ones not supported by advertising, like Showtime and HBO). Plus, with linear networks now competing against streaming outlets such as Netflix or Hulu — which can declare shows a "hit" with zero ratings evidence — it's a bit unfair to hold old-school outlets to a higher audience-measurement standard. Showtime got a ton of unpaid advertising for its service in the run-up to America, and will get plenty more as future Baron Cohen pranks play out in coming weeks. That matters for a network that depends on subscription revenue to survive, and it's a metric not measured by Nielsen. And yet, despite all the legitimate reasons for Showtime to minimize the early ratings for America, it's also fair to think the network should be a bit disappointed by the show's debut. The linear premiere number might not be the accurate picture of a show's audience, but it does say something about how big its eventual fan base will be. America didn't score a disastrous debut by Showtime standards, but given all the hype last week, its early ratings — along with the decidedly mixed reviews from critics — offer little evidence to suggest Showtime has found an overnight summer hit, either. Nice? Maybe. Very nice? Nope.