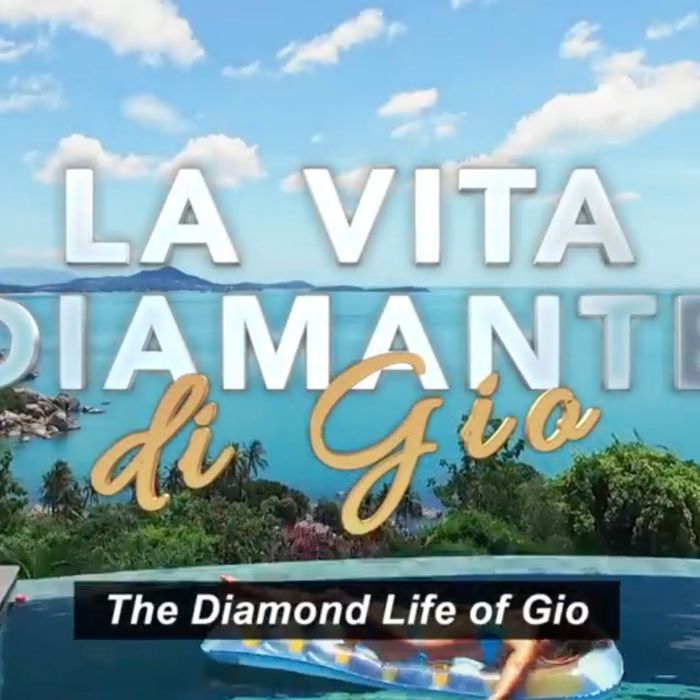 All about Gio Monaldo.
Photo: Showtime
In the second episode of Who Is America?, Sacha Baron Cohen introduced yet another new character: Gio Monaldo, a white-haired, bearded Italian billionaire who dupes Bachelor star Corinne Olympios into recording a pro–child soldier PSA and claiming she spent a month helping kids with Ebola in Sierra Leone. Like Baron Cohen's other characters, Monaldo has a fairly basic online footprint including his own Twitter and Facebook accounts, but his most interesting internet presence is the first Google result that shows up when you search his name: a press release from last September that's titled "Italian Billionaire Gio Monaldo Purchases Tragonisi Island."
Here's the full release:
TRAGONISI ISLAND, Greece, Sept. 18, 2017 /PRNewswire-iReach/

Royal Blue Real Estate today announced the sale of Tragonisi Island, a gorgeous 90 acre isle in the Peloponnese. Purchase terms were not disclosed but the island had previously been listed at €7.2 million. The buyer was identified as Gio Monaldo, the reclusive Italian billionaire known for his lavish real estate purchases.




Tragonisi Island will undoubtedly be one of the crown jewels in his collection, an exclusive, unspoiled island surrounded by shimmering, gorgeous blue waters. Located just off the Grecian coast, Tragonisi Island offers breathtaking panaromic views of its neighboring isles and is primed for both commercial and private development. Athens is a 45 minute boat ride away, while the quaint harbor village of Korfos is a 15 minute trip.




"Today's closing speaks to the unique and exquisite beauty of this island," said Royal Blue's Russell Downs. "We congratulate Mr. Monaldo on his purchase and wish him much success and happiness with the property."




For further press enquiries about the Tragonisi sale please contact Tim Coleman at 323.880.0852.




ABOUT ROYAL BLUE REAL ESTATE

Royal Blue Real Estate represents the finest homes and properties in the United States, Europe, and Australia. With over $100m in sales in 2016, RBRE is one of the most successful independent real estate firms specializing in second homes in the world. For further information please contact Mitch Hurns at 305.902.1030




Media Contact: Tim Coleman, TPR Group, 323.880.0852, timcoleman4488@gmail.com




SOURCE Royal Blue Real Estate
Tragonisi (also referred to as Dragonisi) is an undeveloped private island off the eastern coast of Mykonos. It was featured in a February 2017 roundup by Culture Trip titled "6 Beautiful Greek Islands You Can Actually Buy," and several Greek snorkel and boat tour companies offer day trips to Tragonisi's caves and coves, but aside from that, there's not a whole lot of information about the island online. In other words, it's the perfect thing for Who Is America? to reference as proof of Gio Monaldo's wealth, should any of his prospective victims search his name online to learn more about the guy Corinne Olympios described as a "crazy Italian man."
But did Showtime really purchase an undeveloped Greek island just for the sake of a Sacha Baron Cohen character? After the network and Baron Cohen's representatives declined to comment, and calls to both contacts on the press release went unanswered, we inquired about the island's availability, price, and owners through this online listing on privateislandsonline.com. Here is the response that we received:
This has been owned by a private family for quite some time I am told over decades. The price is 5 million Euros. The taxes are a one time tax at the time of sale according to Greek Law.




What are you looking for in an island?
We're not looking for an island, we're looking for answers!
To corroborate this information, we reached out to a local scuba resort called GoDive Mykonos, which offers cave diving trips to Tragonisi. When asked if the island was for sale, or if they know anything about its current owner, a man named Kostas responded:
This is an old story, sold 50 or more years ago on a local Greek family which leaves in U.S. since then




I don't know anything else…..
We followed up with the representative connected to the sales listing, who clarified in another email:
The owners all live in Greece. It is a large Greek family … But, their is an island close by where one of the owners has a place in the United States but his partner lives in Greece as well. Maybe that is the one you have been informed about.
So, there's your answer. A Greek island has not been sold to an American television network in the name of a fake Italian billionaire created by a British comedian.
The lingering question is, will an upcoming episode reveal why Gio Monaldo's Twitter bio links to the press release? It makes sense, for instance, that someone from Baron Cohen's crew inserted Monaldo's name into the "List of Italians by net worth" Wikipedia page, but when it comes to the bogus private island press releases, was this just meant to bulk up Monaldo's Google results, or should we expect more from this mystery? (Perhaps, just spitballing here, a connection with Mykonos beach club owner Lindsay Lohan?) We'll have to wait for more Who Is America? to find out. Whatever the case may be, this story is a friendly reminder that just you should never trust a press release just because it's published online.