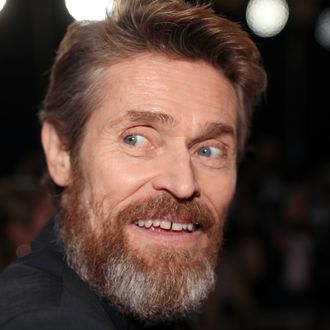 Willem Dafoe.
Photo: Christopher Polk/Getty Images
Based on his oeuvre, some might pigeonhole Willem Dafoe as solely, say, a cackling super-villain or an invisible death god or a husband who definitely should not have hung out with his wife Charlotte Gainsbourg in the woods. However, some of the actor's more recent turns have explored the softer, cuddlier, more Disney side of Willem Dafoe. Which is perfect, since he reportedly just signed on to be one of human stars of Disney's upcoming live-action dog-sled movie Togo.
The film is named for one of the 150 sled dogs that took part in the Great Race of Mercy, delivering a diphtheria treatment to Nome, Alaska, in 1925 and saving the snowbound city from a burgeoning epidemic. You might be familiar with Togo's more famous colleague, Balto, as he is the focus of a 1995 animated film from Amblin Entertainment.
Dafoe will reportedly play Togo's sled driver Leonhard Seppala (who you can see here playing with husky puppies in a video from the Alaska Film Archives and, yeah, looks a lot like Willem Dafoe) in the film, which is being made for Disney's forthcoming streaming service. Two very good dogs, one very good actor.