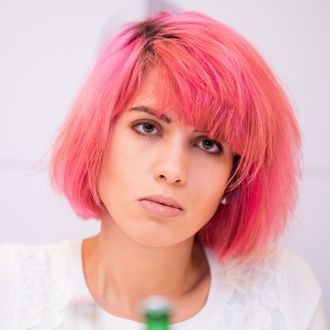 Nadya Tolokonnikova.
Photo: KAY NIETFELD/AFP/Getty Images
If you were knocking back some brewskis and enjoying the World Cup final between France and Croatia a few moments ago, you'd know that the shots of Mbappé joyously running around were temporarily replaced by four people unexpectedly storming the field to disrupt the match. It was swiftly dealt with and the final resumed not more than a minute later — Fox was conscious not to angle the cameras in that direction — under the assumption that some crazed soccer fans tried to get their 15 minutes of fame. But, not so. The feminist Russian band Pussy Riot has claimed responsibility for the organized disruption, writing on their official Twitter account why they were inspired to do so.
"The FIFA World Cup has reminded us of the possibilities of the heavenly policeman in the Great Russia of the future, but the earthly policeman, entering the ruleless game breaks out world apart," they wrote, in part. "When the earthly policeman enters the game, we demand to: 1) Let all political prisoners free. 2) Not imprison for 'likes.'$2 3) Stop illegal arrests on rallies. 4) Allow political competition in the country. 5) Not fabricate criminal accusations and not keep people in jails for no reason. 6) Turn the earthly policeman into the heavenly policeman."
And because we know you'd like photo evidence. Go Mbappé!
France ended up winning the match, 4-2. Bon travail!
Update, July 16, at 9:30 a.m.: The BBC reports that the three members of Pussy Riot and one affiliate who disrupted the World Cup Final — identified as Nika Nikulshina, Olga Kurachyova, Olga Pakhtusova, and Pyotr Verzilov (husband of ex-member Nadya Tolokno) — have been charged with "violating the rules for spectators at sporting events and of wearing police uniforms illegally." They face fines of up to $161 and will have a court hearing on Monday. According to a statement from Pussy Riot, the members were detained overnight, were not permitted to see or speak to their lawyer, and that police are reportedly looking into opening a criminal investigation into Pussy Riot.
Update: 1:15 p.m.: The first Pussy Riot member to appear in court, Nika Nikulshina, has been sentenced to 15 days of "administrative arrest," which she will serve in a "special prison." She has also been banned from attending sporting events.