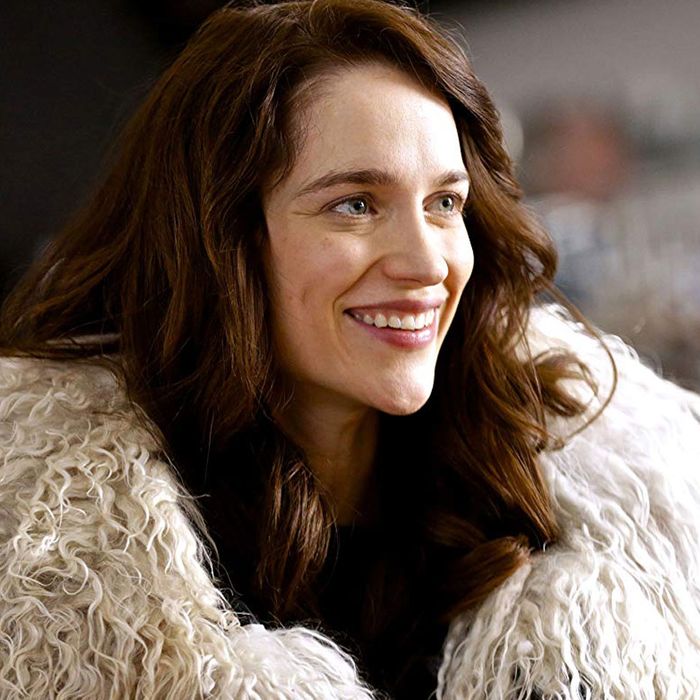 Last October, Morgan Jarrett made an offer to Wynonna Earp fans: She was headed to Derby City Comic-Con in Louisville, Kentucky, and had an extra bed in her hotel room. Did anybody need a place to stay? She put the offer on Twitter — adding that she'd pay for their VIP ticket if they couldn't afford to attend themselves — and it was snatched up within hours. They didn't know each other, but the two fans struck a fast friendship around their shared love of the Syfy series. Later, another Wynonna Earp fan would offer Jarrett a free hotel room for another convention, remembering that she had once done the same.
"You'll find that we do things like that in this fandom," Jarrett says. "That is something that I've never seen in any other fandom out there, or heard of other fandoms doing."
Welcome to the world of Earpers, as fans of Wynonna Earp call themselves. They are the most passionate devotees of the sci-fi Western series — which follows Wyatt Earp's great-granddaughter, Wynonna (Melanie Scrofano), as she fights demons and other supernatural creatures alongside Doc Holliday (Tim Rozon), her younger sister Waverly (Dominique Provost-Chalkley), and a mutant deputy marshal named Xavier Dolls (Shamier Anderson) — but what makes their fandom so unique is a tremendous capacity for kindness.
Earpers who need help with anything, including math tests, stolen glasses, surgery, and grief, tweet out requests tagged with #EarperSupport, and roughly 30 volunteers in different time zones around the world manage the @EarperSupport handle to offer round-the-clock aid. Fans have even offered each other places to stay — not just hotel rooms, but for people who are moving, those in transit due to cancelled flights, or even victims affected by hurricanes. They refer to this spirit as "Earp It Forward." In honor of the third season, which premiered last Friday, fans started a campaign to fundraise for the National Women's Law Center in the U.S. and the Women's Legal Education and Action Fund in Canada. Last month, a group of fan artists responded to U.S. immigration policies by donating their work to raise money for RAICES, a Texas nonprofit that provides immigration legal services, focusing on immigrant children, families, and refugees. And last year, they raised more than $12,000 for the LGBTQ media-advocacy organization GLAAD.
Earpers are all the more remarkable because not every fandom is like them. In June, Star Wars: The Last Jedi actor Kelly Marie Tran quit Instagram after being harassed by angry fans online, just as fellow star Daisy Ridley did two years ago. Jar Jar Binks actor Ahmed Best recently revealed that he contemplated suicide after the backlash from The Phantom Menace almost 20 years ago. And toxic fandom is far from limited to the Star Wars universe.
So, how did Wynonna Earp not only avoid the toxic-fandom problem, but create such a nice community? "It's simple. It's a fandom built on acceptance and kindness above all else," star Tim Rozon wrote in an email. "At a time when the world can feel so scary, this fandom is a safe place to be."
Heather Patterson, an avid Wynonna Earp fan who's gotten mail, greeting cards, and gifts from Earpers around the world, says she has never seen any fandom as supportive as the Earper community. A Marine Corps veteran with severe anxiety and depression, Patterson says that during a particularly bad night last year, she tweeted that she was struggling. "Immediately, the responses I started getting of support were from Earpers … people that I barely knew and some of them I had never met," she says.
That sense of support and inclusion is unfortunately rare in other fandoms. Erika Ensign, one of the hosts of the Wynonna Earp podcast Earp Chirp, also hosts two Doctor Who podcasts and often sees a phenomenon that she calls the gatekeeping quiz: "Usually, if a woman or a teenage girl says something nice about Doctor Who either at a convention or on Twitter, they will get usually a middle-aged white guy coming in and saying, 'Oh, you like this show? Well, can you name all 13 Doctors?'" she says. "They'll ask a question that requires a deep amount of nitpicky knowledge and implies that if this girl doesn't actually know the answer to whatever silly question they're being asked, that they're not a true fan. I've seen it happen so many times, and it makes me just want to tear my hair out because that's dumb."
But Ensign has not seen anything like that among Earpers. "It's got this love and joy at the core of the show," she says. "It seems like maybe that's just jerk-repellant."
According to showrunner Emily Andras, fans are also responding to the fact that the Wynonna Earp team "really, really" likes each other. "The audience may have picked up on this and understood that we were simply not going to tolerate cruelty or bullying among ourselves or in the fandom; that we were going to be inclusive to anyone who loves the show and wants to celebrate it," she wrote in an email.
"The fandom is doing a lot of things right," Andras added. "They welcome newbies and celebrate each other's fan art, opinions, jokes, and fan fiction. They do a TON of charity work in the name of the show. They're also very good-looking."
Jacinta Yanders, a Ph.D. candidate at the department of english at Ohio State University, recently wrote an academic article about how Wynonna Earp created such a positive fandom. Alongside direct interactions with Earpers — like using a fan's suggestion to name a character's cat, and sharing fan art on the show's official social-media accounts — Yanders says that Andras does a good job of being a "self-aware showrunner" by balancing the need to create narrative tension with an understanding about what fans want. While the first season was airing, for example, Earpers feared that a beloved couple — Waverly and her girlfriend, Nicole Haught (Katherine Barrell) — would fall victim to the Bury Your Gays trope, in which LGBTQ characters are often killed off. Mid-season, Andras promised that both characters would definitely survive. "It seems like an actual embrace of fans rather than just utilizing the fans," Yanders says.
Given that awareness, it's no surprise that many fans credit Andras with setting the positive example that Earpers follow. Heather Patterson remembers meeting the showrunner for the first time at a Las Vegas convention in 2017, and Andras already knew her name from Twitter. "We are the luckiest fans in the world," Patterson said. "This might sound really silly, but we want to make Emily proud. We want to say, 'You gave us this thing, so we want to show you how grateful we are by associating it with kindness.'"