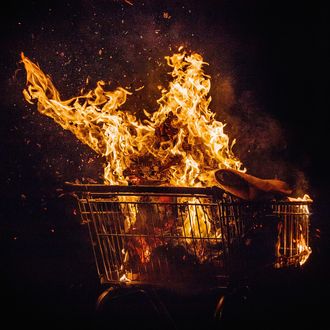 Let it burn, baby!
Photo: Getty Images
The ink isn't even dry on all the lawsuits still coming out from under the ash of Fyre Festival, and yet here we are a year later with a copycat. XO Music Festival was meant to be held this weekend in Antioch, California, headlined by a mix of golden-age rappers — Biz Markie, Flavor Flav, Bone Thugs-N-Harmony … Vanilla Ice? — and more current artists like Ludacris and T.I., but you already know where this story is headed. The festival was reportedly abruptly canceled on Wednesday citing "the promoters' lack of fulfilling contractual obligations," despite reassurances from the festival on Instagram that very same day that "regardless of all the fake media, we are still planning our festival."
Rolling Stone reports that, days prior to the cancellation, several acts on the lineup began dropping like flies due to lack of payments and concerns from managers that it was all a giant scam. "Things didn't add up. It was fraud from the start," one booker told R.S. Suspicions were first raised when the festival had to change its name over an infringement claim from another festival. Then, it was discovered that XO's mystery promoter, Sami Habib, had recently been arrested for a high-end real-estate scam. The festival also claimed that Ludacris would headline, despite his tour schedule having him booked at another festival that same weekend; it also listed Sirius XM as a sponsor, which Sirius denied to R.S.
Tickets for the three-day festival ranged from $375 to $2,495, meanwhile several managers tell R.S. that the festival failed to provide artists compensation, written contracts, or any details. (Habib claimed to have spent $700,000 on the festival, with $100,000 apparently meant to book Ludacris.) The festival reportedly blamed the cancellation on poor ticket sales and negative press coverage in an email to artists. According to an artist who spoke to Habib, the promoter says he has refunded 1,000 festivalgoers. XO has yet to issue any official statement about the cancellation or refunds. According to R.S., it's not yet known if the festival could be taken to court. Start fanning the flames!