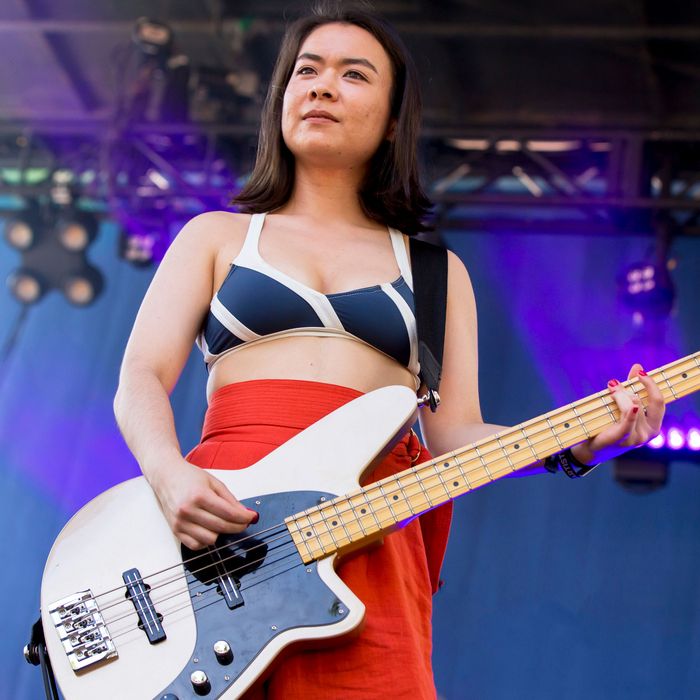 Photo: Michael Hickey/Getty Images
Earlier this month, the incomparable indie rock songwriter Mitski released her fifth album, Be the Cowboy. On it, slinky disco and country twinges intermingle with her ever-discerning ear for bringing revealing characters to life. It's a huge a sonic leap for a songwriter who, since 2012's Lush, has shown that she possesses a preternatural ability to encapsulate the messiness of growing up, falling in and out of love — and trying to find a foothold within a constant whiplash of changing people in a shifting world. In celebration of the new album, we've selected ten brilliant songs from her growing catalogue that illustrate her singular gifts for wordplay and songwriting.
"Fireproof"
Mitski's been known to pepper unexpected and sensational covers in her live sets (I'm still thinking about her rendition of "How Deep Is Your Love?"). But last year, she recorded a distortion-laden cover of One Direction's "Fireproof" for the First 100 Days benefit compilation. It's endlessly listenable, much like the original, but in a completely different way: What was originally an effervescent song becomes an absolute barnburner with Mitski's touch.
"Once More to See You"
On the bass-driven "Once More to See You," Mitski delivers a heartbreaking ode to grappling with a love that's in stalemate. She and her beloved fear judgment from the world if they make their love known ("we do have reputations," she says) but are incapable of being alone together. At once, this secret is a shared bond and a burden: "If you would let me give you pinky promise kisses / Then I wouldn't have to scream your name atop of every roof in the city of my heart."
"Dan the Dancer"
The breakneck "Dan the Dancer" puts two of Mitski's great talents — for buoyant wordplay and taking on the perspective of a new character — front and center. She introduces the titular Dan as someone having "very long limbs, from leading day to day," then details him as someone who lives on a very particular edge: "Hanging onto a cliff that stretched him every day," now with only one hand because he extended it to a loved one. And through this, she's able to unpack the struggle it often is to show yourself fully to someone else.
"A Burning Hill"
"A Burning Hill" is nothing short of a revelation, a mastery of perspective that takes listeners through the role of observer and participant alike. This stripped-down number is a culmination of the growing pains Mitski orbits in Puberty 2. In particular, she pinpoints the fact that she's "tired of wanting more / I think I'm finally worn," all while trying to "love the littler things" amid going to work and sleeping. Sometimes that's all we can do, and that's okay!
"First Love/Late Spring"
The bittersweet nature of loving someone is a frequent fixture of Mitski's universe. "First Love/Late Spring" is at once a confession and a plea, the simultaneous realization that love is at once life-giving and life-altering. "Wild women don't get the blues / But I find that / Lately I've been crying like a tall child," she admits. Then, she sighs in the chorus: "So please, hurry, leave me, I can't breathe," amid twinkles of piano and a mighty percussive section.
"Jobless Monday"
Few songwriters are as adept at picking apart the intricacies of intimacy as Mitski, and it's especially true of songs like "Jobless Monday," one of the many standouts on Makeout Creek. In just over two minutes, she struggles to get by without money to eat, while contending with a lover who "only loves me when / there's a means he means to end." The song rises high and fast, not unlike the adrenaline rush of a doomed love, as she wishes for when they first met ("He didn't know me yet," she wryly admits) while pleading for him to just do normal stuff like take her out in the daylight.
"Last Words of a Shooting Star"
The closing song on Makeout Creek, "Last Words of a Shooting Star" is a smoldering guitar ballad that also delivers some of the most devastating lyrics Mitski's ever penned. In it, she sings a farewell tune from the perspective of someone who lived a fleeting life. She imagines people walking into her home after she's passed away, at once feeling relief at the fact that "that I'd left my room tidy / They'll think of me kindly / When they come for my things," while noting how "they'll never know how I'd stared at the dark in that room / With no thoughts / Like a blood-sniffing shark."
"I Want You"
While studying at SUNY Purchase, Mitski recorded her second album, Retired From Sad, New Career in Business, as her senior project that also featured her working with a 60-piece student orchestra. The collaboration is illuminating, not least because it suggested early on that Mitski was thinking about big sounds while drawing attention to a decidedly human struggle: indecision.
"Abbey"
Mitski's incredible vocal range — capable of shifting from snarls to howls at will — has always been an element central to her songwriting. In this early song from Lush, she toys with her voice as an instrument, allowing it to swirl around her words through vocal acrobatics and loops. It's a display of another side of her vocal talents while acting as a potent affirmation: "I am something / I have been something," she sings.
"Liquid Smooth"
Mitski's first two albums, 2012's Lush and 2013's Retired From Sad, New Career in Business, were informed by her work as a studio composition major in college. Back then, she was mostly using piano to tell her stories through song. Yet her keen examinations of the futility of beauty, identity, and love — a fixture of her work — are evident from the first track from her first album. In it, she acknowledges the inevitability of aging ("Biology, I am an organism, I'm chemical") while simultaneously making an uncompromising statement about desire.