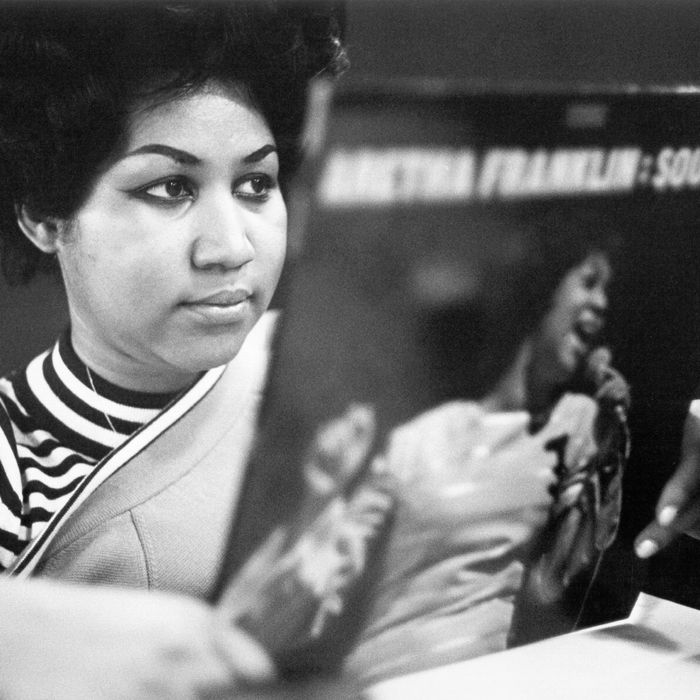 Photo: Michael Ochs Archives/This content is subject to copyright.
When Aretha Franklin sang, everyone who listened felt the purest version of heartbreak, love, or joy. Whichever way she wanted to bend your heart, she could. Hers is the pen behind some of American music's most enduring songs, but when she decided to cover someone else's, she took it in exciting, emotional, and usually jaw-dropping new directions. She was capable of tearing other people's songs in half and putting them back together in her own image — always adding or taking away just enough. Here are ten songs she covered and made her own.
"The Thrill Is Gone," 1970. Original Artist: Roy Hawkins
When Aretha accompanied herself on piano, something magical happened. Although Roy Hawkins originally recorded this song, it was the great blues guitarist and singer B.B. King who transformed it into a megahit. Aretha, undaunted by treading on already well-trodden ground, brought her own fresh despair to the classic tune. She had just split from her husband and manager Ted White amid reports of domestic abuse. Her voice here lays bare all her pain, but also a wild, angry joy. Midway through the song, she inserted her own deeply personal version of Martin Luther King Jr.'s famous celebration: "Thank God almighty, I'm free at last."
"Jumpin' Jack Flash," 1986. Original Artist: The Rolling Stones
Like "The Thrill Is Gone," this cover features Aretha on piano. It also features the Stones' unstoppable guitar combination of Keith Richards and Ronnie Wood, which helps give this version some of its colossal funk. Part London, part Delta, all rock and roll, this song really earns the exuberant "Hallelujah!" it ends with. No shade at Mick Jagger — he's one of the most powerful vocalists of all time. But Aretha effortlessly surpasses him here by both bringing the legendary bravado he's famous for … and also staying on pitch.
"Bridge Over Troubled Water," 1971. Original Artist: Simon and Garfunkel
Aretha's Grammy-winning performance of Paul Simon's emotional classic brings the song back to its gospel roots. The Queen of Soul's voice shines bright as usual, but this version is a timeless tribute to her humility — the background vocals and the backing band take the spotlight here. Aretha doesn't even come in with the verse until nearly two minutes in, instead choosing to let an extended piano intro set the mood. In her cover of one of the world's greatest songs about friendship, Aretha gives her companions some room to glow.
"Rolling in the Deep" / "Ain't No Mountain High Enough," 2014. Original Artists: Adele / Marvin Gaye
This live performance, recorded on The Late Show With David Letterman, is not perfect. At 72 years old, she can't quite capture the same energy of her most famous live performances. The backing band is good, but not all the vocalists know all the lyrics. This performance merits inclusion on this list because it shows that at 72, not only could she still truly belt, but she was also still willing to innovate and incorporate new ideas into her music. Covering Adele might have been a smart commercial choice, but mashing her up with Marvin Gaye is a bold artistic one. And if nothing else, that couldn't be anyone but Aretha up there, carrying a full band straight into the stratosphere long after most singers' voices have dried up.
"The Weight," 1970. Original Artist: The Band
If you still needed convincing that Aretha Franklin could sing anything she wanted to, this should change your mind. It might not have been immediately obvious in 1970 that she could add her own spin to the Band's country-tinged folk rock, but she knew her way around music. This version is another testament to her capacity for collaboration; her voice intertwines beautifully with the haunting-but-funky slide-guitar work of the Allman Brothers' Duane Allman.
"Love the One You're With," 1971. Original Artist: Stephen Stills
What does joy sound like? This. Just don't listen to the lyrics of this questionably intentioned Stephen Stills song: "And if you can't be with the one you love, honey / Love the one you're with." Singing a song about settling, Aretha Franklin manages to exude pure happiness and love of the world — transforming what is at best a "huh?" moment into an ode to contentment and finding triumph within yourself.
"Eleanor Rigby," 1970. Original Artist: The Beatles
In one of her signature lyrical twists, Aretha Franklin takes Paul McCartney's deep dive into a wretched life — and sings it in the first person. She speeds it up, puts it in a major key, and turns the Beatles' saddest song into an uplifting personal anthem. She doesn't pretend the lyrics describe anything other than sadness, but she sings it happy, like she's acknowledging life's defeats and turning them into victories.
"You'll Never Walk Alone," 1972. Original Artists: Rodgers and Hammerstein
"You'll Never Walk Alone" is a song from Rodgers and Hammerstein's classic musical Carousel. It's a song of comfort, sung by one friend to another after the death of the latter's husband. Aretha could sing anything, but she sounds particularly at home here, joined by a full backing choir, singing a song of solace. It's a role that she'd best fill right about now.
"Respect," 1967. Original Artist: Otis Redding
When Otis Redding recorded "Respect," it was a hit. When Aretha recorded it, it became the song of the civil-rights movement. It wasn't just that her voice was more powerful. She rearranged and rewrote it, giving it a new groove and momentum. She also reversed its political message. What in Otis Redding's voice had been a plea for respect from a woman, Aretha Franklin's demanded respect from a man — and from everyone. Its appeal has been so universal and long-lived that it is still played at protests around the country.
"(You Make Me Feel Like) A Natural Woman," 2015. Original Artist: Carole King
Aretha initially recorded this cover, to great success, nearly 50 years before she performed it at the Kennedy Center Honors as a tribute to Carole King, who was receiving the award. Everything comes together here. Aretha strides out onto the stage. From the moment she opens her mouth, King's eyes are wet. She starts out on the piano, but soon she gets up and walks to the center of the stage, as if she knows the sounds coming out of her mouth need to take priority. When, toward the end of the performance, she takes off her massive fur coat and throws it to the ground mid-syllable, the entire Kennedy Center gets to its feet in acknowledgment of a titan.