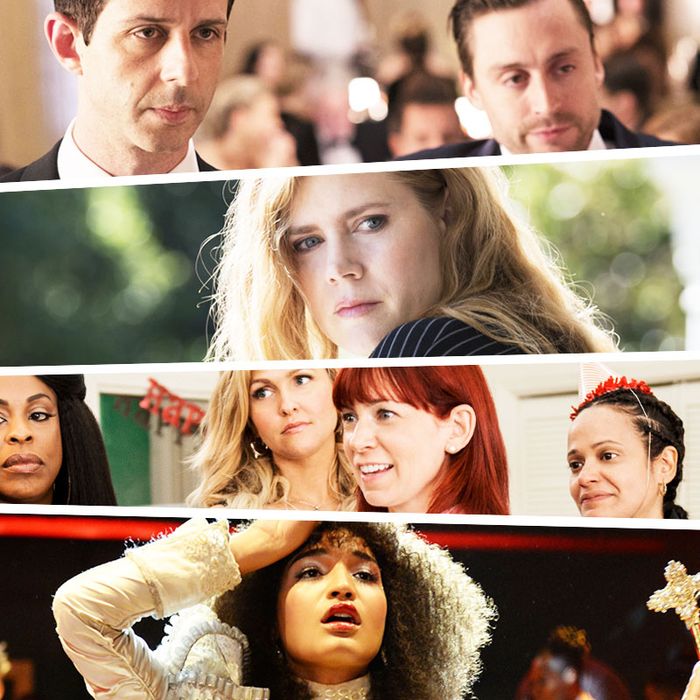 Breakout hits don't come along as often as they used to in television, and this summer has been no exception. It's not that audiences abandoned TV after Memorial Day: Unscripted warm-weather warhorses such as America's Got Talent, Big Brother, and The Bachelorette keep plugging along on the broadcast networks, while Power, Fear the Walking Dead, Better Call Saul, and a pair of queens (Queen of the South and Queen Sugar) continue to stand out on cable. And while seasons don't matter much in the streaming universe — and streamers don't release audience numbers — no doubt Netflix racked up plenty of views (if not universal acclaim) for new seasons of summer stalwarts Orange Is the New Black and Arrested Development.
But if this year's post–Memorial Day TV lineup has lacked a new series with the combined ratings and cultural impact of previous summer sizzlers — think Survivor, Under the Dome, Mr. Robot, or Stranger Things — there have still been some very clear standouts. Defining what's a "hit" in Peak TV has become increasingly difficult and subjective, but a number of shows this summer either drew a big crowd (as measured by Nielsen) or managed to generate sizable levels of buzz and critical acclaim. Here are 11 of the season's biggest winners.
Yellowstone
Back in 2016, Netflix and the other major streaming services were heavily courting Kevin Costner to star in a series, offering him an eye-popping half-million dollars per episode for his services. The actor passed, and executives at Paramount Network are no doubt grateful: The project to which Costner ultimately said "yes" — family Western Yellowstone — is easily the most successful new show of the summer, at least in terms of ratings. The show's June premiere attracted 5.3 million viewers within its first three days, the biggest audience for a basic cable drama since 2016's The People v. O.J. Simpson: American Crime Story. More impressively, Yellowstone maintained its early momentum, and among younger viewers, the series actually grew more popular over the course of its run. The show's seventh episode on August 8, for instance, drew a 1.3 rating among adults 18-49 (including three days of DVR and streaming) compared to 1.1 for the premiere. After last week's finale, Yellowstone's overall average audience for the season stood at 5 million viewers and a 1.4 rating among adults under 50. The only basic cable series with a bigger viewership this year? AMC's The Walking Dead.
It's worth noting Yellowstone snagged its very large ratings mostly by appealing to a slightly older audience base. Per Nielsen data provided by Paramount Network, 92 percent of the show's audience is over the age of 35. Normally, cable networks get worried when their shows skew too old, since advertisers tend to pay a premium for younger eyeballs. But in the case of Yellowstone, the big-tent strategy looks to be a winner. Because the show's audience is so big (by modern-day linear TV standards), the demo numbers were still very strong, allowing Yellowstone to finish among the three biggest scripted shows on cable most weeks. Yellowstone also did incredibly well with audiences away from the West and East Coasts: Among adults under 55, Costner's drama notched a 2.6 rating with audiences who live in Southwestern states, more than double its rating with those who live in the Northeast (1.1). And while the show ranks No. 10 on the national list of most-played summer titles among Comcast Xfinity video-on-demand users, it's No. 3 with audiences in the Salt Lake City area. Perhaps that's why Yellowstone hasn't landed nearly as many magazine covers and website listicles as its ratings suggest it deserves.
Claws
In an age when it's become common for linear TV hits to start strong and then quickly fade in subsequent seasons, TNT's Claws looks like it has legs. The Niecy Nash–led drama first showed signs of breaking out last year, when its audience grew a stunning 42 percent over the course of its first season. The trend continued this summer. Though it no longer grew week-to-week, Claws maintained all of its freshman year viewership (2.3 million), which in 2018 ranks as a minor miracle. The show's season-two premiere also jumped 38 percent versus its series premiere a year earlier, and this month's finale ended up with a bigger same-day audience than the season premiere. Claws is also getting a lot more online buzz, with its mentions on Twitter and Instagram growing by 64 percent and 134 percent, respectively, compared to season one. Overall, Claws is on track to finish 2018 as one of the year's ten biggest cable dramas. Not surprisingly, TNT has already renewed it for a third season.
Sharp Objects
The network of True Detective and Big Little Lies scored another limited-series hit this summer with its Amy Adams–led adaptation of Gillian Flynn's best seller. Including replays, encore showings, and streams, HBO estimates Sharp Objects has already reached an average audience of 7 million viewers. While that's down a bit from the roughly 8 million viewers BLL had notched at a similar point in its run (and the 8.5 million it ultimately achieved), it still puts the audience for Sharp Objects on par with other upscale HBO success stories such as The Night Of and Veep. (And it's still possible it will match BLL: Overall viewership of Sunday's finale jumped 40 percent from the penultimate episode, to series highs, while same-day tune in for the finale virtually matched that for BLL's season ender). Perhaps most importantly for HBO, however: The Marti Noxon–penned and Jean-Marc Vallée–directed drama promises to be a major contender during the 2019 awards season. Critics have been almost universally enthusiastic, and Adams seems a lock to land best actress nominations. In the age of delayed viewing, such buzz takes on increasing importance: HBO and its new owners at AT&T will be using Sharp Objects as a marketing hook to lure new subscribers to its digital product for months (or maybe even years) to come.
Pose
Ryan Murphy, who's now at Netflix, ended his long FX career with one more weekly series success. Pose isn't the producer's most-watched FX show — not by a mile — yet season one of the groundbreaking period piece set in the world of New York's ball culture still did well. While its same-day linear viewership was modest, when you including streaming and on demand, FX research estimates Pose had an average audience of 2.7 million viewers per episode. As with many modern-day hits, a big chunk of the show's fan base — roughly 25 percent — didn't watch on FX proper, while even most of those who saw it on "TV" didn't watch Pose on Sundays when new episodes premiered. But in a sign of strong word of mouth, its linear audience actually went up as the eight-episode first season unspooled: Pose's season finale was its most-watched hour in the traditional (read: not streaming) ratings. It didn't hurt that critics raved about season one and praised it as a feel-good tonic for decidedly down times.
Dr. Pimple Popper
A reality show about a dermatologist who specializes in zit extractions? It sounds like an SNL sketch gone wrong, but it's no joke in the ratings. TLC's reality series about YouTube sensation Dr. Sandra Lee exploded in popularity over the course of its debut season's six-week run, so much so that its August 15 finale managed to beat new episodes of unscripted stalwarts such as Bravo's Real Housewives of New York City and HGTV's Property Brothers, while also outdrawing expensive scripted shows such as Suits, The Sinner, and Queen Sugar. Plus, Pimple Popper's popularity seems to be spreading more quickly than a 16-year-old's blackhead infestation: The 2.8 million people who watched the finale was way up from the July premiere (2.4 million) and more than double what a January one-off special drew (1.2 million viewers, including DVR replays). Unsurprisingly, TLC has announced plans for a second season of the show early in 2019.
GLOW
Season one of Netflix's 1980s-set comedy didn't exactly fly under the radar, but as Vulture's Jen Chaney noted this time last year, its pop-culture half-life seemed pretty short. Not so with the show's sophomore effort. GLOW's second season was warmly embraced by critics, who were if anything slightly more enthusiastic about this summer's episodes than its initial outing. The series, which tackled issues of sexual harassment in the workplace months before the Harvey Weinstein scandal broke, effectively leaned into the #MeToo Zeitgeist with plot points that felt particularly relevant now. Indeed, the show overall seemed to have more moments and episodes to feed the TV buzz machine: Ruth's horrific encounter with the network exec, Tamme's visit to her son at Stanford, the stand-alone show-within-a-show episode, Bash's story line (no spoilers here). It also probably helped that just as season two hit the world, Netflix's Emmy marketing machine kicked into overdrive on behalf of season one, further helping GLOW stand out. As with all streaming shows, there's precious little concrete evidence to suggest GLOW shined brighter this summer, but it sure felt that way.
Live PD
A&E's under-the-radar reality-show hit — it's basically Cops reimagined for the age of livestreaming — isn't technically a summer show, since it airs year-round. But it's on this list because its summer ratings and the launch of a couple spinoffs underscore how it's morphed into an all-out franchise phenom. Since Memorial Day, Live PD has been the No. 1 show on all of TV in the key adults 18-49 demo on both Friday and Saturday nights. Its overall audience of 2 million viewers is up 15 percent from last summer, making it one of the few big series in 2018 to grow year-to-year. Even though linear TV generally sees audience levels erode noticeably in warm weather months (when folks presumably turn to outdoor activities or go on vacation), Live PD's ratings have gone up across the board compared to its winter and spring performance. Unsurprisingly, the show's popularity has spawned two spinoffs, both of which premiered this summer: Live PD Presents: PD Cam (also airing on A&E) and Live PD: Women on Patrol (airing on A&E sister network Lifetime).
Making It
When NBC announced it was doing a reality show about crafting hosted by Amy Poehler and Nick Offerman, many TV industry insiders assumed the network was simply trying to maintain good relations with the two actors in anticipation of snagging their next scripted series (or even a Parks & Rec revival). What few thought likely was that the show would turn into a hit. But indeed, the low-key and utterly charming Making It has been both a critical and commercial summer success. The show has a perfect 100 percent score on Rotten Tomatoes (almost unheard of in the reality-TV world) and it's also the most-watched new series of the summer (cable or broadcast) in terms of same-day audience, with about 4.4 million viewers tuning in on Tuesday nights.
To be sure, Making It has gotten a pretty major boost from airing behind the summer powerhouse that is America's Got Talent. (Side note: AGT is averaging 14 million viewers this year, down less than 10 percent versus 2017 and a bigger audience than most regular-season shows). But Making It is also doing well by other metrics where lead-ins don't matter. The show's premiere episode has already logged more than 1.1 million full-episode streams, making it the biggest-ever unscripted premieres on NBC's nonlinear platforms (including Hulu plays). In addition to doing well with adults under 50, Making It is also getting very strong tune-in from college-educated viewers with incomes over $100,000. We're not sure how Leslie Knope would feel about appealing to the kinds of folks who might live in Eagleton, but NBC execs are probably overjoyed: The reality series just got ordered for a second season.
Nanette
Netflix doesn't share viewership information about its shows (except when it does), so there's no data-driven case to make for the success of Hannah Gadsby's comedy special. Anecdotally, however, it's quite possibly the buzziest TV program of the summer. Critics were the first to start preaching the gospel according to Nanette — the program has a 100 percent score on Rotten Tomatoes — with an army of acolytes on Twitter soon joining the chorus of praise. Like Gadsby's special itself, the Nanette raves have been distinguished by their emotional intensity: Folks don't just recommend the program, they talk about it as something close to a religious experience. The special spurred so many online commentaries, the New York Times actually published an article about … the articles written about Nanette. And Hollywood clearly thinks Gadsby has struck a nerve: She recently signed on with talent agency UTA for representation and struck a book deal.
Succession
HBO's latest prestige drama-comedy makes the cut as a summer hit more in anticipation of its future growth potential than for its Nielsen performance. It's not that sharply satiric hour from British scribe Jesse Armstrong and director Adam McKay did horribly in terms of audience: HBO estimates the show reached 4.2 million viewers across its various platforms, a better tune-in than several other programs on this list. It's also doing particularly well on VOD: Along with Yellowstone, it's one of only two new series to land make the Xfinity top 20 list of most-played summer shows. Ratings also grew over the show's run, with the finale earning Succession's biggest same-day audience of the season. Still, the overall numbers for the show are at the low end of what the premium cable giant expects for its dramas, particularly since the show followed big HBO hits Westworld and Sharp Objects over the course of its run. What makes Succession a winner is how it managed to win the buzz war as its ten-episode season unspooled. After what even many fans of the show admitted was a so-so start, the last few episodes of the season seemed to catch fire with both critics and online chatterers. HBO execs seemed similarly encouraged and gave Succession a second season renewal just a week after its premiere — a big vote of confidence that suggests the network is betting on potential as much as performance.
Who Is America?
Showtime's launch of its new Sacha Baron Cohen series was masterful: Borrowing a page from the Beyoncé and The Cloverfield Paradox playbooks, the network officially took the wraps off the project less than a week before its first episode aired (and just a few days after Cohen took to social media to start teasing he had something in the works). The guerrilla nature of the campaign resulted in Who is America? becoming as much a news event as a comedy series, with political reporters covering the show as much as entertainment journalists. (One supremely idiotic Georgia state representative was even forced to resign as a result of one episode.) All of this has been a solid win for Showtime, which doesn't have a Bill Maher or John Oliver churning out viral content every week. Yes, the same-day ratings for Who Is America? have been tepid, but the show's stickiness has pushed overall multi-platform viewership up to a respectable 3.4 million viewership and resulted in roughly 34 million online views of various clips.