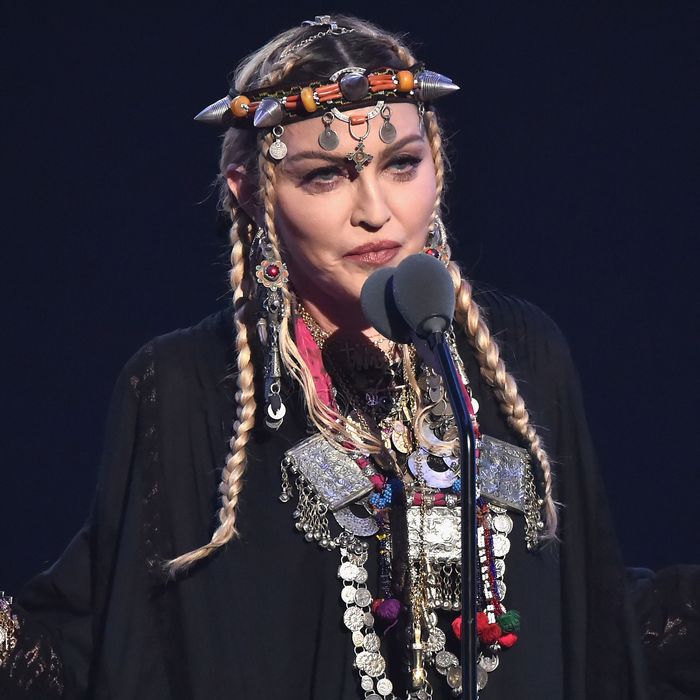 We're still processing this.
Photo: Kevin Mazur/WireImage
Congratulations, Earth, you have endured another zany VMAs and lived to talk about it the next morning. On Monday night, MTV put on its yearly music circus (this year at Radio City Music Hall), servicing all your needs and then a bunch of extra things no one asked for. There was Jennifer Lopez in bejeweled Timbs performing with Ja Rule, Cardi B calling someone a bitch, an announcement of The Hills reboot, plus whatever in God's name Madonna thought she was doing when she spoke about Aretha Franklin. Let's walk you through the highs and lows, but watch your step. It goes sideways real quick.
HIGH: Shawn Mendes, in a white tank, soaked.
See also: the state of my panties.
LOW: Tiffany Haddish dissing Fifth Harmony.
Even if it did bless us with this excellent Camila Cabello reaction shot, that was some real low-hanging fruit for our poor defunct 5H.
HIGH: Jennifer Lopez's performance.
She received the Michael Jackson Video Vanguard Award by performing in bedazzled Timb heels, in front of a fake 6 train, and shook her infamous derrière with Ja Rule's (!) assistance. Because that's how the BX gets down.
Low: Madonna's Aretha Franklin … tribute?
On the one hand, Madonna had to have been high for this. On the other hand, she swung real low and missed big time. Rather than stage an actual tribute to the Queen of Soul, MTV decided it would be best to have Madonna test out some more stand-up material on us without our consent by sharing a story about how Aretha tangentially saved her from becoming a crack whore. There was a point in there somewhere, but we'll let you know when we find it.
HIGH: A-Rod fully transforming into Instagram husband.
Just look at Mr. Lopez.
Whoa: Post Malone and Aerosmith's mash-up.
On the one hand, Jam Master Jay didn't die for this. On the other hand, the VMAs most certainly did. Absurd mash-ups is their legacy, own it.
HIGH: Nicki Minaj and Ariana Grande whispering like school girls.
We imagine they were saying, "Quick, let's make it look like we're whispering about something juicy. You side-eye. I'll smirk. Camera, set, action!"
Whoa: Nico Tortorella's lewk.
Melania Trump is feverishly Googling for the designer as we speak.
Whoa: Ariana Grande and Pete Davidson's lovefest.
On the one hand, we got Ariana thanking Pete for his existence. On the other hand, we got Ariana thanking Pete for his existence. And a million camera cutaways to their every move.
HIGH: Amber Rose's lewk.
Paging Marvel. The time has come to recast Daredevil again.
LOW: The Backstreet Boys' karaoke machine.
Giving alleged rapist Nick Carter all that screen time (BSB also headlined the preshow), in this economy, was certainly a choice.
HIGH: Latin artists winning big.
It's one thing to pay lip service to diversity with multicultural nominations. It's another thing entirely to actually deliver on the promise. Latin artists were the night's biggest winners, with Cardi B collecting Best New Artist and Song of the Summer; Camila Cabello taking Video of the Year and Artist of the Year; Jennifer Lopez winning the Video Vanguard Award and Best Collaboration; and J Balvin for Best Latin Video. Let's just hope this isn't a one-off.
LOW: Cardi B didn't bring Kulture.
But she did bring a demonstration of how to expertly call someone a bitch.
Whoa: The Hills reboot.
On the one hand, Spencer Pratt and his crystals will retake their rightful place on reality television once more. On the other hand, where the hell are LC and Kristin?
LOW: Shawn Mendes presenting J.Lo with the Video Vanguard Award.
Now, we love Shawn (see above), but we are also not lunatics. Because, reader, we hate to tell you this, but he wasn't even born yet when J.Lo made Selena. By "Waiting for Tonight," he was merely in diapers. We'll give you some time to process this jarring news.
HIGH: Rihanna twirling around unbothered about this little award show.
Meanwhile in Cuba …