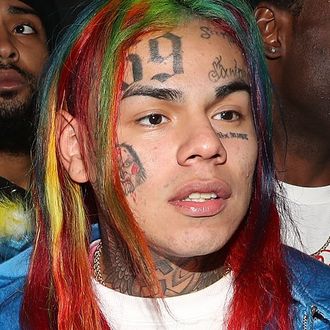 6ix9ine.
Photo: Shareif Ziyadat/Getty Images
Brooklyn rapper 6ix9ine (or Tekashi69), who most recently featured Nicki Minaj on his single "FEFE," might soon be a jailed sex offender. The controversial rapper, whose real name is Daniel Hernandez, pleaded guilty to "the use of a child in a sexual performance" back in 2015 over videos he posted of himself partying with a 13-year-old girl. The plea agreement included a stipulation that he not get in trouble again, and since then he's been arrested for assault, driving on a suspended license, and assaulting a police officer. It's not a great look, and so at a sentencing hearing on Thursday the Manhattan District Attorney's office asked the judge to revoke the plea deal, sentencing the rapper to between one and three years in jail and requiring him to register as a sex offender.
The plea deal would've also prevented him from having a criminal record after completing probation, but the DA is arguing that because of his arrests, and his social-media posts, which they argue "promote a culture of violence and glorify gang activity," he no longer deserves the clean slate. "Defendant's behavior undermines any argument that the interests of justice are served by relieving him from the onus of a criminal record," prosecutor Sara Weiss wrote. Hernandez is due back in court on October 2.