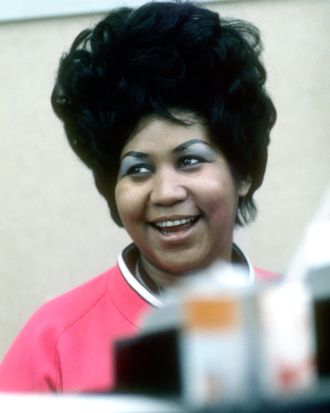 Photo: Michael Ochs Archives/Getty Images
Think! (Think!) You better think about how you treat Aretha Franklin. The Queen of Soul, who died today at 76, had a personality just as powerful and awe-inducing as her voice: By pen, pointed shade, or fax machine, the soul diva wouldn't let an insult slide or stifle her opinion. Her voice was substantial and iconic — imagine listening to an Aretha anthem without being left weak-kneed and teary-eyed — but her antics offstage were just as noteworthy. Whether she was throwing shade at fellow divas or saving the Grammys, Aretha Franklin did it her way. Although she's had many, many more, here are a collection of her most iconic moments.
She refused to be body shamed.
Liz Smith, a columnist at the New York Post wrote that Aretha Franklin was "much too bosomy" to wear certain types of clothes, but that her confidence makes it work. Franklin shut down that backhanded compliment with a simple letter, detailing the facts of the matter.
She was obsessed with having fireworks during her concerts.
New York Magazine reported on Aretha's sudden love for pyrotechnics in 1995. An apparently novel idea then, the singer showed off an "impressive display" of pyrotechnics during a charity performance for KISS-FM. Ever since then, she was said to demand fireworks at all her shows. And why wouldn't she? A voice that electric deserves an electrifying display.
When Luciano Pavarotti was too ill to sing at the 1998 Grammys, Aretha stepped in.
In a stunning show of raw talent and professionalism, Aretha Franklin performed the aria "Nessun Dorma" during the Grammys' "In Memoriam" segment. When pressed for a replacement, that year's producer, Ken Ehrlich, went to Aretha.
"And she said she wanted to hear the dress rehearsal," he told the U.K.'s Far Out magazine "In those days we had a boombox with a cassette. And I brought it to her and played it for her. When she heard it, she said, 'Yeah, I can do this.'" Needless to say, she did not disappoint.
She offered some key career advice to Fantasia Barrino.
When Aretha found out that Fantasia was mad about being left out of her Grammys tribute, the queen of soul sent a sweetly worded reply to USA Today. "Fantasia is still young in the business," she explained, "and although we all love and appreciate her she must understand that in this business of show business she will not always get to participate in everything she would like to participate in." Aretha may have been "sorry to hear that Fantasia was upset," but her response is essentially a shrug of finely clothed shoulders.
She sent the pettiest fax in recorded history to the Associated Press.
At Whitney Houston's funeral in 2012, Whitney's aunt Dionne Warwick mentioned that Aretha wasn't there, but of course, she was there in spirit, since she is Whitney's godmother. Sweet words, except Aretha Franklin was not Whitney Houston's godmother. Five years later — because a diva never forgets! — she sent a fax to the AP to clarify Warwick's error. "Franklin said she first met Houston when Houston was a child — and she was far too busy to be anyone's godmother," the AP reported. She simply didn't have the time!
She had to censor some lyrics while singing Mariah Carey's "Touch My Body."
We love when two queens are in conversation! While covering Mariah Carey's hit song, Franklin, whose father was a preacher, had to pass on some of Carey's more risqué lyrics. Specifically, she gave the crowd a little look instead of singing the words "I just wanna make you feel / Like you never did. / Touch my body / Let me wrap my thighs / All around your waist / Just a little taste."
She once stopped a phone interview so she could catch the action on a soap opera.
What you couldn't do is interrupt Aretha Franklin and her stories. In a Smash Hits roundup of anecdotes about her highness, the magazine reported that Franklin kept stopping phone interview because "she didn't want to miss what was happening in her favorite TV soap opera."
No one could come between her and her furs.
When PETA vice-president Dan Mathews said Aretha looked like a "court jester" while wearing furs, she flat-out ignored his mean-spirited request to lay off the coats. He needed to learn some respect, anyway. Instead, she wore them whenever she wanted, including the time her voice brought Barack Obama to tears, also the performance where she tossed a mink coat right on the floor.
And, finally: Aretha Franklin's candid thoughts on Nicki Minaj and Taylor Swift.
In a display we can only call the perfect example of throwing shade, Aretha revealed her true thoughts about Taylor Swift. "Oh-kay — great gowns, beautiful gowns." Nothing about her talent, Aretha? We hear you. Already started, she goes on to say "No comment" when asked about Nicki Minaj. We hear that, too, Aretha.