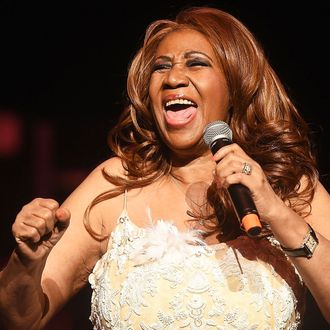 Aretha Franklin.
Photo: Paras Griffin/Getty Images
An unexpected news item popped up today amidst the deluge of remembrances, obituaries, and tributes to Aretha Franklin. A Queen of Soul–related dispute ended in a shootout in Virginia. According to local Virginia station WTKR, two Virginians were arguing "over whether or not Halle Berry played Aretha Franklin in a movie," when the fight turned physical, and then one pulled a gun. Police say the gunshot victim is in serious condition.
Halle Berry declined to play Franklin in a potential biopic, saying she couldn't do the singer justice because she couldn't sing. Despite this, Aretha maintained the Berry would be best to portray her: "I would've liked Halle Berry to portray the older Aretha in the upcoming biopic of my life based on my memoir, Aretha: From These Roots. She was my first choice, everything's subject to negotiation, and she shouldn't underestimate her own talent," Franklin told Wendy Williams, via telegram in 2011. "There are a number of other leading ladies out there that can definitely handle the role. I never expected Halle to sing. She's an actress, not a singer. Many actors have portrayed vocalists by lip-syncing to the artists' original recordings." Eventually, Jennifer Hudson was attached to a biopic based on the singer's life.