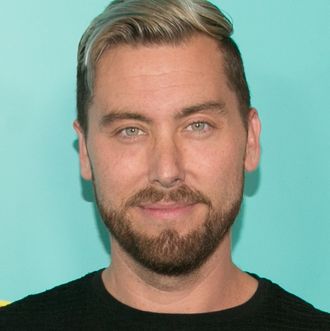 Lance Bass.
Photo: Gabriel Olsen/WireImage
This story has everything: Lance Bass of 'N Sync fame, one of the two Property Brothers, The Brady Bunch, and HGTV. Unlike the Drake and Josh house (Gen Z, make some noise), which was destroyed earlier this year, the Brady Bunch house went up for sale in mid-July, thus starting the wildest real-estate story of the year. Long live the summer of scam!
July 18 - The Los Angeles Times reports that Brady Bunch house is up for sale, courtesy of the now-deceased owners' grandkids. The plan is to avoid developers who just want to bulldoze it, and instead sell to someone who will treasure the 59-year-old home.
July 20 - Lance Bass discusses plans to buy the home on Big Brother Off the Block. "I'm obviously obsessed with The Brady Bunch," he tells host Ross Mathews. "I mean, I grew up watching that show … I'm going to go look at it, because I want to buy this house."
July 26 - From one superstar to another, sources disclose to Us Weekly that Miley Cyrus is also interested in purchasing the $1.885 million home. A forever home for her, Liam Hemsworth, and all her pets? Not quite — there's no further word about a bid by Cyrus.
August 3 - Lance Bass tweets that his offer on the Brady Bunch house was accepted! He happily replies to his followers, letting them know he plans to redo the inside to look exactly like the show's set and throw some dinner parties where the main course is pork chops and applesauce.
We haven't been this interested in real estate since Serena Williams confessed her guilty pleasure is buying property.
August 4 - Jonathan Silver Scott, a.k.a. half of the Property Brothers, a remodeling show on HGTV, tweets at Bass — and do we detect a little bit of shade? Most of the tweet is pretty chill, but tagging HGTV on the end is a little like secretly having a friend listening in on a three-way call. Very Mean Girls!
August 5 - Lance Bass writes a superlong Instagram caption (ever heard of the iPhone Notes app, Bass?) saying that he has been outbid for the home after being told it was accepted. The mystery buyer with big pockets? All Bass reveals is that it's a "Corporate Buyer (Hollywood studio)."
August 6 - The day after Bass said "bye, bye, bye" to his house, he posted a photo of himself and a Snickers bar that says "shady" to his Instagram story. Is this a dig at the real-estate agents? The corporate buyer? Or just a cute pic that isn't good enough for his grid, but deserves to be seen? I've been there.
August 7 - You know how in Scooby-Doo, the villain's mask is pulled off and it's always the unsuspecting secondary character you already forgot about? Welcome back to the stage, HGTV!  Deadline reported that Discovery CEO David Zaslav made the announcement during their earnings call, saying:
"One of our projects for HGTV will speak to those Brady Bunch fans on the call. You may have heard that the house from the iconic series was recently on the market in California. I'm excited to share that HGTV is the winning bidder and will restore the Brady Bunch home to its 1970s glory as only HGTV can. More detail to come over the next few months but we'll bring all the resources to bear to tell safe, fun stories about this beloved piece of American TV history."
Lance Bass hasn't responded publicly since the news broke, but there's not much left to do except watch reruns and cry. A source with knowledge of the transaction told The Hollywood Reporter, "There was never even a contract and now he is crying foul trying to save face for speaking too soon. But this is his own doing. It was a rookie move."
Let this be a lesson learned: When you play the game of real estate, you win or you die.
August 9: According to sources at TMZ, HGTV privately reached out to Bass and will meet with the network next week to discuss him joining the renovation project. No further details have been announced, but the two parties did share a nice moment on Twitter.