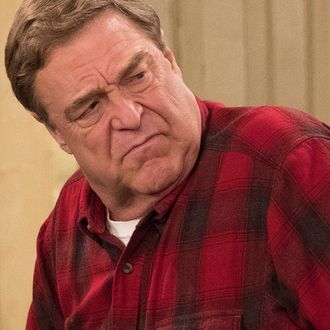 Actor John Goodman on the revival of
Roseanne
.
Photo: Adam Rose/ABC via Getty Images
ABC Entertainment president Channing Dungey spoke with reporters at TCA this week about the upcoming Roseanne spin-off The Conners. Or, actually, she spoke with reporters about what she couldn't say, which was plenty. Apparently the showrunners are playing things so close to the vest, they reportedly aren't even using emails and everything is being hand-delivered. Not totally surprising since the digital nightmare that sunk the fictional family's last show was enough to have all of us throwing our computers out the window.
The one thing Dungey could reveal was that the show would continue to feature the Conner family as it was, sans Roseanne. But beyond alluding to a continuation of the same themes, Dungey said the showrunners have "taken a page out of the Marvel and Shondaland playbook" in regards to secrecy. So for now all we can do is speculate which side will win in the coming Conner Family Infinity War.