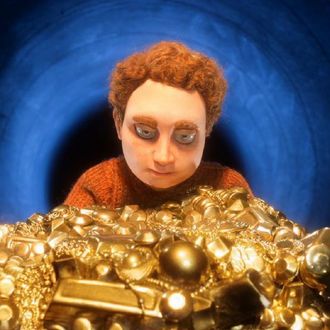 The Shivering Truth.
Photo: Adult Swim
Adult Swim has added two new animated comedy series to its slate today. The first show ordered by the network, titled The Shivering Truth, is a stop-motion anthology series created and written by PFFR's Vernon Chatman (Wonder Showzen, The Heart, She Holler) described as "a miniature propulsive omnibus clusterbomb of painfully riotous daymares, all dripping with the orange goo of dream logic" that will include a "series of loosely-linked emotional parables about stories within tales that crawled out of the deepest caverns of your unconscious mind and became lovingly animated in breath-slapping stop motion — in other words, it is the TRUTH."
Chatman directed the series alongside Cat Solen (Take My Wife), and they will also executive produce with the rest of PFFR (John Lee, Alyson Levy, and Jim Tozzi). The show was originally ordered as a pilot last year and featured Chatman, Jonah Hill, Michael Cera, and Starlee Kine voicing the main cast. It is slated to debut sometime later this year.
The second new comedy is a quarter-hour series titled Tigtone, which was created by Andrew Koehler and Benjamin Martin and counts Workaholics alum Blake Anderson as an executive producer. The show centers on the titular "quest-addicted hero who slashes his way through a satirical fantasy universe with melodramatic ferocity and a complete disregard for the collateral damage he inflicts along the way." According to Adult Swim's press release, the series "both celebrates and subverts tropes of the fantasy genre, role playing games, video games, and films," and will be a collection of different animation styles, including hand-painted fantasy art, 2-D, motion capture, and more. It will premiere sometime in 2019.
ShadowMachine (Robot Chicken, BoJack Horseman) is the animation studio behind The Shivering Truth, while Titmouse (The Venture Bros., Big Mouth) will provide the animation for Tigtone.