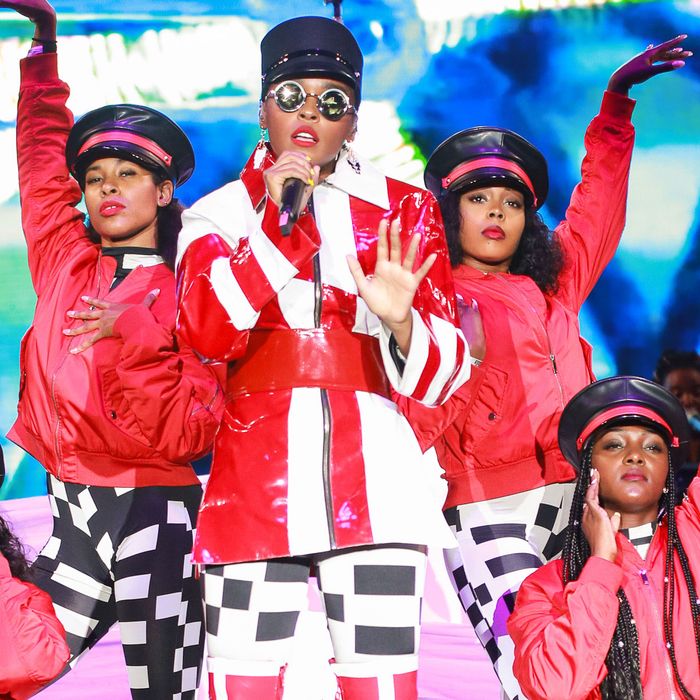 Photo: Jason Mendez/Getty Images
When we talk about Afropunk, Brooklyn's annual festival for black people and by black people, it's usually in awe of the resplendent, DIY fashion. (And for good reason.) But beyond being a celebration of black beauty and ingenuity, it's a communal gathering around music and the arts. This year's festival saw performances from Kaytranada, the Internet, Tyler the Creator, Daniel Caesar, Miguel, Janelle Monáe, Erykah Badu, and even a special guest appearance from the Sturgeon Moon. Vulture was on the ground for the whole weekend; here are the best moments you missed.
Erykah Badu and Janelle Monáe performing together in the crowd.
After performing her own set on the main stage, Monáe later joined queen Erykah Badu for a surprise joint performance to end the night and the festival. Badu brought her own moon to the stage as part of her backdrop, but naturally, there was already a full moon in Pisces overhead beaming directly on them (the last full moon of the summer!). Hollywood couldn't write a better scene if they tried. The two waded into the crowds to transmit their healing powers up close among the people, cleanse our auras, rejuvenate our spirit … and sing too.
Tyler the Creator flinging himself off his elevated stage.
And somehow not injuring a single limb. Oh, youth.
Kaytranada getting extremely drunk.
On Saturday, Canadian producer-DJ Kaytranada turned 26. He also headlined Afropunk, the timing of which meant he took to the stage with a red Solo cup in hand and never looked back. He sipped between spinning his Solange and Janet remixes, sipped some more after dropping his Chance the Rapper and the Internet collaborations; then by the time he got to the end of his set, that's when the real show started. Kaytranada, saying that this wasn't his best set because he got too lit (lies! it was still a delight), proceeded to treats fans to unreleased music off his upcoming album, including new tracks with MVP of the summer Ty Dolla $ign and Busta Rhymes. He probably wasn't supposed to play this music, but you do what you want on your birthday. He concluded his show by never actually ending it — instead, he replayed some songs, rambled for a bit, then got his mic cut off. A birthday story to tell the grandkids.
Erykah Badu made her entrance dressed like your grandma's lampshade.
You can all go home now. Badu won the fashion show.
Ava DuVernay.
She attended the festival with her film distribution company, Array, which backs POC-made indie projects. Array had its own pop-up where DuVernay held a meet-and-greet with black creators and fans, which, if you've seen her schedule lately, is precious time.
This 13-year-old (!) artist.
There are many booths at Afropunk's marketplace, but only one this year run by a creator so young he needed to be chaperoned by his dad. Meet Isaiah Qualls, a 13-year-old wunderkind from New York City who taught himself to sketch and paint portraits of his favorite artists. I am now the proud owner of this pencil sketch of Lauryn Hill, which, frankly, is better than the real thing because at least she didn't keep me waiting.
Janelle Monáe's many hat changes.
Yes, of course, Janelle travels with a hat box, which she is then presented with onstage by one of her court ladies to make a quick wardrobe change before ascending to her literal throne for "Django Jane." Bonus points: Janelle's continued show-closing James Brown homage of purposely falling to the ground, spazzing out to the end of "Tightrope," and never missing a single beat or a note.
Lots of lime green.
Listen up, Pantone: I have seen the color of the year — or at least the summer — and it is officially green. Specifically, lime green. Miguel, Steve Lacy from the Internet, and Fantastic Negrito all wore lime green pants, which would've been a fashion faux pas had you or I showed up in the same lewk, but all these men are exceptionally fly. (Shout out to Lacy for color blocking his lime green denim jeans with a blue hospital-scrubs-esque shirt.) But, obviously, no one can or ever will rock lime green better than Miz Erykah Badu, who was draped in it from head to toe.
H.E.R. and Daniel Caesar's duet.
H.E.R. delayed her set over an hour presumably to make this happen (Caesar's set on the opposite stage overlapped), and it was damn well worth the wait. "Best Part" was, indeed, the best part of their respective shows, and H.E.R. one of the best live vocalists of the entire festival.
Just Blaze bringing out Busta Rhymes.
Pro advice for future Afropunk-goers: Don't sleep on the Gold stage. All the best DJs play there and they tend to bring friends.
This guy and his veil-length durag.
According to what he told Vogue, filmmaker Darryl McPherson bedazzled this spectacular durag himself and treats it like a crown. When I walked past him the moment the video below was being captured, let me tell you I gasped.