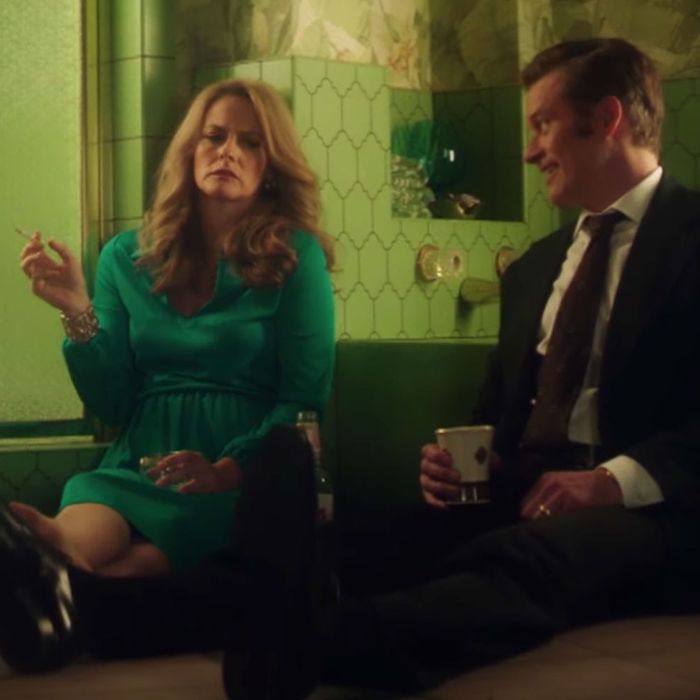 You can tell this is the second-to-last episode of the season because everyone does something stupid that they're going to regret and have to take back next episode just in time for these 11 episodes to end with a soft female-empowerment message and something that looks like a happy ending even though it will require quite a bit of sacrifice. I love a female-empowerment message, but the ones on this series tend to be a little rote and clunky, like when Diana tells her boss that women do "twice the world with half of the recognition and a quarter of the pay" that men do. I mean, we all know that right? They might not have known it in 1974, but do we need to repeat it?
Anyway, Bonnie wakes up in Adam's bed and the only purpose of this scene seems to be an excuse to show Adam without his shirt on. I am not complaining. When Bonnie arrives at her job, we finally find out what happened to that wedding dress she was tasked with caring for last week. Turns out it was covered in grass stains from her rolling around in it and tripping on magic mushrooms. Bonnie's boss, the world's meanest ginger, not only fires her but keeps her paycheck to pay for the dress that she destroyed. Taking the dress to be altered was not even her official duty and was not something she was paid for. She should sue.
Instead, Bonnie freaks the hell out, because her mortgage is already 45 days late and she got a bunch of overdue notices in the mail on pink paper. That's how you know it's bad, when the paper is pink. Bonnie's first stop is to see Steve, who tells her that he has no money because he just started work, but he gives her the $100 in her wallet. She says that is just money for tacos. Listen, lady, in 2018 dollars a taco costs $4 at most. How many 1974 tacos was she going to buy? 10,000?
Bonnie's next solution is to get baby Jessica a job. (Oh my God, remember Baby Jessica?) The problem is that the only role that Kathleen is casting for is "teenage prostitute," a job to which literally no person in the world aspires. Bonnie forces Jessica to read for the part and then freaks out on the producer when she doesn't get the role.
At the end of her rope, Bonnie is smoking pot in her gorgeous bathroom when Steve shows up to harsh her mellow. He lets her know that he really should step up so he's going to sell his "Jag" to give her the money for the mortgage payment and to help the kids. Bonnie is so relieved that she sleeps with him. Damn, how much sex does this lady need? She left Adam's bed not 12 hours ago and she's already rolling around in the hay again? I haven't been able to go twice in one day since my 30th birthday when I spent a full 72 hours in the GI Joe Sauna in Montreal.
Things were going much better for Kathleen, who decided that she was going to be the best casting agent she could be all on her own. She even took Greg's name off of the sign in the lobby so that no one would think he works there anymore. She has a big day ahead of her, after all, casting the role of teenage prostitute for a show called Police Woman which actually existed and starred Angie Dickinson. Kim Richards, co-executive producer Kyle Richards's sister and cohort in reality-TV infamy, co-starred in a 1976 episode of the show playing a character named Kelly McGuire who was a teenage prostitute. (I don't know that, but it would be fitting.)
Kathleen finds him Sophia, an actress who doesn't cry very well on cue, as we know from witnessing her audition, but the producer (who looks just like the ghost of Mike Brady) absolutely loves her. He loves Kathleen and her hard work so much that he asks her to cast the remainder of the season of the show. The problem is that Kathleen is lonely, especially when her lovely assistant (that we have never seen before) says she can't go out for a drink with her.
Instead, Kathleen swings by Greg's house and finds him looking very sexy in a shirt that they would have called a "wife beater" in 1974 but we can't anymore so we call it, what, an A-shirt? A ribbed tank-top undershirt? A Hanes His Way? You know what I mean. She tells Greg about the good work she did casting and seems to be asking him back. Okay, I'm fine with Kathleen asking Greg back as her partner and associate as long as she makes it clear that he can go and be gay without her and just work together. But it seems like she's fishing for something else or, should I say, barking up the wrong tree.
Bonnie and Steve are back together and now Kathleen and Greg are back together, but who can Diana get back together with? Some dude she picked up in a bar? Considering she's L.A.'s biggest budding fag hag, she should get together with no one and sit around with all of her Judies talking about how men suck.
Diana's problem this week is her boss, Mr. Bishop. He forces her to come in on Saturday to fix the mistakes of Jeff, the stupid slob he promoted over Diana. While they're working on fixing his mortgage applications or whatever, Diana shows him some sympathy about his father having a stroke. She pours him a drink and pats his hand and he takes that for a signal that she wants to get it on. She freaks out on him and he says, "Do you know how hard it is to be a man these days?" and with that question his words created a Reddit page for Incels that is still going strong today. This is all Diana's fault.
After she stormed out, Mr. Bishop shows up at her house to say that he's firing that slob Jeff and giving her a promotion. Is this like one of those Harvey Weinstein payouts where he does something bad and then gives the woman a bunch of money or a job to shut them up? It doesn't seem like it, because, well, this guy could have just fired Diana and she would have had no recourse whatsoever to get her job back. Things sure aren't great now, but they're much better than they were back then, even if Kathleen is still trying to sleep with a gay dude.