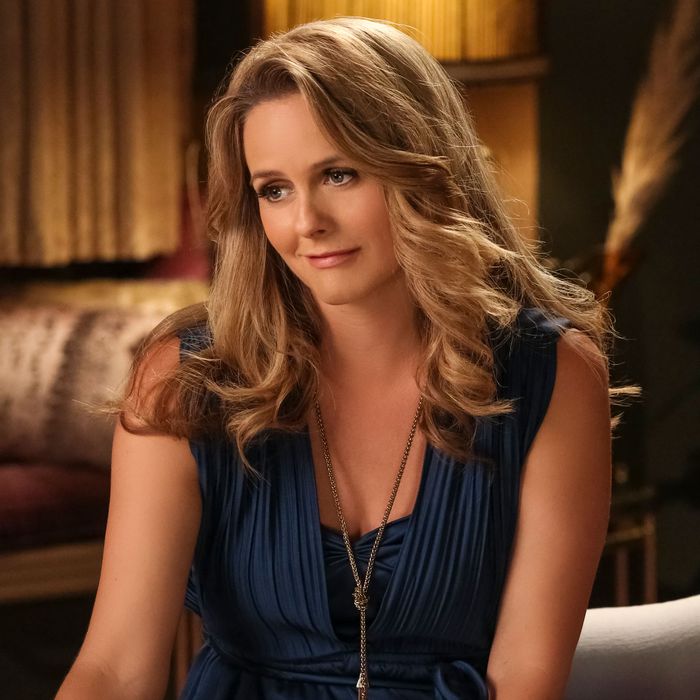 When Bonnie wakes up at the beginning of the episode, she has the kind of quizzical look on her face while grabbing strings of her hair that many of us have had when gaining consciousness after a big night. However, when I wake up like that it's with a headache on a Sunday morning and I'm wondering exactly when I went and bought cheese fries and when, exactly, did I pass out with my hair in them.
Bonnie is not worried about cheese fries, she's worried about how she slept with her ex, Steve, the night before. He's in the kitchen making pancakes and when Bonnie shuffles in wearing a marabou-trimmed housecoat, he kisses her on the mouth in front of the girls. I wanted her to make a Steve Urkel voice and say, "Did I do that?" but Steve Urkel wasn't even born yet.
Steve (non-Urkel) tells Bonnie that he's taking her and the girls to the country club for dinner. Bonnie complies and when she arrives, it's like stepping into her old life. She looks woozy and unsure of herself, like that time she took magic mushrooms, but she doesn't seem to be having nearly as much fun. Steve is so happy and smug there, rubbing his reconciliation with Bonnie in everyone's faces as he orders her a drink she doesn't even want. I wanted to smack the happy grin right off of his handsome square-jawed face.
And who the hell is that blonde Betty Draper wannabe that they're having dinner with? This woman is forcing Bonnie to be on charity committees with her and take their daughters shopping for winter formal gowns, even though Becca doesn't even want to go to the dance or the department store. This very unpleasant woman's name must be Carol. Only a Carol would act like that. (Those played by Cate Blanchett excluded.)
After dinner Steve thinks that he's going to crawl right back into Bonnie's bed like nothing ever happened. There's only one problem: Bonnie doesn't want him back. She's learned and grown so much in the intervening months that she doesn't want her old life back and she certainly doesn't want her cheating criminal of a husband back. "I like my life without you. I hate the club and all of those people and I hate that you don't ask me what I want to drink … We don't work anymore," she tells him in her version of trying to let him down gently.
Steve hasn't changed at all. Just like in the first episode when Bonnie shows her independence, Steve lashes out and tells her that it's all going to fall down around her ears once he's gone. He's a man. I guess he has to feel that way or his pecker would fall off or something.
The episode was so great and believable until Bonnie shows up at her old job with her nametag on and tells her boss, Randall, who fired her just an episode ago, that she deserves to be rehired. Um, I don't care how many Halston dresses she can sell to her old country club friends, that's not the way the job market works. Also, it's not the only store in town. Bonnie couldn't go to another department store in Los Angeles and do her rich white lady Jedi mind tricks on the costumers there?
Anyway, Bonnie has made some changes. She tells the girls that she and Steve are done for good. She also tells them that they're going to have to get a house they can afford. She also tells them that she doesn't think she and hunky painter Adam are going to work out. Um, doesn't he deserve at least a phone call and for the viewers to see him with his shirt off one more time before casting him off so easily? Leave one loose thread, Bonnie, especially when it looks so good.
The biggest change Bonnie made we see at the very end of the episode when she gets out of work and gets on the bus to go home. The bus? Did Bonnie sell her car or something? I get the symbolism of it: Bonnie is trading in her luxe life for something she can afford now. She's traded in comfort for independence. But did she also trade in her car? She lives in Los Angeles. That is just absolutely insane.
Kathleen had her own voyage of self-discovery. It turns out that she did sleep with her gay boyfriend Greg at the end of last episode and now he's all like, "I love you, I want to marry you and give you all the babies." Run, Kathleen. You in danger girl, just like the Whoopi Goldberg GIF says. Kathleen buys it though and shows up at the office later with every bridal magazine ever published. "Want to start going over color schemes?" she asks Greg. I guess that's the one benefit of marrying a gay dude. A straight dude wouldn't care about the color scheme at all.
Back in the office, Kathleen goes snooping around and sees pictures of Greg with all of these dudes and finds a Bon Ami porn magazine in his desk drawer with a mustached gay clone from the '70s on the cover. He couldn't even put it under a National Geographic or anything? Kathleen decides she can't marry Greg and celebrates by downing the better part of a bottle of Valium at home. Luckily Diana finds her and calls Bonnie to come over. Bonnie pulls Kathleen's trigger and makes her puke out all of the pills. That, ladies and gentlemen, is the mark of a true friend, the smell of someone else's puke on her fingers.
When she recovers, Kathleen tells Diana and Bonnie that she always dreamt about her wedding day. "I'm marrying a tall, strong, and handsome man, and when he hugs me I get lost in those big arms and feel like I'm home. And I'm afraid that's exactly the kind of man that Greg wants too," she says, delivering the funniest line of the whole series so far.
She confronts Greg at the office and says she wants to work together and be close, but she doesn't want a romance anymore. She thinks they both deserve someone who is a combination of Paul Newman and Robert Redford. Did Kathleen see his porn magazine? I think he wants someone a bit more like Burt Reynolds. Then Kathleen goes to play tennis at the country club and is immediately hit on by a man who looks like a blond Brody Jenner during The Hills years and not nearly old enough to date her. It was that easy all along? All she had to do was go play tennis? What a waste of a season.
Diana's story wasn't incredibly exciting this week. She's excited to get a secretary and an office, but sitting in the meetings with all the men wasn't nearly as easy as she thought it was going to be, especially since none of them listen to her. But it was her idea to install the first ATM in California bank history. Tune into subsequent seasons when Diana invents the Atari, the Shake Weight, and the hover board Marty McFly rides in Back to the Future II. But Diana does get the biggest cliff-hanger of the episode. She's pregnant! What will she do now that she has her big job? What happens on Kathleen's big date? Just where is Bonnie taking that bus? Hopefully Kyle Richards will let us all know next season.