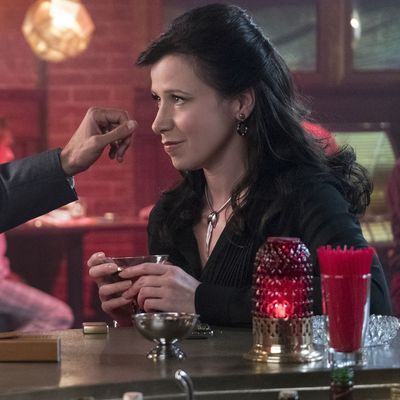 Photo: Patrick Wymore/Patrick Wymore
This is exactly what we have been waiting for: a magic-mushrooms episode. Well, I don't know if we've necessarily been waiting for it, but now that it's here I am as happy as a hippie spotting a double rainbow. Bonnie starts off the episode at work when her stupid boss asks her to take a stupid wedding dress for a stupid alteration when she's done with her stupid shift. She stupid agrees to it! This means missing a chance to go on a picnic with her hot boyfriend Adam, who has ridden up on his motorcycle to whisk her away in a 1970s stoner sex fantasy, which we all have one time or another engaged in.
As soon as she decides to go on the picnic rather than getting the dress altered you knew that dress was never going to make its final destination. I had no idea the detour it would take though. While on their picnic, Bonnie is bitching about everything going on in her life and Adam knows the perfect solution: to drop mushrooms. While I love a drug trip on any sitcom, there is literally nothing about Bonnie's personality that would make someone think that the answer to her problems is going to be drugs.
"They'll make you forget about everything," Adam tells Bonnie before dosing her on a picnic blanket in a (very fake looking) park in Los Angeles. Sorry, Adam, but I have a bit of experience with mushrooms and I will let you know that they will, in fact, not make you forget about anything. First of all, they'll probably make you throw up because they taste disgusting and they wreck your stomach like eating a burrito made with spicy curry and washed down with some water from a Colombian prison toilet bowl. Secondly, they will make you think of absolutely everything. They will heighten every thought and emotion, so if Bonnie was freaking out about her family and not having any money before she took those mushrooms, it's going to be ten times worse afterward.
Instead they just sort of look really intently at the grass and hug a tree like extras in a Belly video. Bonnie, of course, puts on the wedding dress and we find out that she never had a wedding of her own but she eloped to the courthouse after Steve got her pregnant. Then they go back to her house to play Monopoly because Bonnie never got to babysit Adam or something? It doesn't entirely make sense because they are tripping after all.
When they're at Bonnie's house, she gets a call that her daughter is going to be suspended and she has to go to the principal's office to get her. Adam drives her on his motorbike and she's still high, wearing a wedding dress, and her hair is blown out like she just had sex on the top of a yacht in a hurricane. She asks Adam to smack her to sober her up and he has the funniest line of the episode, "I don't think it's good to hit a woman wearing a wedding dress standing in front of a school." If ever there was a #MeToo moment.
Inside Bonnie finds out that one of Becca's teachers told her to shut up because he doesn't like it that she questions his authority and what he's teaching her. This strong woman strands up for the strong woman that her daughter has become and they stomp out of there in a huff. Later that night, after Steve tries to put the moves on her, Bonnie takes Becca and Jessica and they vandalize the mean teacher's car with lipstick, which is a just revenge.
But my question is: What the hell happened to the dress? Shouldn't Bonnie be worrying more about trying to keep her job and getting the dress altered like she was supposed to in the first place rather than getting a bit of petty revenge on an equally petty tyrant? I'm not saying they should be nice to the dude, but doesn't Bonnie need to get her priorities in order?
The story lines for Diana and Kathleen also didn't make a ton of sense. Diana's new boss Jeff, who got the promotion over her, is now making her do all of her work. She gets so frustrated with her job that she calls Gay Alan to come meet her at the Red Target to talk about sleeping with all of those dudes. I don't see how this tracks. Diana tells him what we knew all along, that she felt so out of control over her own life that she actually felt in control when bedding down with all of those dudes. What's Alan's response? "Oh, let's get up and dance with all of these gay dudes." It doesn't resolve anything and it doesn't entirely make sense, but it continues Diana's trajectory to become the Fag Hag of the Year for 1974, so I will allow this one to continue.
Kathleen's story makes a bit more sense. She goes to her first EST meeting and finds out that it is nine hours long and that there are no breaks. How is that even physically possible? I couldn't sit still for nine hours even if someone was feeding me Junior Mints and I had an adult diaper to clean up all of the mess. She's the first person called on in the "class" and it doesn't go well. She sees herself as the victim in her relationship with Greg and he doesn't think that she has it in her to change.
But Kathleen requires attention, and she finally stands up to talk about her relationship with her father, who always loved her brother more. Her father gave her money until she could find a husband to take care of her but never gave her the attention and support that she really deserves. She realizes that she has been going from man to man to get approval from them because she never got approval from her father. Wow, EST is really working. It works so well that she goes home and tells her father that he's an asshole. Um, that's not such a great idea when she has a home renovation to pay for. Maybe if she just takes some magic mushrooms she'll find all the answers she was missing.