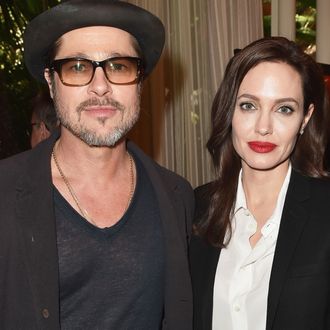 Photo: Kevin Winter/Getty Images for AFI
In a new court filing submitted on Tuesday, Angelina Jolie alleged that Brad Pitt hasn't paid any "meaningful" child support in over a year and a half. According to a new report from NBC News, Jolie will seek a court order to force Pitt to pay. "[Pitt] has a duty to pay child support. As of present, [Pitt] has paid no meaningful child support since separation," Jolie's attorney, Samantha Bley DeJean, wrote in a two-page brief filed in Los Angeles Superior Court. "Given the informal arrangements around the payment of the children's expenses have not been regularly sustained by [Pitt] for over a year and a half, [Jolie] intends to file an [request for a court order] for the establishment of a retroactive child support order." Jolie's team didn't define what constituted as a "meaningful" child-support payment.
Jolie filed for divorce from Pitt in September 2016, after being married in 2014. After their separation, Pitt was cleared of abuse accusations after sources said they saw him physically and verbally abuse one of the couple's six children. Jolie has primary physical custody, but in June the court ordered her to allow her ex to speak to their children whenever he pleases and without her supervision.
Update, Thursday, August 9: In a new brief filed Wednesday responding to Jolie's child-support claims, Brad Pitt's lawyer Lance Spiegel called her filing "unnecessary" and "a thinly-veiled effort to manipulate media coverage." The actor's team says that Pitt loaned Jolie $8 million to purchase her current home, where she lives with their six kids, and paid at least $1.3 million "in bills for the benefit of [Jolie] and the minor children."
However, as Jolie's counsel pointed out in reply, a loan "for which he is charging her interest on a payment plan" does not, in fact, constitute child support. "What has been filed by Brad's side today is a blatant attempt to obfuscate the truth and distract from the fact that he has not fully met his legal obligations to support the children," Bley DeJean said in a statement to People. Meanwhile, Jolie has also filed to "bifurcate" their marital status, essentially allowing both spouses to become legally single prior to resolving the remaining issues of their union, including child support, custody, and visitation rights.