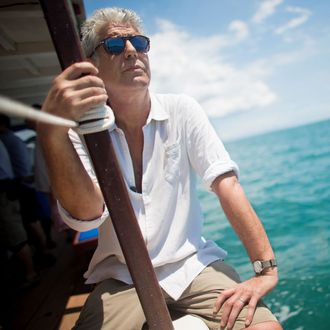 Photo: Mario Tama/Getty Images/Cable News Network. A Time Warner Company.
The Tribeca TV Festival returns for its second year next month, offering an array of season premieres, celebrity sit-downs, and Meryl Streep from September 20 to 23. Included in this year's offerings is the first episode of Anthony Bourdain: Parts Unknown's 12th and final season. The only episode completed prior to Bourdain's death, it features the late host and comedian W. Kamau Bell experiencing the food of Kenya. The rest of the foreshortened season will reportedly feature previously captured audio of Bourdain and interviews with those who knew and worked with him.
Other festival highlights include a cast and creator look back at Law & Order: SVU's 20 years on television; an interview of Tracey Ullman by Meryl Streep; and conversations with Bryan Cranston, Rosario Dawson, and the cast of Shark Tank upon their tenth anniversary. Check out the festival's 2018 slate of events below:
Anthony Bourdain: Parts Unknown (CNN) – Season 12 World Premiere
In this season premiere, the late Anthony Bourdain introduces W. Kamau Bell (United Shades of America) to the distinctive sights, tastes, and sounds of Kenya. It is Bell's first trip to the African continent, and to a country that holds a personal connection for him. Through the eyes of Bourdain and Bell, and their first experiences with this highly dynamic deeply, soulful and beautiful country we ask, what will a future Kenya … for Kenyans …. by Kenyans …look like? In this special presentation, viewers will see an extended cut of the final episode finished with Anthony Bourdain's full involvement, and the last to feature his narration. The screening will be followed by a conversation with Bourdain's closest collaborators, including director Morgan Fallon, showrunner Sandy Zweig and executive producer Lydia Tenaglia, and W. Kamau Bell.
Event time: September 22 at 7:30 p.m.
Law & Order: SVU (NBC) – 20th Anniversary Celebration
Twenty seasons strong, Law & Order: Special Victims Unit is the longest-running prime-time drama currently on television. This hard-hitting and emotional series from Dick Wolf's Law & Order brand chronicles the cases of the Special Victims Unit of the New York City Police Department, an elite squad of detectives who bring justice to the victims of sexual assault, child abuse and domestic violence. The Tribeca TV Festival is proud to pay tribute to two decades of this iconic and impactful New York City fan favorite with an exclusive preview screening of the 20th season premiere and a conversation with those both in front of and behind the camera who have made SVU the institution it is today. A conversation with creator and executive Producer Dick Wolf, star and executive Producer Mariska Hargitay and co-stars Ice T, Kelli Giddish, Peter Scanavino and Philip Winchester will follow the screening.
Event time: September 20 at 6 p.m.
Madam Secretary (CBS) – Season 5 World Premiere
Madam Secretary stars Téa Leoni as Elizabeth McCord, the shrewd, determined secretary of state who drives international diplomacy and circumvents protocol as she negotiates global and domestic issues, both at the White House and at home. A college professor and a brilliant former CIA analyst who left for ethical reasons, Elizabeth returned to public life at the request of President Conrad Dalton, who values McCord's apolitical leanings, deep knowledge of the Middle East, flair for languages, and ability to not just think outside the box, but not even acknowledge there is a box. In the season five premiere, Elizabeth McCord seeks advice on a delicate situation from her predecessors, guest stars and former secretaries of state Hillary Clinton, Colin Powell, and Madeleine Albright. A conversation with Téa Leoni and her Madam Secretary castmates will follow the screening.
Event time: September 20 at 8:15 p.m.
Ray Donovan (Showtime) – Season 6 Premiere 
As season six of Ray Donovan begins, we find Ray (Schreiber) rebuilding his life both personally and professionally in New York City. After being rescued from a plummet into the East River, his savior, a cop named Mac (Domenick Lombardozzi), brings Ray into the fraternity that is the Staten Island Police Department. While exploring this new world of brotherhood and corruption, Ray finds himself once again working for media mogul Sam Winslow (Susan Sarandon). Sam has teamed up with New York City mayoral candidate Anita Novak (Lola Glaudini), a partnership that puts Ray at odds with his new friends out in Staten Island. A conversation with showrunner David Hollander and cast members Liev Schreiber and Jon Voight will follow the screening.
Event time: September 23 at 5 p.m.
American Style (CNN) – World Premiere
Executive produced by Marty Moe, Chad Mumm, Britt Aboutaleb, and Dan Partland, American Style examines how America's changing style through the decades has mirrored the political, social, and economic climate of the time, shaping our unique American identity. Using archival footage and interviews with fashion experts and cultural figures including Donna Karen, Vanessa Williams, Beverly Johnson, Isaac Mizrahi, Andre Leon Talley, John Varvatos, and more, American Style will highlight the most iconic moments from fashion, history, and pop culture, giving audiences a front row seat to the runway of American history. A conversation with contributor Tim Gunn will follow the screening.
Event time: September 23 at 2 p.m.
Tracey Ullman's Show (HBO) – Season 3 International Premiere
Celebrated British actress-comedian Tracey Ullman returns for a third season of her three-time Emmy-nominated HBO sketch-comedy series, reprising her takes on beloved real and fictional characters from seasons' past, including a devilish Dame Judi Dench; long-suffering German Chancellor Angela Merkel; spunky Camilla, Duchess of Cornwall; newly minted stepmother Jerry Hall; ever-optimistic spinster Kay Clark; and many more. This season, Ullman introduces an entertaining and razor-sharp set of new impersonations, including British Prime Minister Theresa May and French First Lady Brigitte Macron, among others. Following the screening, Ullman will be interviewed by the one and only Meryl Streep. 
Event time: September 21 at 5:45 p.m.
StartUp (Sony Crackle) – Season 3 World Premiere 
Back for ten thrilling new episodes, StartUp premieres season three of this internationally acclaimed series at the 2018 Tribeca TV Festival. Following the professional and personal travails of Araknet, a tech darknet company, and its ruthlessly ambitious staff, StartUp builds with high stakes tension as the team fights their most threatening adversary to date — the U.S. government. A conversation with creator, writer and director Ben Ketai and cast members Edi Gathegi, Ron Perlman, Adam Brody and Otmara Marrero will follow the screening.
Event time: September 21 at 6:30 p.m.
Valley of the Boom (National Geographic) – New Series World Premiere
Valley of the Boom takes an adrenaline-fueled ride through the culture of speculation, innovation and disruption during Silicon Valley's unprecedented tech boom and subsequent bust in the 1990s. It's a timely and captivating story, starring two-time Emmy award–winning actor Bradley Whitford, Steve Zahn, and Lamorne Morris, told through an irreverent blend of drama, comedy and pathos. While most of the show is scripted, showrunner-director Matthew Carnahan weaves in select documentary elements that help tell the true inside story of the internet's fascinating formative years. A conversation with creator Matthew Carnahan cast members Bradley Whitford, Steve Zahn, Lamorne Morris and real-life subject, TheGlobe.com founder Stephan Paternot, will follow the screening.
Event time: September 21 at 7:45 p.m.
Wayne (YouTube Premium) – New Series World Premiere 
From the writers of Deadpool and Zombieland, Wayne is a gritty, hilarious, and sometimes bloody road trip adventure tale of young love and reckless youth. When the titular teenage renegade's 1978 Pontiac Trans Am is stolen from his father on his deathbed, Wayne sets out with nothing but a dirt bike and his new crush Del to take back his rightful inheritance. From Southie to South Florida, it is Wayne and Del against the world in this propulsive new must-watch show. A conversation with series creator Shawn Simmons, stars Mark McKenna and Ciara Bravo, director Iain B. MacDonald, and writer and executive producers Greg Coolidge, Kirk Ward, Rhett Reese and Paul Wernick will follow.
Event time: September 23 at 4:30 p.m.
Tribeca Talks: A Conversation with Bryan Cranston 
Marking the 10th anniversary since Breaking Bad premiered, the remarkable Bryan Cranston will discuss his illustrious career as one of the most versatile performers over the last three decades. First making waves as affable dad Hal on Malcolm in the Middle and Dr. Tim Whatley on Seinfeld, Cranston drew worldwide acclaim playing high-school teacher turned drug kingpin, Walter White, for which he won numerous awards including four Emmys. In 2014, Cranston won the Tony Award for his portrayal of Lyndon B. Johnson in the Broadway's All the Way, for which he reprised the role for the HBO adaptation of the same name. Cranston's production company, Moonshot Entertainment produced All the Way and has developed various television series including Sneaky Pete, The Dangerous Book for Boys, and Philip K. Dick's Electric Dreams for Amazon, as well as the Emmy-nominated animated series SuperMansion for Sony/Crackle. Most recently, Cranston was nominated for a 2018 Emmy for his guest-starring role as Larry's therapist on Curb Your Enthusiasm, and this November, he brings to Broadway his Olivier Award–winning performance as the "Mad as Hell" Howard Beale, in Paddy Chayefsky's Network. Tribeca is proud to host the accomplished and multi-hyphenate Mr. Cranston for a rare opportunity to understand the career that has come to epitomize the golden age of television.
Event time: September 22 at 4:00 p.m.
Tribeca Talks: The Journey, Inspired by TUMI, with Rosario Dawson 
Rosario Dawson's prolific career has taken her from film and television performer, to comic book writer, producer, singer and activist. Dawson first came to attention with her breakout performance in Larry Clark's film Kids, and went on to star in a range of films including the Sin City franchise, 25th Hour, and Rent. On the small screen, Dawson first starred as Claire Temple in the Netflix adaptation of Marvel's Daredevil, and has since reprised her role in the Marvel/Netflix series Luke Cage, Iron Fist, Jessica Jones and The Defenders. Dawson had a recurring role on the hit series Jane the Virgin and starred in and executive produced the acclaimed web series Gemini Division. Dawson is set to produce and star in USA's upcoming series Briarpatch, written and executive produced by Andy Greenwald (Legion) and executive produced by Sam Esmail (Mr. Robot). As an activist, Dawson lends her time to a myriad of organizations, most notably Voto Latino, which she co-founded in 2004. In 2013, Rosario co-founded Studio 189, a fashion and media lifestyle brand made in Africa that produces African and African-inspired content and clothing. The brand currently operates a store in NY and Accra, Ghana, collaborates with brands including EDUN (LVMH) and Yoox Net a Porter, and has been the recipient of various awards including the Martin Luther King Jr. Social Justice award. Tribeca and TUMI are proud to host this remarkable actress as she illuminates her journey from film to television and beyond.
Event time: September 22 at 5:45 p.m.
Tribeca Talks: Ten Years of Shark Tank (ABC) 
Tribeca is bringing the Sharks to New York to celebrate the 10th season and a momentous 200 episodes of ABC's Shark Tank, the critically acclaimed and four-time Emmy Award–winning show that reinvigorated entrepreneurship and gave hundreds of aspiring entrepreneurs the chance of a lifetime: to showcase their products to more than 7 million viewers and pitch their business to a panel of potential investors. Shark Tank investors Barbara Corcoran, Lori Greiner, Daymond John, Kevin O'Leary, and Mark Cuban — all titans of industry who made their own dreams a reality and turned their ideas into lucrative empires — will take you behind the scenes as they discuss the legacy and impact of the show, the dozens of careers and products they've launched, and what methods of storytelling are used in order to sell a great pitch. Tribeca is thrilled to host the Sharks and executive producers Clay Newbill and Yun Lingner as they provide a rare glimpse at the show that has given hundreds of people a shot at the American dream.
Event time: September 23 at 3:00 p.m.
Find even more information about this year's Tribeca TV festival, including their slate of indie pilots and midnight screenings, here.