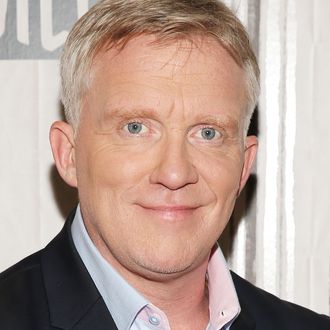 Anthony Michael Hall.
Photo: Bennett Raglin/WireImage
One by one, Riverdale is subsuming the cast of The Breakfast Club into its own. This fall, the CW series is putting on a flashback episode with the show's main cast playing their (hot) parents in a dark riff on The Breakfast Club called "The Midnight Club." Now, the network has announced that The Breakfast Club's own Anthony Michael Hall will play Principal Featherhead in the episode and will get "caught up in the game the teenagers are playing in an unexpected way." In the episode, KJ Apa will play a young Fred, Lili Reinhart will play a young Alice, and Mark Consuelos's son Michael will play the young version of Hiram. "The Midnight Club" will air on November 7, and to advertise the show, the CW's also put out a fake yearbook with the photos of the adult actors when they were in high school, or in Molly Ringwald's case, in the actual Breakfast Club.