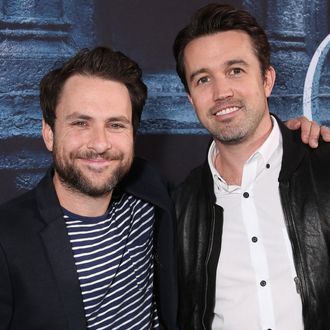 Charlie Day and Rob McElhenney.
Photo: Getty Images
It's Always Sunny's Charlie Day and Rob McElhenney have a new comedy series heading to Apple. Variety reports that Apple has given a straight-to-series order to a half-hour comedy from the two, with McElhenney also attached to star. Not a whole lot is known about the plot of the untitled series yet, but it will be set in a video-game development studio, and video-game publisher Ubisoft is attached to produce.
In addition to the Apple project, McElhenney and Day are also behind a half-hour comedy in the works at Fox with Rob Riggle, Kaitlin Olson, and Leah Remini all attached to star. In the meantime, season 13 of It's Always Sunny heads to FXX on Wednesday, September 5.