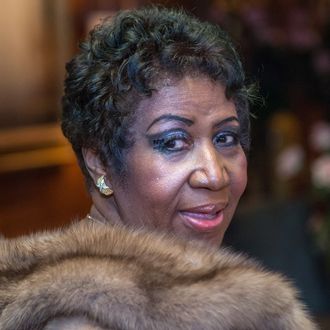 This could get messy.
Photo: Mark Sagliocco/FilmMagic
Aretha Franklin left no will or trust prior to her death last week, new court documents filed in Michigan have revealed. Per the New York Times, Franklin's surviving sons — Clarence, Edward, and KeCalf Franklin, and Ted White Jr. — have listed themselves as "interested parties" in documents filed with local probation court, in which they confirmed their mother died without a will. They have nominated Franklin's niece, Sabrina Owens, to be the estate's personal representative. Michigan law states that the assets of an unmarried person who dies without a will are then passed on to their children and divided equally. As part of the legal process, the specifics of Franklin's personal finances could be made public. Similarly, a long legal feud over Prince's estate and assets erupted after he, too, died without a will. Franklin's former attorney, Don Wilson, tells the Detroit Free Press that he begged her for years to consider a trust but she never did it. According to Wilson, the monetary value of Franklin's assets is unknown — think of all the furs and purses! — but she did have ownership of some of her biggest hits. "Any time they don't leave a trust or will, there always ends up being a fight," he says.