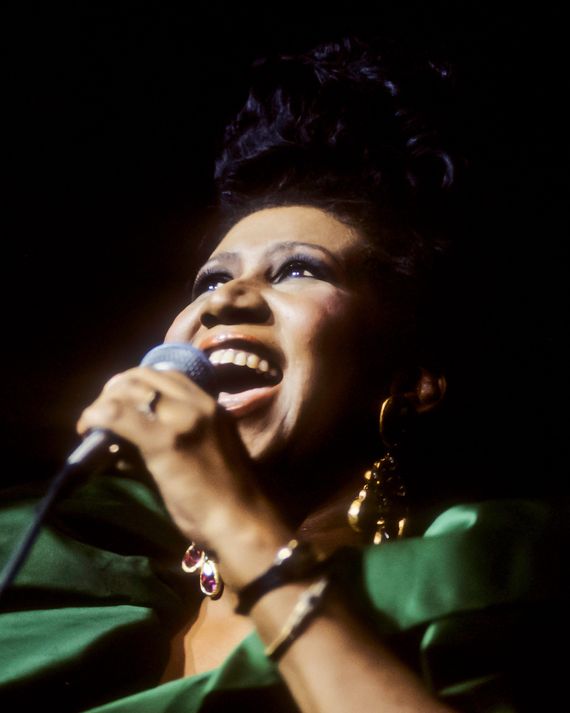 Photo: Jack Vartoogian/Getty Images
The most satisfying approach to Aretha Franklin's monumental body of work is chronological. Of course, that doesn't mean you can't jump ahead and cherry-pick any song you like. They're all good. They're all inspiring. They all display her astounding virtuosity. But to get a feel for her dynamic growth as an artist, start at the beginning, when she's a child prodigy, and work your way through the decades as she becomes the singer who defined the very essence of American music.
The Fifties
At 14, Aretha makes her debut singing the music foundational to her art: gospel. She is recorded by JBV/Battle, the same label documenting the famous sermons of her father, a progressive Baptist preacher. Two songs alone reveal her already phenomenal vocal vitality — "There Is a Fountain Filled With Blood" and Thomas A. Dorsey's immortal "Precious Lord."
The Early Sixties
At 18, Aretha's dad passes over the newly minted Motown Records and secures her contract on Columbia, the world's biggest label. There, she struggles to find herself. The struggle, though, yields a number of gems. The most dazzling is her reading of the standard "Skylark"(1963), where, at the song's climax, she jumps octaves and peels the paint off the walls. In her 1964 tribute album to Dinah Washington, her "Drinking Again" rivals any saloon song sung by Sinatra. On the same album, she gives a hint of her spectacular future career on "Soulville."
The Late Sixties
When she signs with Atlantic Records in 1967, producer Jerry Wexler puts her on the piano and reconnects her with her gospel/blues roots. The result is superstardom. Our musical culture is never again the same. The breakthrough from the 25-year-old is the title track from her Atlantic debut, "I Never Loved a Man (The Way I Love You)," the same album that contains the ferocious "Dr. Feelgood (Love Is a Serious Business)," "Do Right Woman, Do Right Man," "Don't Let Me Lose This Dream" —which Natalie Cole called Aretha's finest composition — and of course the remarkable "Respect," her ingenious makeover of Otis Redding's R&B hit.
Aretha's 1968 reinvention of "I Say a Little Prayer" becomes, in the words of its composer Burt Bacharach, "the definitive version." Many consider Lady Soul, from that same year, her greatest album. The three songs that speak most directly to the heart are "Natural Woman," "Chain of Fools" and the plaintive "Ain't No Way," composed by Aretha's sister, Carolyn.
In 1968, Aretha writes and records "Think," an iconic track with more subtext than a Shakespearian sonnet (and a song she would later perform in The Blues Brothers). A big-band album, Aretha '69, yields two beauties, "Crazy He Calls Me" and a rousing revision of Glen Campbell's hit "Gentle on My Mind."
The Seventies
The decade begins with a bang, Aretha's self-penned "Call Me." In 1971, we're blessed by her spontaneous and soaring live duet with Ray Charles, "Spirit in the Dark." During this same period, she sings "The Party's Over," a stunning pairing with Tom Jones on his TV show.
Amazing Grace, her 1972 live recording at the Baptist church of her mentor, James Cleveland, may well be the crowning glory of her career. Two of the songs have never ceased to slay me: "Mary Don't You Weep" and her haunting interpretation of Marvin Gaye's "Wholy Holy." A year later she's in the studio with producer Quincy Jones where she sings another of her sister Carolyn's songs, "Angel," a landmark in Aretha's long series of beautiful blues ballads.
In the mid-'70s, she's given a suite of songs by Curtis Mayfield: Sparkle. Turns out, Aretha and Curtis are a match made in heaven. At least of three of the album's songs — the title cut, "Something He Can Feel" and "Hooked on Your Love" — are absolutely essential Aretha. She's never been better.
The Eighties
She switches labels and mentors. Arista chief Clive Davis replaces Jerry Wexler. In her first Arista outing, she does a spirited cover of Michael McDonald's "What a Fool Believes." A year later, she teams up with the brilliant Luther Vandross, who produces her smash R&B hit, "Jump to It" and its follow-up, "Get It Right."
Another producer, Michael Narada Walden, gets it even righter with "Freeway of Love," and once again Aretha is cruising up the charts. The culmination of that cruise comes with two major hits: her collaboration with Annie Lennox on the Eurythmics' "Sisters Are Doin' It for Themselves" and her smash duet with George Michael, "I Knew You Were Waiting (For Me.)"
The Nineties
The hits arrive less frequently, but they arrive nonetheless. Lauryn Hill writes a song especially for Aretha. The result, the riveting "A Rose Is Still a Rose," also produced by Hill, continues to blossom.
In 1998, she stuns the world as a last-minute replacement for Luciano Pavarotti, singing "Nessun Dorma" live at the Grammys, turning the aria into 14-karat soul.
The 21st Century
Her 2003 rendition of "Everybody's Somebody's Fool," written and produced by Jam and Lewis, the team behind some of Janet Jackson's major hits, ranks among her most effective R&B jams, proving that, even in her sixties, the queen remains the queen.
That point is made explicitly clear when, in 2015, she appears at the Kennedy Center Honors, where her "Natural Woman" brings a tear to the eye of President Obama.
Other Aretha performances that are essential to her career: Her live duet with her childhood friend Smokey Robinson on Soul Train singing Smokey's "Ooh Baby Baby."
Aretha at home alone at the piano, singing to host Donnie Simpson, a poignant version of Curtis Mayfield's "The Makings of You."
In her final years, she never fails to sing a song at her shows that brings her back to her childhood when blues great B.B. King visited the Franklin family home in Detroit. Aretha is a great gospel singer, a fabulous jazz singer, and, along with Dinah Washington and Etta James, a towering blues singer as well. From her 2011 A Woman Falling Out of Love album, listen to her wail on B.B.s' "Sweet Sixteen."
That wail — that cry, that heady mix of gospel glory and earthly heartbreak — will never be quieted. Aretha is forever.
David Ritz collaborated with Aretha Franklin on her autobiography Aretha: From These Roots and authored the independent biography Respect: The Life of Aretha Franklin.