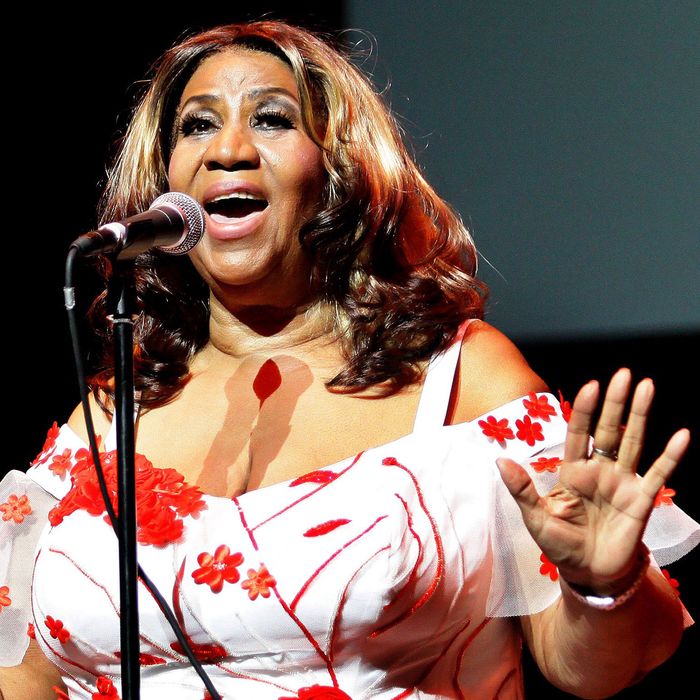 Photo: Raymond Boyd/Getty Images
Aretha Franklin's legendary voice is rightfully the center of most remembrances of the Queen of Soul. But her almost unparalleled run as a recording artist is a marvel unto itself: She was the first female artist to place 70 songs on the Hot 100, and she's tied with Stevie Wonder for the most No. 1s on Billboard's R&B chart (Drake is maybe a month or two from breaking that record, though, so don't get too comfortable with it).
Aretha Franklin recorded dozens of albums of her own songs as well as the greatest versions of many of the best songs ever written. Demand was so high at the peak of her fame that the B-sides of many of her singles charted independently of the A-sides, sometimes even charting higher. You can tell much of the story — of how she rose to fame and how she navigated stardom — just in the great tracks that were relegated to B-sides. To quote Daniel Stern in Diner: "Pick a record, now ask me what's on the flip side."
"Operation Heartbreak" (1961)
A year after an 18-year-old Aretha Franklin took the R&B charts by storm, she scored her first Top 40 crossover hit with a cover of Al Jolson's Broadway standard "Rock-a-Bye Your Baby With a Dixie Melody." But R&B stations didn't take to it like other singles Franklin released over the previous year, opting for the non-album B-side "Operation Heartbreak," a sultry waltz co-written by Brill Building songwriter Al Kasha.
"Try a Little Tenderness" (1962)
Aretha Franklin scored her signature song with a transformative rendition of Otis Redding's "Respect." But as it turns out, she also took a swing at what would become Redding's own signature song about four years before he recorded it. "Try a Little Tenderness" was written in 1933 and recorded by crooners like Ray Noble and Bing Crosby for decades before Jackie Wilson nudged it towards R&B with a smooth 1961 rendition. A year later, Franklin sang the song beautifully on her fourth album, The Tender, The Moving, The Swinging Aretha Franklin, which was her first to crack the Billboard charts. But her slow, string-laden arrangement still gave little warning of the raucous makeover Redding would give the song. The A-side "Just for a Thrill" missed the Hot 100, but Franklin's "Tenderness" grazed the chart at No. 100.
"Do Right Woman – Do Right Man" (1967)
After six years of only moderate success on Columbia Records, Aretha Franklin's contract was up and Atlantic Records eagerly outbid Columbia with an offer for more creative control. Franklin's Atlantic years started off with a bang: Her first single for the label is perhaps the most perfect A-side/B-side combo of her career, "I Never Loved a Man (The Way I Love You)" backed with "Do Right Woman – Do Right Man." Both were recorded in her first session at FAME Studios in Muscle Shoals, Alabama, although a fight in the studio left "Do Right Woman" unfinished until more tracks were added in New York. "Do Right Woman" ranked No. 476 on Rolling Stone's 500 Greatest Songs of All Time. Not bad for a B-side.
"Dr. Feelgood (Love Is a Serious Business)" (1967)
With the new creative agency afforded by her Atlantic contract, I Never Loved a Man The Way I Love You was the first Aretha Franklin album to feature as many as four of her own songwriting credits. And "Dr. Feelgood" — the flip side to "Respect" and a longtime live favorite — may be the greatest song Aretha Franklin ever wrote, or at the very least, the most provocative.
"Ain't No Way" (1968)
Aretha Franklin was close with her little sister Carolyn, who occasionally sang backup on her records and wrote songs for her, the most notable of which is "Ain't No Way." The gorgeous closing track on Lady Soul became a Top 20 hit when it appeared on the B-side of the Top 10 hit, "(Sweet Sweet Baby) Since You've Been Gone." Cissy Houston sang backup on the original track, and 15 years later, her daughter Whitney was introduced to the world singing "Ain't No Way" on The Merv Griffin Show.
"I Say a Little Prayer" (1968)
Burt Bacharach and Hal David's "I Say a Little Prayer" was a Top 10 hit twice in the late '60s, with Dionne Warwick's 1967 recording coming first and reaching its highest Hot 100 peak. But 11 months later, Franklin's version on the B-side of "The House That Jack Built" outperformed Warwick's version on the R&B charts, and in the decades since has become recognized as the song's definitive recording.
"Let It Be" (1970)
Aretha Franklin's 1970 album This Girl's in Love With You contained two Beatles covers. But releasing "Eleanor Rigby" as an A-side was perhaps burying the lede: Franklin, who had been sent a demo from Lennon and McCartney during the long year in which the Get Back sessions were shelved and then remixed, ended up with the very first commercial release of "Let It Be," before the Fab Four themselves. Her album was released on January 15, while the Beatles' "Let It Be" single didn't arrive until March 6, with the album of the same name arriving in May. Later that summer, Franklin's "Let It Be" got a single release, but only as the B-side of "Don't Play That Song," the lead single from her next album, Spirit in the Dark.
"Oh Me Oh My (I'm a Fool for You Baby)" (1972)
Scottish singer Lulu recorded one of the first albums at Muscle Shoals Recording Studio after the Alabama facility opened in 1969 as a competitor to FAME Studios. Aretha Franklin soon became a regular at Muscle Shoals, as she had been at FAME, and three years later recorded Lulu's "Oh Me Oh My (I'm a Fool For You Baby)" in the same room with the same producers. But Franklin's version was a touch slower and far more expressive, with Donny Hathaway on organ and the Sweet Inspirations providing lush harmonies. Released on the B-side of "Rock Steady," Aretha's "Oh Me Oh My" became a hit in its own right, charting higher than the Lulu version.
"Loving You Baby" (1976)
The 1976 musical Sparkle was a box-office disappointment, but the soundtrack album, in which Aretha Franklin sang the songs Curtis Mayfield composed for the film, was her biggest record of the second half of the '70s. "Loving You Baby," sung by Irene Cara in the film, is a sumptuous union of Mayfield's melodies and Franklin's voice, much like the more famous song it appeared on the B-side of, "Something He Can Feel."
"Sweet Bitter Love" (1985)
It's no coincidence that many musical icons of the '60s and '70s released their biggest-selling albums between 1984 and 1986. MTV and Thriller had paved the way for an unprecedented era of blockbuster albums, and labels soon set about reviving many aging stars' careers with slick new sounds and flashy videos. Who's Zoomin' Who? wasn't just Franklin's biggest album in years — it was actually her first to sell a million copies. The album's singles bombastically updated Franklin's sound for the big '80s, but the B-side to the hit title track was "Sweet Bitter Love," a beautifully restrained piano ballad. It turns out that the track recalled her early work for good reason: She'd first recorded the Van McCoy–penned song 19 years earlier for 1966's Soul Sister.