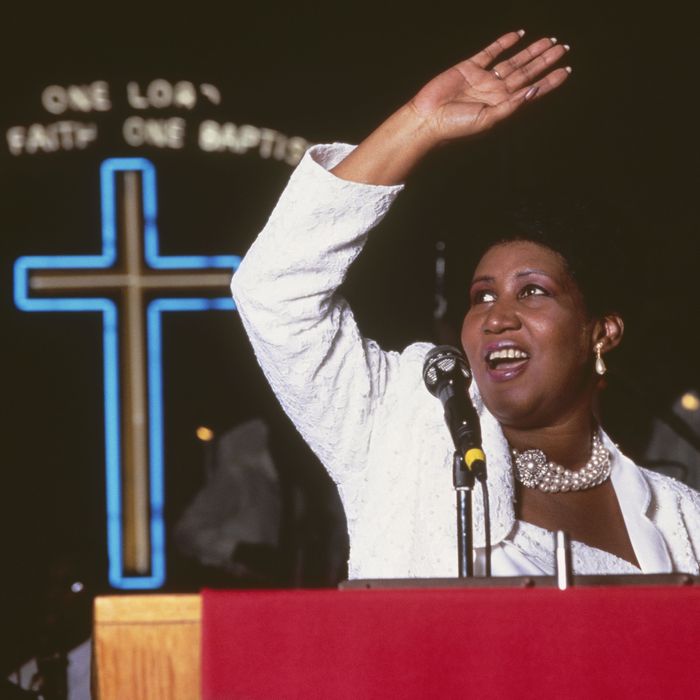 Photo: Bill Marino/Sygma via Getty Images
Gospel is the most American music. It is a music of perseverance, of adapting to strange new land, of faith in the capacity to overcome insurmountable hardship. It is the unintended side effect of slave masters nudging displaced African captives toward Christianity, where they saw their own struggles mirrored in the travels of the Israelites of old, another oppressed people pulled from the land of their birth and forced into free labor, like chattel. Gospel is subversive music, protest music. The promise of peace in the afterlife animating songs like "Swing Low, Sweet Chariot" and "Steal Away" doubled as a rejection of the terrible circumstances of the present. At the end of tribulation was rest. Whatever justice wasn't served in life would be meted out afterward. Faith defanged the threat of bodily harm and the finality of death. Eternal life was a cunning last laugh.
The black church is a monument to the participatory, communal experience of gospel music. A powerful church choir relays the fullness of the human experience, in joy and pain, through spirited call and response. Coming back to that well week after week sharpens a naturally gifted singer. It's no wonder that many of our all-time greatest vocalists — Whitney Houston, Tina Turner, Beyoncé, Jennifer Hudson — pass through the church on their way to fame. The path from hymnals to pop and R&B charts is well-trod, but few singers walked the line as fearlessly as Aretha Franklin. Aretha never exactly left the church for the charts; it's more like she brought it with her on the way. When she began to sing about love and longing instead of sanctity and salvation, she expressed them through the lilting organ shuffles of gospel as often as she embraced the swamp soul of the Muscle Shoals session players she paired with in crafting works like her 1967 Atlantic Records debut, I Never Loved a Man the Way I Love You.
To certain ears, genre hybrids like I Never Loved a Man's title track — a steamy gospel-inflected waltz that bubbles over like a teakettle at the despondent apex — was a heresy on par with Bob Dylan bringing an electric guitar to Newport Folk Festival in 1965. You weren't supposed to sing the blues the way you sang the praise songs. Aretha's gamble worked because her voice broke barriers and because the divisions between gospel, soul, and the blues are often differences in subject matter rather than rifts in the way the music is played. Quite a lot of great gospel music borrows structural elements from the blues; listen to the drum shuffle and walking bass in the Clark Sisters' "I'm in Good Hands" or the ephemeral Delta blues of the Staple Singers' "Swing Low, Sweet Chariot," and you hear a conversation between sounds. Aretha's masterpieces refused to trap themselves in any one or even two genres. I Never Loved a Man zips between soul, blues, and Brazilian tropicalia. 1970's Spirit in the Dark found space for a smoky "Thrill Is Gone," a peppy Goffin/King cover, and the sneaky secular gospel of the title track.
Aretha Franklin's pure soul gems have lingered in the public consciousness for 50 years because, like plantation laborers toiling away without hope for freedom, she sang not just for herself but for the glory and perseverance of an entire people. Her voice tapped into a well of ancient pain. She made every note cry, scream, wail. Soul is the capacity to transmit one's innermost feelings through the tone of the voice; Aretha radiated raw, hot emotion when she sat behind a microphone. Her stately rendition of Nina Simone's "Young, Gifted, and Black" simmers with pride and awe. The Curtis Mayfield penned "Something He Can Feel" is wispy and breathy, like pangs of lust for a lover. Her instrument was powerful and expressive enough to make anyone's songs her own. Aretha's "(You Make Me Feel Like) A Natural Woman" is a tour de force Carole King's Tapestry version can't quite match; when most people think of "Respect," they're not thinking of Otis. (For more covers, check her version of the Band's "The Weight" with Duane Allman on slide guitar, or the side of Beatles, Steven Stills, and Simon and Garfunkel songs on 1971's Aretha Live at Fillmore West.) Franklin was also a sharp songwriter in her own right — see: the aforementioned "Spirit in the Dark" or the '80s hit "Who's Zoomin' Who?"
Aretha remained present in pop culture because she worked and changed with the times. When synths and programmed drums crept into every aspect of '80s pop and soul music, she scored a hit in 1985's "Freeway of Love," with help on sax from the E Street Band's Clarence Clemons. She matched wares with the singers of that era on the George Michael duet "I Knew You Were Waiting (For Me)" and doubled down on the feminist messaging of her early work in the Eurythmics duet "Sisters Are Doin' It for Themselves." Her 1998 album A Rose Is Still a Rose used lyrics and production from hip-hop luminaries Lauryn Hill, Puff Daddy, and Jermaine Dupri. (That respect ran both ways; when Kanye West asked to sample "Spirit" for The College Dropout's "School Spirit," Aretha famously agreed on the condition that he edit out the profanity.) Her final album of new recordings, 2014's Aretha Franklin Sings the Diva Classics, swiped another artist's single one last time, as she blew through a brassy version of Adele's "Rolling in the Deep," jumping around octaves with a poise the British powerhouse hasn't learned yet.
Though she earned her stripes as the Queen of Soul, it's worth noting that Aretha Franklin's enduring best-selling album carried her back to her gospel roots. Her 1972 live double album, Amazing Grace, collected recordings from two dates performing gospel standards at a Baptist church in Englewood, California. Grace begins audaciously with a slow-boiling "Mary, Don't You Weep," a song southern Baptists hear most frequently at funerals. It's a peculiar album opener, a song about comforting families of the deceased, the titular "Mary" being the biblical Mary of Bethany, whose brother, Lazarus, was raised from the dead by Jesus according to the Gospel of John. But Aretha's "Mary, Don't You Weep" departs from the script of the original song, which advises Mary not to cry without saying why, in that it dramatizes the miracle in great detail, as a pastor might. In Aretha's hands, a song about weathering loss becomes a song about hope and new life, building to a hair-raising "LAZARUS!" in minute five as the risen dead man walks up out of his grave. Replaying that song all week felt like offering ambient prayer for Aretha's well-being. If Lazarus walked away from his ending, maybe she could too. The week hasn't worked out that way, but Aretha might've received a greater gift: She lives anew every time her records play.