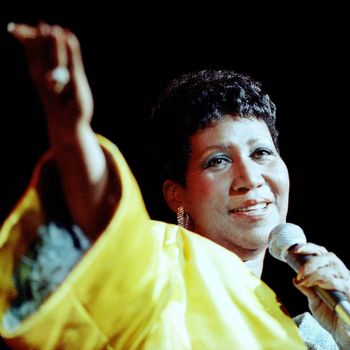 Aretha Franklin performs at the New York's Radio City Music Hall in New York City in 1989.
Photo: (Mario Suriani/AP/Shutterstock)
Tell me what you want, reader. Tell me what moves you. Soul music is named "soul" both for where it comes from, and the places it speaks to, and few honored both of those geographies like Aretha Franklin, who had a voice which could raise bodies in a church, or a bar, or an otherwise silent corner where two people sat, falling into or out of love. Aretha could provide it all, for any moment you could dream up and even the ones you couldn't. Play her forever at weddings, play her forever at funerals, or when the lights go out and you feel around in the dark for the warmth of the person you want to be with forever.
It is true that her run of albums in the '60s was impossible. Her albums on Atlantic — starting with 1967's I Never Loved a Man the Way I Love You —are all celebrated and well-known, but it's her work on Columbia records in the early to mid-'60s that is the most exciting, if not polished. There is no sound like the sound of a gifted young singer figuring out every corner of what their voice can do. I love the shine of a seasoned artist who has learned their range, but in the early '60s, Aretha was exciting to listen to because of the way she had yet to settle into an idea of her own capabilities. In videos from that era, she's backed by full bands of white men tepidly plucking bass strings or lazily banging fingers into the ivories of a piano, while Aretha bounced eagerly with a microphone onstage, hitting all of the right notes that her backing band wouldn't. There was a freedom in the early moments. Her album titles sprawled and read as promotional material for a hot new show coming to town, as album titles in that era sometimes did: The Electrifying Aretha Franklin or The Tender, the Moving, the Swinging Aretha Franklin. On their covers, she was fierce, and carefree. The first Aretha record I purchased with my own money was 1965's Yeah!!, which I found in a bargain crate at some dive shop in Memphis. I remember pulling up the record slowly from the pile and seeing her eyebrows, sharpened to a point at their edges, and then her piercing eyes and the sunglasses hanging down to the middle of her nose. And then, finally, the slight smirk pulled along the left side of her face. In that look, there was a contract made. I know I'm good, so I don't need you to tell me. But it certainly doesn't hurt.
Her Atlantic records were cleaner, more polished, and more vibrant because they let her play the piano there. They kicked the backing pianist off the bench and sat her down at the instrument she loved. Aretha was a tremendous piano player. There is something about a musician who learns to play their instrument by ear. The way that type of learning gives birth to the whimsical, or the daring, outside of formal restraints. Aretha Franklin's piano playing was an extension of her songwriting, or her vision for the endless possibilities of song. It's why — though the Columbia records were fun — her output on Atlantic in the '60s and '70s is where she made her name.
There's a great story I read once where Jerry Wexler, who produced for Aretha, talked about playing her version of "Respect" for Otis Redding, who sang the original. Wexler said that when the tape ended, Redding muttered "she done took my song," ruefully. He knew that as great as he was, he didn't push the song to its highest possible ceiling. Otis Redding was singing about submission, Aretha was singing about equity. There is vision in knowing how many possible lives a song can have, or seeing how it can be laid over a movement for civil rights, or a movement against war. There isn't much interesting in a man insisting on respect when he comes home from work — that is a single note, one which is complex and doesn't bend. Aretha knew to place emphasis on the word over the actual ask. To spell it out, letting the demand hang off of each letter twice. The difference in the two versions is the difference between "give me what I want" and "pay me what you owe me." The ending lines, born out of Aretha's own desire to shift the song's tone:
I get tired / keep on tryin' / you're runnin' out of fools / and I ain't lyin'
Otis stayed mad about the song slipping away from him until he died, and Lord knows I love Otis, but he deserved to stay mad, and if there is some version of a less wretched world beyond this one, I hope the two get to laugh about it. I hope Aretha gets to lower some sunglasses, look into his eyes and tell him, "You know I did it right."
When so many of her direct peers from her era were struggling to find their footing in the shifting sounds of the '80s, Aretha made some of the most inventive and exciting music of her career. The albums didn't always sell, but they were strong. They showed that third acts were possible even when the times didn't seem made for you anymore. Five of her seven '80s albums produced a charting single, some produced two. Beyond that, it was the flex of surviving another decade of immensely rigorous output, her last one. She only put out two albums in the '90s, and five from 2000 until her death. But her voice endured, and our desire to hear it lingered. Aretha Franklin was great because at her long and storied peak, she would have been the best singer in any era she graced. She could have been dropped into any time period and would have still run almost every other singer out of the room. The word "diva" has many definitions and I'm not equipped to traverse them all to find the one that is canon, but I think some part of it has to do with a woman who can inspire awe and fear in equal measure.
In 2014, Aretha released Aretha Franklin Sings the Great Diva Classics, which was an album of her singing covers of songs, almost all of them originally sung by her contemporaries: "Midnight Train to Georgia," or "At Last" … the usuals. One cover stood out. Aretha sang "Rolling in the Deep," which had originally been sung by Adele four years earlier. The audio is imperfect and not particularly well engineered. Aretha was 72 at the time of the recording, and after battling several health issues in the 2000s, her voice wasn't what it once was. The song begins a bit tediously, Aretha tiptoeing around the original material and not attacking it as she might have in her younger days. But then, around the 2:30 mark, something shifts. Perhaps the line "throw your soul through every open door" awakened some dormant gospel spirit inside of the aging legend, or perhaps the hand claps which took over the beat felt like a call home, or perhaps it was the way Aretha chose to intersperse a choir singing "Ain't No Mountain High Enough" into the song's back end, but her voice takes off as it might have four decades prior. Her voice howls and soars over the choir and over the hand claps, and for two minutes, you might forget that this song was not Aretha's the whole time. This, too, was her greatest, most impossible gift. The one she showed us time after time. She might take your song. She might pay tribute to something you made by making it her own. Honoring you with one hand while reshaping your legacy with the other.
There is competition in greatness, and I hope those of us writing about Aretha today do not forget that part as well. She was great because she felt — at least on some level — that she could make someone else's shit fresher than they did. She committed herself to that, even when her voice wasn't what it was, or even when people asked if she could still hit the notes. Even when producers tried to drown her in Auto-Tune. She was at least still swinging for the fences. That takes a special type of hearing, born out of a special type of affection. To know what you love, and then insist on improving on what you love. She was a curator of moments — ones that existed as good, but with the potential to be better. Aretha knew how to make something useful out of the dull mundanity of our always-thrashing emotions. How to carve each letter of what she needed into the earth. It seems the whole point is that there is no comfort even for the heartbreak one knows is coming. She was trying to tell us all along.