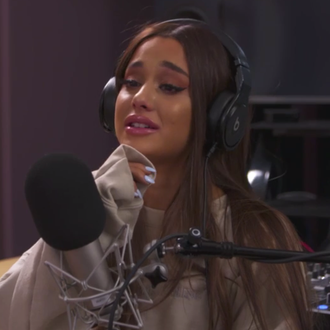 Ariane Grande.
Photo: Beats Radio
About a year after the May 2017 terrorist attack at her Manchester concert claimed the lives of 22 people, Ariana Grande revealed she wasn't sure she'd ever perform again after the trauma she experienced. Thanks to the help of therapy for addressing her subsequent anxiety issues, though, Grande soon returned to the stage, which kicked off with the One Love Manchester tribute concert to benefit the families of the victims. Grande hasn't spoken in public much about the terrorist attack — saying she didn't want to "give it that much power" — but in a new interview with Beats 1 Radio, she opened up a bit more about her trauma. "It's just about being there for each other and helping each other through scary times and anxiety," she explained through tears. "There's just some dark shit out there, man. We just have to be there for each other as much as we can. You just never fucking know."
One of the tracks on Grande's new Sweetener album, "Get Well Soon," alludes to the Manchester attack, which Grande says can translate to a "musical hug" for anyone experiencing their own traumas. "I want to make songs that people feel good and less alone. It's not just about that. It's also about personal demons and anxiety and more intimate tragedies as well," she explained. "Mental health is so important. People don't pay enough mind to it because we have things to do. We have schedules; we have jobs; we have kids and places to be, pressure to fit in, Instagram stories, whatever fucking facade trying to keep up. People don't pay attention to what's happening inside." While people may interpret Grande's lyrics to be "corny" or lacking in depth for that reason — personally, we don't think sonic hugs are corny at all — she does it for one reason: "People gotta be nicer."
We couldn't agree more.