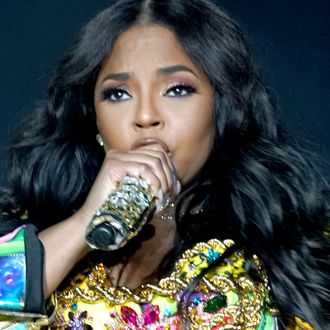 Photo: Bennett Raglin/Getty Images for Essence
Yesterday we lost Aretha Franklin, and as we reflect on the many stories she left behind, there are a few that stand out. From her classic ability to shade to that time she was on Murphy Brown to the time she made Carole King's whole life, Franklin was an ever-present force in the music industry for over half a century. Her guiding hand even reached down from on high to care for the one and only Ashanti, in a story the singer shared on Instagram. "I had a special moment with the Queen Miss Aretha that is truly dear to my heart," the "Foolish" singer wrote.
As Ashanti recalls, she was playing a concert in Canada in 2003 when her mother received a phone call from someone who said they were Aretha. They were skeptical, until the caller commanded to speak with Ashanti "about these germs." Ashanti's mother quickly handed the phone over, and suddenly Ashanti was listening to Aretha Franklin tell her the best ways to avoid getting SARS. The Franklin-approved method for avoiding the respiratory disease? "Never touch doorknobs" and "get out of there," quick. The Queen of Epidemiology!