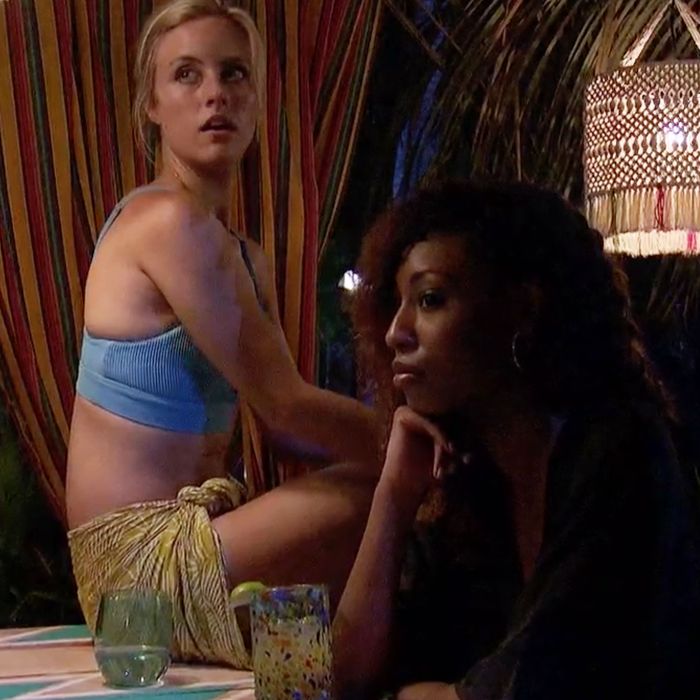 Photo: Photo: Paul Hebert/ABC
This? Now, this? This episode right here? This episode right here? THIS is an episode of Bachelor in Paradise. Oh yes, completely ill thought-out romantic double crosses, breaking up with someone while describing how deep your connection with someone else is, extended metaphors about cheese. Paradise is back on its bullshit and I'm ready for it.
Before we can get to all the delightful weirdness, we have to clear the slate between Colton and Becca. Becca cheerfully going to see Colton confirms to me that under her Minnesota personality lies a cold obsidian heart. There's no viewing of Becca that makes this moment make sense. No human woman would fly to Mexico for an afternoon just to talk to your friend and your ex about how your friend dated your ex. Go do a different thing. Go do literally any different thing. Sure, it's easy to buy that Becca is just a more amenable Bachelorette than other recent Bachelorettes but it's also completely easy to buy that Becca is full of darkness and feasts on the tears of virgins.
But the real question is: Do we care? Do any of us care? Do any of us care about the closure between Becca and Colton? This is not why I'm here. This is some "Men Tell All" bullshit and I don't want it in my episode three of Paradise. Becca tells Colton that what Tia told her had no impact on her decision, to which I say "SURE, BECCA." Becca tells Colton that it's okay for him to feel his feelings and express them. Partially because that's a healthy thing to do but there's the added bonus that women will find it attractive!
Then just Becca just leaves. Bye, I guess?
It's the next day in Paradise and the men have the power to give out the roses. Exactly how are we doing the rose ceremonies? I feel like we just had one and yet we're months away from our next one. Anneliese gets a loser's edit from the moment she wakes up. I feel like her most crucial error is that she thought a 26-year-old model from Clearwater, Florida, would be a stable partner. Trying to get a 26-year-old model from Clearwater, Florida, to commit to you sounds like a torture Michael would have generated on season one of The Good Place. Suddenly, very sexy music kicks in. Did you think it would be a 1920s cigarette girl? No, it's … Jenna?
Jenna matched her hair to her Fashion Nova shorts set. She also says she's looking for her storybook romance and she's an alien. She's another one I genuinely don't remember speaking on Arie's season, but she brings up this alien thing like we all get the joke. Chris Harrison gives her a date card and sends her into the resort. Jordan looks at her dumb face and his dumb jaw drops. Jenna takes him aside to get to know him and they both agree that they can talk about dramatic issues.
Meanwhile Anneliese is this week's lesson in dramatic irony. She keeps talking about how connected she is with Jordan and how he would make a good father. I would like to see a third-grade-style, five-paragraph essay detailing all the ways Annneliese knows Jordan would be a good father. I hope one of the paragraphs includes details that Jordan is busy telling Bibiana and Tia that he's really into Jenna. Jordan says that he believes that he and Jenna can burn the place down. You're about to.
Jenna takes Jordan on her one-on-one date and they make out on the beach while a black box covers her butt. Everyone keeps talking about how excited Jordan is to be going on his date with Jenna while Anneliese sits crying on the inside. In front of her.
That night, Jordan comes back from his date with Jenna and decides he's got to sit down with Anneliese. He also decides that the best version of this conversation is to tell Anneliese about how great his date was with Jenna. He just monologues at her while he tells her that he's saving a place for her in his heart … if it doesn't work out with Jenna.
David can't help himself when it comes to his "feud" with Jordan and decides to take Jenna a birthday cake and awkwardly sit next to her. Jenna seems to pick Jordan after he tosses the cake plate into the sea.
I swear to GOD if Jordan ends up being one of the dudes that proposes this season, then we know 2018 is the darkest timeline.
The next day is a flurry of the guys trying to capitalize on being in power and just making out with everyone. Oh. That's a terrible sentence.
Caroline shows up in Paradise the next morning with a date card. All of the women immediately realize that this week is going to shake up some of the relationships. Caroline takes some of the guys aside and she's shaking like a chihuahua. She's SO nervous and has absolutely no idea where to stand or where to put her hands. She finally asks Venmo John on a date and they feed street cats and dance to a mariachi band.
The next morning, there's another new arrival. Jubilee! My favorite misunderstood hero! She's out of the military and ready to mingle. She's ready to look for smart and nerdy guys. Jubilee, sweetheart, this is not the place to look for nerds, but she finds Venmo John and asks him on a date. Caroline is not happy. Jubilee finally asks John to explain exactly how he's involved with Venmo (he coded the iPhone app). Jubilee asks "WHY ARE YOU HERE?" Jubilee has her finger on the pulse of America.
While Jubilee and Venmo John are finishing up their date, Kenny sets up a special date for Krystal on the beach. He sets up candles because she's brought love and light into his life. She tells him she's just not "feeling it." UGH, LADIES. Look at Kenny. Look at Pretty Boy Kenny King! Imagine the lifting possibilities.
Krystal goes right from hanging out with Kenny to talking to Chris. Can you imagine more of a downgrade? Chris tells her that he's never kissed a blonde before and pulls her in close for a kiss. This would all be fine if he hadn't just told Tia that he was all-in on her and she has so much potential.
Chris is kissing Krystal while Kenny and Eric sit around like the Rosencrantz and Guildenstern of Paradise talking about when the time comes, people need to move with the cheese. It's better if we don't figure out what it means.
The next morning, Chris is bragging to all the guys that he kissed Krystal. Chris is the most trash of all the men in Paradise. He looks like a diagram in the dictionary next to the definition of trash. He's Trash: Figure No. 1. He also starts bragging with Jordan that he's the only guy who can take half of the women on dates. He can have dinner with one and drinks with another and he ranks who is worthy of what meal. FUCK. GROSS. Colton goes to Tia and tells her that Chris is kissing other women while feeding her lines, and she heads out to confront him.
TO BE CONTINUED…