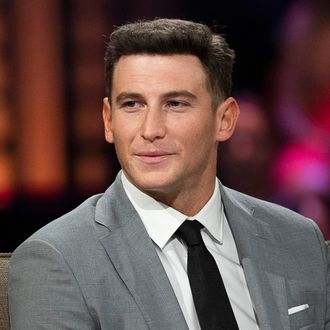 Blake Horstmann.
Photo: Paul Hebert/ABC
The scandal royale of Becca Kufrin's Bachelorette season — an indecent assault and battery conviction aside — was the revelation that eventual winner Garrett Yrigoyen had a troubling history of "liking" alt-right and offensive memes on Instagram. (Memes that mocked everyone from liberal women to immigrants to school shooting survivors.) While Yrigoyen and Kufrin tried to downplay this social media on The Bachelorette's live finale last week, the show's dejected runner-up, Blake Horstmann, also decided to weigh in, admitting he was surprised to discover that side of Yrigoyen. "That's not the Garrett I knew in the house," Horstmann told Us Weekly in an interview. "I'm sure he will learn from all of this and I trust Becca, I trust her decision and I trust her character … I'll let them have their moment."
Yrigoyen and Kufrin are still together, although they admitted during the finale that the meme revelation caused a temporarily rift in their relationship. "When I was liking things, it was going against what she stands for, and that made it really hard on us as a couple," Yrigoyen explained, referring to Kufrin being an outspoken liberal. "I was very worried about it, that I might lose her from that. But I felt she knew me as a person and that I didn't stand behind those likes, and I was a better person than what I was presenting on my social media." As for Kufrin, she said how "there has been struggles" and social media was a "major thing" for them to discuss.