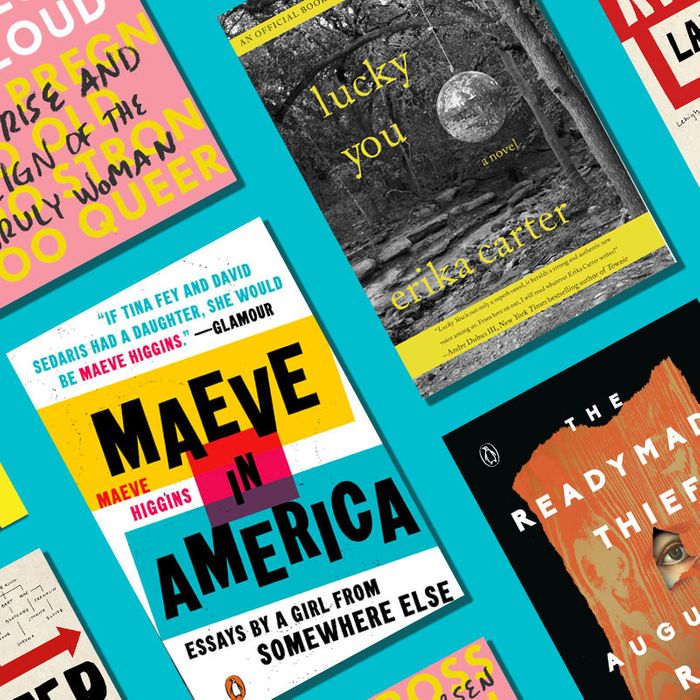 Each month, Maris Kreizman offers nonfiction and fiction paperback recommendations. You should read as many of them as possible.
Maeve in America, by Maeve Higgins
One of the most charming exports to the American comedy scene is Irish writer Maeve Higgins. In her first essay collection to be published in the U.S., Higgins's vibe will be familiar to any of her stand-up comedy fans — she's wary but hopeful, clever but earnest. Her limited-series podcast about immigration shares the same name with her book, and a similar sensibility runs through both: deep empathy and genuine curiosity about the American experience of newcomers … but this time with more Michael Fassbender jokes, and a bit more self-deprecating humor (stop, Maeve, you're perfect).
The Talented Ribkins, by Ladee Hubbard
Each member of the Ribkins family has a small gift, a tiny iota of a superpower: "Little sparks of something special that didn't seem to make much sense and had generally caused more confusion than anything else." Ladee Hubbard's magical debut novel unfurls during 72-year-old Johnny Ribkins's road trip throughout the state of Florida, during which Johnny learns he has a niece he's never met and an obligation to teach her the history she needs to know: Back in the civil-rights era, he joined with his talented kin to "keep their heroes safe," and they came together to make a justice league of their own.
The Readymade Thief, by Augustus Rose
If you're looking for an underrated debut that is as fast-paced and suspenseful as The DaVinci Code but way smarter, Augustus Rose's novel will thrill you. Just don't get scared if things start to get a little weird. The Readymade Thief is the story of Lee, a teenage runaway who gets caught up in an underworld of conspiracies, secret societies, mind-altering drugs, and the Dark Net. As she puts the puzzle pieces together and dodges danger at every turn, Lee will ultimately have the most memorable trip to the Philadelphia Museum of Art since Rocky ran up those steps.
Improvement, by Joan Silber
The winner of the National Book Critics Circle Award for Fiction, Improvement is a tapestry of interweaving narratives tied together by two unconventional women — an aunt and her niece who defy family expectations. A chain of events unfold that brings a variety of broad perspectives to the novel, in settings that range from a Turkish farm in the 1970s to an East Coast trucking route and a New York City nail salon. That Silber is a writer's writer just means that her diverse cast of characters never feel anything but authentic, and her prose is both precise on the sentence level and masterly in structure.
Lucky You, by Erika Carter
Three young waitresses at an Arkansas dive bar face antipathy and anxiety in Erika Carter's perceptive debut novel. When one of the woman's mildly charismatic and rich boyfriend proposes to go off the grid and live off the land in a remote cabin in the Ozarks, the other two are fully onboard, believing that this is the solution to all their problems. Will their cynicism melt away as they learn to separate themselves from the ills of modern-day society, or will they just end up malnourished and smelly? Join them as they unplug their phones and get the hell of out of Dodge, all while listening to their leader spout platitudes about the freedoms of living as one with nature. Spoiler alert: Thoreau he is not. The women's journey of self-discovery, or lack thereof, make them perfect 21st-century heroines.
Too Fat, Too Slutty, Too Loud, by Anne Helen Petersen
Cultural critic extraordinaire Anne Helen Petersen pens a love letter to women who go against the grain in this collection of incisive essays. Petersen's adjective of choice to describe a certain kind of woman who bucks traditional ideas of femininity is "unruly," and the pop-culture figures she uses as case studies reveal how many different ways there are for women to provoke a racist, homophobic, patriarchal society. From Nicki Minaj to Lena Dunham, Kim Kardashian to Madonna, the women covered in Petersen's book are fabulous and flawed, and they expose our society's mass contempt for any woman who doesn't have time to be accommodating and obedient.
Every editorial product is independently selected. If you buy an item through our links, Vulture may earn an affiliate commission.