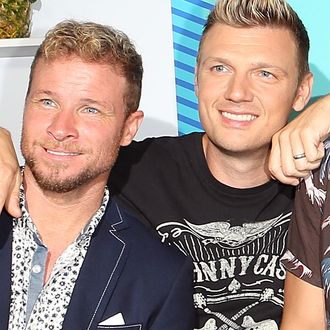 Photo: Michael Tran/FilmMagic
Today Brian Littrell decided to be on a weird side of history and announce that he and his bandmates are standing behind Nick Carter, who has been accused of rape by Dream singer Melissa Schuman. The case is currently being reviewed by the Los Angeles County District Attorney. And even though Carter has been accused of this before (and hey, for you real young kids out there, there's still a very awkward question of what happened with Paris Hilton back in 2004), Littrell and the boys have decided, police investigation aside, his word is good enough for them.
Littrell told TMZ, "Unfortunately, there are fame seekers that are out there. In this situation, he's been forthright and honest with us, and we have to stand beside our bandmate. That's all we can do." Actually, doing nothing was an option Brian, and yet, he continued talking, saying, "It is what it is, it's the time in the world we live in, everybody wants to know something or get something on somebody, and um, you know, Backstreet Boys are top ten on radio right now and back in people's brains." And now we're starting to regret it.