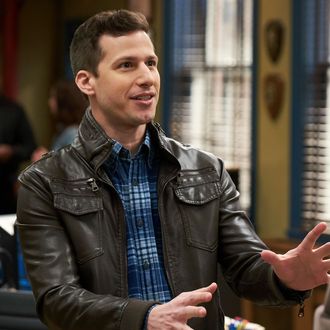 Photo: Universal Television/John P. Fleenor/Fox/Universal Te
Yippie kayak! Brooklyn Nine-Nine dodged cancellation by moving to NBC for its sixth season, so it's no surprise that the cast and co-creator Dan Goor were all smiles at the Television Critics Association press tour on Wednesday. Although Goor and the sitcom's stars didn't reveal exactly when B99 would return to the airwaves — it'll premiere midseason, though an exact date hasn't been announced — they did reveal plenty of details about what's in store for the new season.
Yes, they're doing another Halloween episode.
"We have a very good idea for how to do the Halloween Heist," Goor said, adding that NBC doesn't want them to make any "substantial changes" to the show. (Even the theme song will be the same!)
Rosa's coming-out story will be a big focus.
Stephanie Beatriz's character came out as bisexual last season, and Goor promised that her story line will not be dropped. The writers want to "go down the road of Rosa's interactions with her parents and her journey in coming out," he said.
But will Gina Rodriguez be back?
The Jane the Virgin star appeared in the season-five finale as Rosa's love interest, so the B99 team is hoping she'll have time to return for season six. "We are in conversations with her," Goor said, adding that she wants to come back, but it's a matter of making schedules work. "She is the star of a television show and super-successful in Hollywood".
Expect more serious issues, too.
"Our challenge is to make them feel true to the show and funny, but at the same time give weight to the issue and really explore it in a fair way," Goor said of episodes like last season's "Moo Moo," which tackled racial profiling by police. He added that "we're really interested in trying to do a #MeToo story line."
They're planning an episode with a "similar feel" to last season's "The Box."
"These guys just have a gift for translating a serious subject in a comedic way," said Andre Braugher of the acclaimed bottle episode, which was inspired by Homicide: Life on the Street, where Raymond Holt and Andy Samberg's Jake Peralta interrogated a suspect played by Sterling K. Brown.
What will Jake and Amy's marriage be like?
"Mostly just, I think, really small, detail-oriented stories about their finances," Samberg joked.