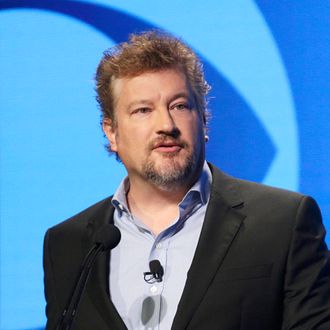 Photo: Francis Specker/CBS
Acknowledging it had been a "tough week," CBS Entertainment president Kelly Kahl faced the press at the Television Critics Association summer tour on Sunday, insisting that his division is committed to a "collaborative, inclusive and safe workplace." Kahl, who was confronted with many questions about how CBS investigates complaints against high-powered executives and producers, said he has "great confidence" in the company's ability to investigate allegations and ensure workplace safety.
"I can only speak to the entertainment division," said Kahl, who was promoted to president last year and rose through the ranks at CBS since 1996. "We are a large company. I am confident the culture at the entertainment division is very safe, very collaborative, and very welcoming […] When problems pop up, we do investigate. But I feel very good and very confident that CBS Entertainment is a welcoming and safe culture."
On July 27, Ronan Farrow published a New Yorker exposé detailing sexual-harassment claims against CBS CEO and chairman Les Moonves by six women between the 1980s and the early aughts, including allegations that Moonves forcibly kissed and touched them in the workplace and, in some cases, retaliated against them professionally for rejecting his advances. (In a statement to The New Yorker, Moonves admitted to behaving badly with women but denied some of the claims.) The New Yorker report also includes allegations against other CBS employees, and claims Moonves's actions fostered harassment across the company. Nineteen employees claimed that former chairman and current 60 Minutes executive producer Jeff Fager allowed harassment within his division, where Charlie Rose worked and was accused of harassing dozens of women. (Fager was scheduled to return to work on Monday after a summer break, but a CBS spokesperson told Deadline that he will "stay on vacation.")
But the problems haven't remained within CBS News. On Friday, Vulture reported that NCIS: New Orleans showrunner Brad Kern, who has been accused of creating a sexist and vindictive work environment on that show and others he's worked on, is facing a third investigation and was suspended in June. After he was investigated the second time, CBS nevertheless chose to sign Kern to a new two-year deal last spring. When asked about the decision to continue working with Kern, Kahl told journalists, "CBS Studios investigated Brad Kern in 2016. Action was taken after that investigation and there have been no complaints since. I'm troubled and frustrated that reports continue to come out in the press and because of that […] we've opened up another investigated with outside counsel."
In the week since the New Yorker story was published, Kahl said many female executives at CBS approached him to say they "were dismayed by what they'd read." (Kahl also pointed out that 61 percent of CBS executives at a vice-president level or higher are female.)
"I've had many female colleagues come to me this week who have been saddened by what they heard about our company," he said. "They said it does not represent their experience at CBS. We're not saying we're perfect — no large company is — and there's always room for improvement. But a lot of us have been here a long time precisely because CBS Entertainment is such a fulfilling place to work."
Kahl said he has not had any direct conversations with producers or showrunners this week, but he believes the majority of the network's 40-plus sets are safe environments. Several times, he reiterated his confidence in CBS procedures to investigate complaints. "My dealings with our HR department have always been very straightforward and very honest," he said. "I have great confidence in our HR department."
The CBS board of directors announced last week that they had retained an independent investigator to look into the recent allegations against Moonves, as well as "cultural issues at all levels of CBS." They also announced the formation of a "special committee of board members" to aid the investigation, which will include former NAACP president and CEO Bruce S. Gordon, former deputy mayor of Los Angeles Linda M. Griego, and Robert N. Klieger, a law partner whose practice focuses on civil litigation.
"With regard to Leslie, a few people at CBS have already attempted to put their thoughts into words," Kahl told journalists. "I think Terry Press, president of CBS Films, wrote eloquently about the situation. And I think Stephen Colbert spoke thoughtfully and powerfully on his show this past week. I know they both struggled to express their feelings. I struggle as well. Leslie has been an excellent boss and a mentor for a long time and he put me in this job. At the same time, we must respect the voices that come forward. All allegations need to be and are being taking seriously."