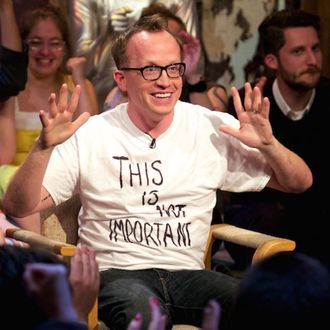 Chris Gethard on
The Chris Gethard Show.
Photo: TruTV
It's the end of the road for The Chris Gethard Show. Gethard announced on Twitter today that his live UCB show turned public-access show turned Comedy Central pilot turned Fusion show turned truTV show has been canceled and will not return for another season. In a lengthy Facebook post expanding on the news, Gethard revealed that the decision to not move forward was a mutual one between him and the network. You can read the full post below:
But some executives from truTV sat me down a few weeks after this most recent batch of episodes and said, "We're getting the sense from your final speech, and from some of our behind the scenes conversations, that you might be done with this project."




I told them they were right.




So, it's a mutual decision. We were after all, the lowest rated show on the network, something that I take no small amount of pride in. Anyone who knows me knows - if I'm not going to be number one, I see no sense in being number four, or number six. Let's live on the extremes, either way. Point being, though, that it's not like they were clamoring to have it back without changes. It was a fair and necessary conversation.




And before I move any further, let me say that I've been told that a number of people at truTV actually put in some impassioned pleas for TCGS, saying that they didn't give a shit about the numbers because there was something special about our show. To those people, I say thank you for having our backs, for seeing something in us, and for fighting the good fight!
Gethard goes on to cite low ratings, high pressure, and "the push and pull of so many producers, writers, and development executives trying to find the right formula" for the show partly to blame for its cancellation. Ultimately he says, "I am the only one to blame for not being able to figure out how to get this thing that lived in my heart and head out there in a way that was able to get us the numbers that would have earned more freedom and breathing room," he wrote. But Gethard also noted that it's time for him to evolve into something new in his career: "I'm different. The show isn't. It's time to see what's next."
Read Gethard's full Facebook post here.