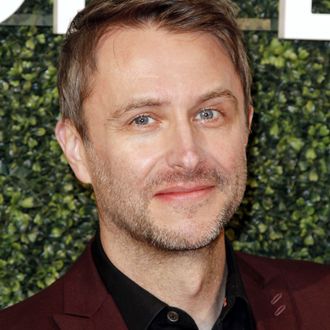 Hardwick.
Photo: Alberto E. Rodriguez/Getty Images
An emotional Chris Hardwick welcomed viewers back to Sunday's midseason premiere of AMC's Talking Dead by thanking them for their support during the network's investigation of emotional and sexual abuse claims made against him by ex-girlfriend Chloe Dykstra. "You know, normally I recap the show we're about to talk about here, but instead, I really just want to take a minute and I want to say that I am so appreciative to be standing here right now," he said at the top of the show. "I want to thank you, the Walking Dead community, for all of your support these last couple of months. You know, this show is not just a job to me — this is a vital part of my life, you know?"
AMC had temporarily removed Hardwick from his role as both their Talking Dead and Comic-Con host while they looked into Dykstra's allegations, which she outlined in a Medium essay posted in June. Hardwick denied any claims of misconduct, and was subsequently reinstated at the end of July. "We take these matters very seriously and given the information available to us after a very careful review, including interviews with numerous individuals, we believe returning Chris to work is the appropriate step," the network said at the time.
"This has been a sanctuary these last seven years we've been here," continued Hardwick during tonight's intro. "This has been with me through good times and bad times, and I have so much gratitude to you the fans and the producers and the amazing cast of both of these shows for allowing me to come here and be a part of this community every week. This is what this is — this is a community. And you know, we're on the precipice of a lot of changes on both Walking Dead shows in the coming weeks and months, and I'm so looking forward to going on that journey with you."
Concluded the host, "I've said the following words a million times, countless times, and I have never been more thankful than I am in this very moment to say to you that I am Chris Hardwick and this is Talking Dead." Hardwick also praised guest Yvette Nicole Brown, who filled in as his temporary replacement host and Comic-Con sub, telling her that she is an "amazing friend," a "gift on this planet" and a "true friend."
Following news of his reinstatement in July, Dykstra issued a statement explaining she did not participate in AMC's investigation, saying she did not want to ruin Hardwick's career, but rather tell the truth. "I do not believe in an eye for an eye, and therefore I have only shared my evidence with those who I felt should see it," she said. Participation aside, Dykstra tweeted on Friday, "I 100% stand by every single word of my essay." Prior to Hardwick's return Sunday night, several Talking Dead staffers reportedly quit in response to his return to the show, including a female executive producer.