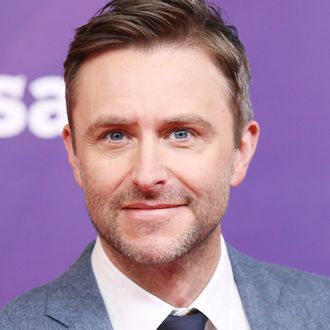 Chris Hardwick.
Photo: Photo by Michael Tran/FilmMagic
After it was revealed that Nerdist founder Chris Hardwick was the unnamed man Chloe Dykstra accused of sexual and emotional abuse back in June, the company released a statement and scrubbed his name from its website. But now that AMC has reinstated Hardwick as host of Talking Dead and Talking With Chris Hardwick following an internal investigation, it appears the same thing has happened over at Nerdist. Here's a screenshot of the Nerdist "About" page today followed by a screenshot of the change that was made after Dykstra's essay was published:
On the "About" page, Hardwick's name currently links to this page and update from the company:
Following an internal investigation conducted with the assistance of outside employment counsel into Mr. Hardwick's conduct while employed at Nerdist we have made the determination to restore the reference to Mr. Hardwick as a founder of Nerdist.




Nerdist prides itself on being an inclusive company made up of a positive, diverse community of people who come together to share, celebrate, and discuss the things we love. We absolutely do not tolerate discrimination, harassment, and other forms of abuse.
Following AMC's reinstatement of Hardwick last month, Dykstra spoke out on Twitter to say she did not participate in the network's investigation and only shared her story "so others might not feel so alone." Dykstra tweeted another statement today, noting that she "100%" stands by her essay:
A few developments have already happened since AMC and Nerdist reinstated Hardwick. Over on Talking Dead, the Wrap reports that several staffers have decided to leave the show due to AMC's decision to let Hardwick return. One of the staffers is a woman who served as an executive producer. As for the Nerdist website, writer Donna Dickens revealed on Twitter today that she quit due to the company's decision to restore Hardwick's name:
Looks like things worked out for Dickens pretty quickly: