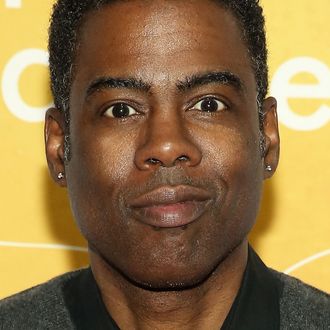 Chris Rock.
Photo: Monica Schipper/Getty Images for Urban Arts Part
FX just revealed details for the upcoming fourth season of Noah Hawley's Fargo, and this time around, a comedy superstar will be headlining. At TCA, FX revealed that Chris Rock has signed on to star in Fargo's next season set in 1950, which begins production next year. "I'm a fan of Fargo," Rock said on the news, "and I can't wait to work with Noah."
Here's the log line for the next batch of episodes:
In 1950, at the end of two great American migrations — that of Southern Europeans from countries like Italy, who came to the US at the turn of the last century and settled in northern cities like New York, Chicago — and African Americans who left the south in great numbers to escape Jim Crow and moved to those same cities — you saw a collision of outsiders, all fighting for a piece of the American dream. In Kansas City, Missouri, two criminal syndicates have struck an uneasy peace. One Italian, one African American. Together they control an alternate economy — that of exploitation, graft and drugs. This too is the history of America. To cement their peace, the heads of both families have traded their eldest sons.




Chris Rock plays the head of one family, a man who — in order to prosper — has surrendered his oldest boy to his enemy, and who must in turn raise his son's enemy as his own. It's an uneasy peace, but profitable. And then the head of the Kansas City mafia goes into the hospital for routine surgery and dies. And everything changes. It's a story of immigration and assimilation, and the things we do for money. And as always, a story of basically decent people who are probably in over their heads. You know, Fargo.
Rock is already having a very busy 2018. His first stand-up special in ten years, Tamborine, debuted on Netflix in February, and starred alongside Adam Sandler in the movie The Week Of, which premiered on Netflix in April. He also served as an executive producer on BET's recently canceled late-night show The Rundown With Robin Thede. He previously worked with FX as executive producer on Totally Biased With W. Kamau Bell.