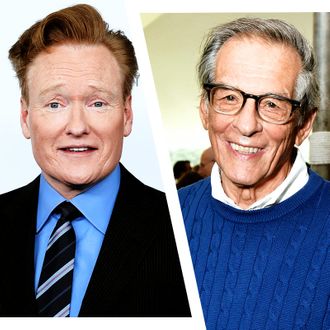 Conan O'Brien, Robert Caro.
Photo: Getty Images
Conan O'Brien celebrates his 25th anniversary in late night next month and now reigns as the longest-serving late-night host currently on TV, so you'd think by now he'd be able to nab any guest he wants. It turns out, however, that there's one guest in particular O'Brien has wanted to interview more than anyone, who has repeatedly turned him down over the years, thus becoming his very own White Whale: biographer Robert Caro.
In a very weird and hilarious new interview with the New York Times, O'Brien opened up about his lifetime quest to get the Pulitzer-winning author of The Power Broker and The Years of Lyndon Johnson, whom O'Brien has been a huge fan of since his college days, to appear on his show. So far, O'Brien's many attempts to get a yes from Caro have resulted in rejections, despite O'Brien creating a whole segment, "Serious Jibber-Jabber," with Caro specifically in mind for it: "I pretty much made this thing as a bear trap to catch Robert Caro," he admitted.
While O'Brien says his biggest nightmare is turning on the TV to see Caro play a game on Jimmy Fallon's show ("I'm just going to be enraged. He's going to get everyone cheering, and Cardi B's there, high-fiving him. And I'm just going to be enraged"), the years of rejections haven't stopped him from trying — quite the opposite, really. "The biggest thing I want to stress is that my inability to get him to sit with me only makes me respect him more." (Notably, Caro hasn't made too many late-night appearances over the years, with the exception of The Daily Show With Jon Stewart in 2012 and The Colbert Report in 2013.)
The New York Times reached out to both Caro and his publiser Knopf for responses. Caro's statement: "'Conan' — You mean it was O'Brien? I thought it was The Barbarian." A spokesman for Knopf, meanwhile, offered something a little more promising:
Suffice to say, his people have been in touch a few times (email, phone, Conan standing outside the building), and we remain cautiously optimistic about Caro making an appearance on the show before the decade is out.
Mr. Caro, we beg of you, please go on O'Brien's show before this quest drives him to insanity.