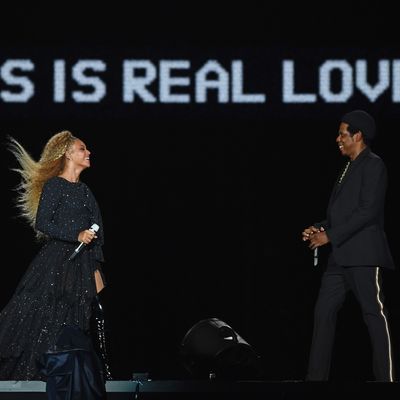 But what's real, anyway?
Photo: Larry Busacca/PW18/Getty Images for Parkwood Entert
The last time Beyoncé and Jay-Z toured together, their marriage was in peril, though they could've fooled the crowd. Weeks earlier, in May 2014, Beyoncé sister Solange was caught on tape physically accosting her own brother-in-law, Jay-Z, in front of Beyoncé in an elevator after the Met Gala. The tour that followed was pre-planned damage control, though it wasn't immediately clear then what, exactly, was broken. "We've put this behind us and hope everyone else will do the same," the Carters said in their one and only statement on the incident shortly after the news broke. In that same statement they referred to themselves as a "united family" and what could hold up the front of unity better than a joint tour? They ran through 21 shows over the course of three months performing a marriage, sharing never-before-seen private footage from their wedding, from Beyoncé's first pregnancy, and from their life together.
Fast forward four years and we know now it was all for show. In the years since that tour, both Beyoncé and Jay-Z have released two sides of the story of what happened to their marriage, on her soul-baring Lemonade and his repentant 4:44, then have recently rewritten that history on their joint album, this year's Love Is Everything, to complete the trilogy. It would've been easy after On the Run to excuse what happened that night in that elevator as just a drunken tiff between in-laws, but to do so would've been to run from the truth. It also wouldn't have explained why Beyoncé sang her heartbreaking jilted lover's ballad "Resentment" on that tour in a wedding dress and sobbed throughout like she was working through pain in real-time. Three years later, Jay-Z told us why on 4:44's bonus track "MaNyfaCedGod," admitting that'd we'd been witness to their live marriage counseling that whole tour:
"On the Run, we took a hundred together

More than the money, it was the fact that we done it together

Uh, healing in real time

'Song Cry' to 'Resentment,' that was real crying"
Beyoncé and Jay-Z returned to MetLife Stadium in East Rutherford, New Jersey on Thursday night for the second iteration of their On the Run Tour, hitting all the same stadiums they visited the first run. But just as opening sets from Chloe X Halle and DJ Khaled had finished up, fans were evacuated from the stadium seats as the threat of severe lightning loomed overhead. The storms caused an hour-plus weather delay that pushed the start of the show well past 11 p.m. The only force more powerful than Beyoncé, it seems, is Mother Nature.
The On the Run tour that followed is now a mirror image of its original, with their newer works from the trilogy – "Formation," "The Story of O.J.," "Apeshit" – saved until the show's second act. It's still broken up with a short film, this one inspired by the 1973 Senegalese classic, Touki Bouki, a take on Beyoncé and Jay-Z's greatest inspiration, Bonnie and Clyde. And there are still mammoth set pieces, including what becomes a stained glass backdrop to mimic the church in their "Family Feud" video, parallel moving catwalks on both sides of the runway for them each to perform on separately, and a floating stage in its third act cribbed from Kanye West's Saint Pablo tour that unfortunately isn't nearly as impressive as his invention.
What's changed is the energy. Now that the curtain has been dropped on their marriage, peddling it to us now with PDA and home videos from their vow renewal is a tougher sell. Beyoncé does a lot of the work of repairing her husband's image for him by playing the doting alpha wife while he plays her inferior. Anytime she would leave him with the stage and her band (the same genius marching ensemble from Beychella) to himself to perform his 4:44 songs, especially its title track, her fans – the overwhelming majority of the crowd this time compared to the first tour – took a seat.
Mostly, the performance of husband and wife works here as well as it did on Everything Is Love because they aren't chasing perfection on this tour and are willing to put their marital setbacks behind them while also acknowledging that they were there all along. The awkward tension has been diffused. Now, when Beyoncé sings "Resentment," she does it in a billowing tangerine dress and belts more from her gut than her heart; all that pain isn't as urgent or real as her love for him — however much its been tested — still is. And when Jay-Z raps "Song Cry" right before "Resentment," just as he did on the first tour, he now ends it with that same verse from "MaNyfaCedGod" that revealed why On the Run ever existed in the first place: It's for the fans to have a First Family to believe in, but it's Beyoncé and Jay-Z, as a couple, that need convincing the most.