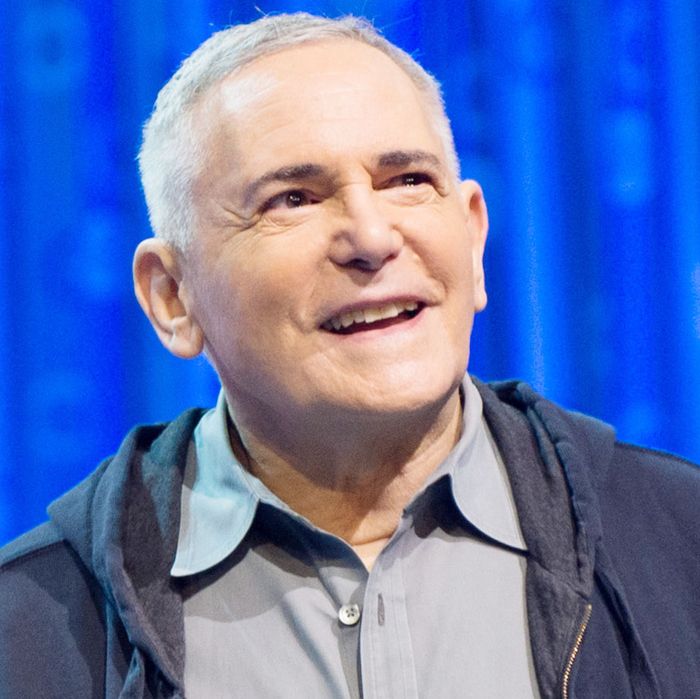 Photo: Emma McIntyre/Getty Images
A quiet giant of American entertainment is gone.
Those who followed the career of Craig Zadan, who died yesterday at 69 after complications from surgery, might raise an eyebrow at calling him "quiet." If you were fond of musical theater and showbiz history, the intersection where Zadan lived and breathed, you knew him as half of a prolific partnership with Neil Meron, producers whose artistic signature was as distinct as that of any writer, director, or composer.
But audiences who never stepped into a Broadway theater were still familiar with Zadan and Meron's work because it was everywhere. Viewers experienced it in movie theaters, where their big-screen adaptations of Hairspray and Chicago played. And they experienced it on television, where the duo oversaw multiple Oscar broadcasts, revived the live musical as blockbuster entertainment (with a run stretching from The Sound of Music though this year's Jesus Christ Superstar), helped create the short-lived but beloved musical drama Smash, and oversaw a string of made-for-TV movies and mini-series about the lives of legendary entertainers, all of which were distinguished by their intelligence, empathy, and a touch that miraculously managed to feel light even when the material was dark as could be.
I first noticed and appreciated Zadan and Meron's work in the 1990s, when I began writing about television for the Star-Ledger. At the time, the team oversaw two excellent musical adaptations for The Wonderful World of Disney — 1997's Cinderella and 1999's Annie — both of which stood out for their lush production values, expert control of tone, and ahead-of-the-curve commitment to diverse casting. Cinderella starred Brandy in the title role, Bernadette Peters as the wicked stepmother, Jason Alexander as Lionel, Whoopi Goldberg and Victor Garber as the King and Queen, and Whitney Houston as the Fairy Godmother; Annie starred Alicia Morton as Annie, Kathy Bates as Miss Hannigan, Kristin Chenoweth and Alan Cumming as the would-be kidnappers Lily and Rooster, Garber as Daddy Warbucks, and Audra McDonald as his assistant and eventual fiancée Grace Farrell. McDonald was the first woman of color to play Farrell. She later revealed that the network was "uncomfortable" with a black woman marrying the show's male lead and made them shoot an alternate scene where Farrell rejects the proposal; Garber only agreed to do one take, and intentionally "bombed" it to make it unusable.
Just as impressive were Zadan and Meron's run of made-for-TV biographies of legendary entertainers. These were always a cut above anything else being done for commercial broadcast networks, populist without ever seeming to pander, deeply researched, and organized around smart takes on their psychologies, plus full-blown theories about what the entertainers' art meant. This was a sharp contrast to the usual biopic — past and present, cinema and television — where storytellers string highlights from the subjects' career and private life end-to-end, often with some kind of flashback structure, and call it a day. The Beach Boys: An American Family, The Three Stooges, Martin and Lewis, Lucy, and The Reagans (which initially raised hackles because of the Reagan administration's cold indifference to the AIDS epidemic) were all consistently engaging and smart. Even when they overreached or had trouble proving their theses, they were filled with elating or wrenching moments, and split the difference between big-tent broadcast-network simplicity and the shades-of-gray storytelling that was increasingly being practiced on cable TV. They also gave established or up-and-coming actors a chance to show new sides of their talent: Michael Chiklis's explosively physical Curly in The Three Stooges, Sean Hayes and Jeremy Northam's teamwork as Martin and Lewis, Frederick Weller's sublime and startling performance as Brian Wilson in the Beach Boys mini-series, and Rachel York and Danny Pino's teamwork as Lucille Ball and Desi Arnaz were all indelible.
But the crown jewel in this underappreciated section of their filmography is Life With Judy Garland: Me and My Shadows, easily the single best showbiz biopic ever to air on network television. A two-part ABC mini-series, Me and My Shadows put a spotlight on uncanny dual performances as the adolescent and adult Judy by, respectively, Tammy Blanchard (who sang in character as Garland, eerily well) and Judy Davis (who lip-synced to recordings of the real Garland). Both won Emmys for their work. (Garber, Zadan and Meron's go-to male lead at that point, was nominated for his role as Sid Luft, Garland's producer and third husband.)
While their work for the Broadway stage and in televised stage adaptations was formidable, Zadan and Meron's brand was smart but accessible entertainment that combined a forward-thinking mentality with reverence for history and tradition. There were little in-jokes, marginal details, and Easter eggs if you knew to look for them, but you never got the sense that you'd been invited to a meeting of a club whose rules you didn't really understand.
Zadan was raised in Florida and started out as a journalist, contributing to New York Magazine, among other publications, and publishing a superb biography of Stephen Sondheim, Sondheim & Company. You could see his sensibility unfolding early in his career, as a producer on two quasi-musicals, 1984's Footloose and 1989's Sing, which "justified" their musical numbers in context. But it really bloomed in 1993, when he teamed up creatively with Meron (who'd been his business partner since the '70s) for their 1993 CBS production of Gypsy. A classic of its type, Gypsy boasted a murderer's row of great stage and screen performers — headed by Bette Midler, Peter Riegert, Cynthia Gibb and Ed Asner — and was helmed by Dirty Dancing's director-choreographer Emile Ardolino.
The success of that broadcast seemed to embolden Zadan and Meron. Over the next 25 years, they challenged themselves across media with radically different technical and aesthetic requirements: the self-contained theatrical film, the commercial TV movie/mini-series, the live broadcast, and the stage. They mounted Broadway revivals of How to Succeed in Business Without Really Trying and Promises, Promises. They enabled one of a handful of legitimate theater adaptations to be broadcast on network TV in the new millennium: a 2011 production of A Raisin in the Sun starring Sanaa Lathan, Sean Combs, Audra McDonald, Phylicia Rashad, Bill Nunn, John Stamos, and David Oyelowo that was directed by Kenny Leon. They reteamed with Leon for a new version of Steel Magnolias with an all-black cast that included Rashad and her daughter Condola Rashad, Alfre Woodard, Queen Latifah, and Jill Scott.
Their work won earned six Oscars, two Tonys, five Golden Globes, 17 Emmys, two Peabody Awards, a Grammy, six GLAAD Awards (they also produced the telecast one year), and four NAACP Image Awards. The understated and consistent artistry that Zadan and Meron brought to all of their work was matched by their social conscience, which seemed to proceed so organically from their chosen material that the result never played like a message with songs and drama attached.
As Zadan told the Huffington Post while promoting the TV production of Raisin, "Neil and I have been drawn to movies that fall into three distinct groups: One is musicals, which we took upon ourselves to try to bring back when nobody was doing musicals; the second is bio-pics. When no one was doing bio-pics, we on TV, we did Judy Garland, the Beach Boys, the Reagans — a whole lot of biographical things; and the third — social and political films like Serving in Silence, What Makes a Family, and Wedding Wars, which are gay and lesbian stories. We're always developing more, looking for more social/political stories."
Zadan is survived by his life partner, Elwood Hopkins, his artistic partner Meron, and untold millions of admirers who knew that if he put his name on anything, it was worth seeing.