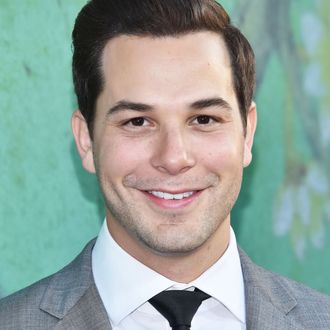 Photo: CHRIS DELMAS/AFP/Getty Images
When Crazy Ex-Girlfriend returns for its final season on October 12, the beloved character of Greg will finally be back in West Covina — but he won't be played by actor Santino Fontana, who left the show in the second season. Instead, star and co-creator Rachel Bloom announced at a Television Critics Association panel on Monday, Skylar Astin of Pitch Perfect is joining the cast as a "reimagining" of the character.
If you're yelling at your computer screen right now, Bloom definitely understands. "Rebecca is gonna call it out and say this person's different. What the fuck!" Bloom said during the TCA panel. "We're playing with the ideas and themes of perception, how he sees her and how other people see each other. It feels so exciting and new for us. It is a fun comment in people in TV shows being recast. We're not going to pretend."
Fontana left Crazy Ex-Girlfriend in 2016 to move back to New York and pursue other projects, like the upcoming Broadway musical Tootsie. But co-creator Aline Brosh McKenna said she and Bloom have always wanted to bring back Greg in "a way that suited our show."
"Because we felt we had taken the resolution we wanted for Greg and jammed it into those first four episodes of the second season, we felt we had completed his arc," Brosh McKenna said. "So now, bringing the character of Greg back, it's a part of our storytelling. It's a plot point in our story that the character is reimagined."
Brosh McKenna also said she called Fontana "out of the highest respect" to let him know what they were planning, but they didn't ask him to return because of the creative turns Rebecca's story is taking. "When you haven't seen someone in a long time, they seem really different," she said. "Because our show is a first-person show in a lot of ways, we are playing with perceptual issues of what someone seems like when they come back."
Bloom added that Greg's return will be a "barometer" for how much Rebecca has changed. Rachel will continue to deal with her recovery and redemption in the first half of the season, she explained, but the final episodes will return the show to its romantic-comedy roots. Bloom wrote the first episode and will direct the penultimate one; Brosh McKenna will direct the finale.
"The first season was about very much about her creating this romantic comedy because of her inner chaos," Bloom said. "In the final season, she's settled and then the chaos starts happening around her and she finds herself in the middle of a bunch of romantic comedies."