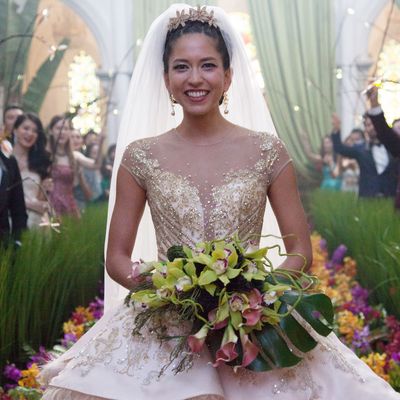 Photo: Sanja Bucko/Warner Bros. Entertainment Inc. and RatPac-Dune Entertainment LLC
Adapted from Kevin Kwan's 2013 best seller, Crazy Rich Asians tells the story of Rachel Chu (Constance Wu), a young NYU professor who follows her beau Nick Young (Henry Golding) to his home in Singapore, to both attend Nick's best friend's wedding and finally meet the Young family. The twist? She has no idea that Nick comes from an unspeakable amount of wealth. Throughout, the rom-com smartly uses fashion to both articulate and poke fun at wealth, with Mary E. Vogt's rich costuming doing much of the visual heavy lifting in defining the characters.
To bring the source material's lavishness to life, designer Vogt closely worked with director Jon M. Chu, who referenced a number of fairy tales, including The Wizard of Oz and Cinderella, as his influences. "And a Wong Kar-wai movie, which is not a fairy tale, that he really loves: In the Mood for Love," adds Vogt. "That movie was very influential on this film because of the colors." On Chu's advice, Vogt also reached out to Kwan to further understand the background of the Young family. "They are really 'old money,'" Vogt says. "Peik Lin Goh's family are 'new money.' They just made their money and are really enjoying [it]. They're just flinging it around, wanting to show it [off]. The Young family is used to having money, and they are quiet about it. They dress in a more elegant way. Their house looks more like a museum, and it's all very understated."
Ahead, Vogt breaks down eight of the film's key looks.
Eleanor Young (Michelle Yeoh)
Yeoh's natural elegance finds a royal edge in the politely imposing mother of Singapore's most eligible bachelor. Who wouldn't bow down to Eleanor, especially when she appears in a caped, deep-burgundy gown with fine front pleats at Nick's Ah Ma's annual party, where the fish-out-of-water Rachel first meets her? "That was a Valentino dress that we bought in Kuala Lumpur," Vogt says. "It's very suited to Eleanor's character. It had a cape in the back that gave it a regal look." Eleanor floats in the imperial frock with authority as she courteously engages with Rachel and directs the event's staff. "Michelle didn't want to be really stern and stiff," Vogt adds. "She wanted to show that she cared about her family and she was protecting her son." So for her entire wardrobe, Vogt blended ease with architectural structure, and tradition with simplicity. "Like that burgundy gown," she explains. "The design is very vertical, straight to the ground with the straight-across neckline. But it's a very soft, silk chiffon fabric. It [flows]." Honoring Chu's desire to add a pop of green to the look, she completed the costume with a stunning brooch and a matching pair of earrings. "I'm not sure what the stones were in that brooch. They may have been jade, as [Jon] said that jade was really representative of [Eleanor's] culture and where her family came from. But they were real. We had to have guards for the jewelry."
Rachel Chu (Constance Wu)
The dignified, unassuming, and highly accomplished economics professor earns our empathy when she finds herself at odds with her rich boyfriend's disapproving family. So when she steps up her (until then fairly modest) fashion game while attending the island's socialite wedding of the century, we're more than ready for her score-settling entrance. Vogt explains that director Chu wanted a Cinderella-like moment for Rachel. "I looked at a lot of pictures of Constance. I kept going back to light blue. There's something about light blue and her skin tone — it just made her look like a princess," Vogt says. In the end, it was Wu who brought the full-skirted Marchesa dress with fabric rosettes to the table. "What I like about that dress is that it's light blue and white too. It's like an ombré. It's very light and airy, and it looks like a cloud," Vogt says. "Most couture houses will lend [dresses] only for a couple days, because they are booked. They have other appointments all over the world. But [this] wasn't a new dress, so they were like, "Yeah, you can have it for four weeks." It came with big sleeves, which we took off because Constance is so delicate and we wanted her to look vulnerable in that scene." Vogt also purposely contrasted Rachel's garment with Eleanor's: an intricately beaded Elie Saab dress with a matching coat. "I like the contrast of that dreamy, soft cloud dress next to the mother, who also had a blue dress on," she says. "But Eleanor's dress was much more structured. It had a stiff neck that had embroidered flowers in blue on it. Rachel's dress is more ethereal."
Astrid Young Teo (Gemma Chan)
If we're being honest, it's impossible to select just one look from the wardrobe of Nick's glamorous cousin Astrid. But let's leave aside her hot-pink, jewel-collared Alexander McQueen gown (which she wears to the hot-ticket wedding) and the form-hugging, silvery Ralph Lauren number she is seen in at Ah Ma's party, and focus on her introductory look instead. Astrid confidently marches into a high-end jewelry store (where she's about to do some serious damage), wearing statement sunglasses and a pale-pink drop-waist dress with a high shawl collar. "The dress and the glasses were both Christian Dior," explains Vogt. "[Gemma] is like someone from another planet, she's just so elegant. She doesn't even think there's anything special about her. She's just such a down-to-earth person but has this amazing ethereal quality." To complement her timeless elegance, Vogt opted for a clean-lined look: "She was going to walk into the scene, so I wanted to do something that [had] a graceful length. [The Dior dress] is four or five inches below the knee. She just walks so beautifully [in it], and that full-ish skirt really showed her off. It was the first time we see her, so it really tells you who she is." Vogt completed the look with a pair of Chopard earrings, which Astrid wears while she buys another blindingly exquisite pair, made by a Dubai- and Geneva-based company called Mouawad.
Peik Lin Goh (Nora Lum a.k.a. Awkwafina)
What great rom-com is complete without a quirky female sidekick? In Crazy Rich Asians, Awkwafina does the honors as Peik Lin Goh. She enthusiastically welcomes Rachel to her family's hysterically gilded, tacky Trumpian palace wearing a dog-patterned pajama set with a fierce sense of humor. "[That set is by] Stella McCartney," Vogt says with a chuckle. In an effort to keep Peik Lin distinct in a crowded field of lead players, Vogt infused her costumes with a dose of exaggeration. That's how she landed on her animal patterns, loud-colored ensembles, and statement jewelry (one Marni necklace being the standout). "Nora's got an amazing, giant personality," Vogt says. "She's just like the sun and very witty herself. It just made sense that she would have these clothes that represent her. She was going to play Peik Lin as a fun character and Jon was going to let her do a lot of ad-libbing. I thought, 'This is a great opportunity. We don't have anyone in the film like her.'" Vogt recalls that director Chu wanted her to have different hair color in every scene. But then the hairstylist gave her the blonde wig and everyone just fell in love with it. "She looked like a little doll. I would love to have a Peik Lin doll."
Araminta Lee (Sonoya Mizuno)
Sure, bride-to-be Araminta rocks a gold, '70s disco jumpsuit at her extravagant bachelorette party. But that's nothing compared to her show-stopping, multilayered wedding dress, which she walks on water (no, really) barefoot in. The centerpiece garment for the wedding of the decade was designed by Vogt herself. "We had it made by Carven Ong, who owns a business in Kuala Lumpur," says Vogt, adding that she tried to use people from Kuala Lumpur and Singapore as much as possible to bring an authentic flavor to the clothes. "A lot of that dress was based on the actress, Sonoya, [who is] a ballet dancer," Vogt says. "The production designer, Nelson Coates, was going to flood the aisles with water, so it was going to be like a lake. So, I thought, 'Well, let's do something that has a little bit of a Swan Lake feel to it.'" The wedding dress is actually a sheer jumpsuit with thousands of Swarovski crystals on it. "Then, the skirt is on top of it," Vogt explains. "It really has a little bit of a dancer feel to it. There is a row of marabou that's dyed to match the dress that's on the first row of the skirt. It goes all the way down into the feet, because she had to [be] barefoot — the floor was too slippery to walk on in heels."
Nick Young (Henry Golding)
When the handsome scion Nick Young graces his Ah Ma's gathering in a white linen suit, his swoon-worthy appearance proves to be instantly iconic. "Oh my gosh," says Vogt. "Everything about him is just perfect. Jon really wanted a Great Gatsby look. He's like, 'I want it to be like Gatsby coming out of the mansion.' So obviously, [we went for] a white linen suit. You can't get more Gatsby than that." Vogt used a tailor shop in Kuala Lumpur called Wardrobe, which has been custom-making clothes since the 1920s. "They custom made three of his suits," she continues. "It was really a beautiful cut. One of my favorite designers for men's suits is Dolce & Gabbana, and I may have given them a Dolce suit to look at. Because Dolce makes very strong shoulders and very small waists, which is what [Golding] looks like. He's got a very athletic build."
Ah Ma (Lisa Lu)
In the role of Ah Ma, the authoritative matriarch of the Young family, Lisa Lu wears a traditional, oriental-patterned jacket to Araminta's wedding. "It is actually from Max Mara of all places. Who knew?" says Vogt. "It was Max Mara in Singapore — it may be something that they just made for the Singapore market. I thought it was so beautiful because it had a modern feel to it. And it also had the Asian embroider, [with] the flower design. It was something she would wear, because she was more traditional than anyone else." To enhance the outfit, an orchid brooch, designed by Michelle Ong from Hong Kong, was pinned on the garment. "[Michelle] lent us that brooch and it was all little diamonds. It was absolutely gorgeous."
Wye Mun Goh (Ken Jeong)
When we first meet Peik Lin's father, Wye Mun, he's wearing a boldly patterned, satiny track suit just as over-the-top as his house. "It is Versace," says Vogt. "We thought that Versace look went [well] with the house and all the gold and pattern. I had a fitting with him, and he is just so much fun. At first I said, 'Well, I wonder. I hope this isn't too broad for him.' But, he was like, 'No, no! This is great! I can work with this!' Luckily, he's a comedian. He has a real sense of humor, so he really enjoyed it."