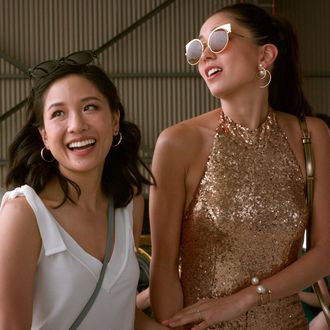 Netflix is truly the crazy rich one.
Photo: Warner Bros. Pictures
When Crazy Rich Asians comes out on August 15, it'll be the first studio film with an all-Westernized Asian cast and creator to hit movie theaters since 1993's Joy Luck Club, but it almost didn't get a major theatrical release. According to The Hollywood Reporter, after Warner Bros. beat out the other studios with a distribution offer in October 2016, Netflix came knocking with its own crazy rich coffers, "dangling complete artistic freedom, a greenlighted trilogy and huge, seven-figure-minimum paydays for each stakeholder, upfront." The book's writer Kevin Kwan and director Jon M. Chu were torn, as anyone might be considering the money at stake, but they knew they wanted to get Asian actors onscreen — on big screens. "Jon and I both felt this sense of purpose," Kwan told THR. "We needed this to be an old-fashioned cinematic experience, not for fans to sit in front of a TV and just press a button."
In an interview with Vulture, Chu said that the Netflix offer helped him and Kwan clarify why they wanted to make the movie in the first place. "If it came down to money, what are we actually trying to do here?" Chu recalled thinking. "Taking it to the theater, it's a symbol that a Hollywood studio system thinks it has value, and we were all in a position in our careers where we didn't need the money anyway." The decision to go with a studio in turn made the two more invested in the film. "It put us emotionally all in and upped the stakes," Chu said. "Without that, we wouldn't be doing this marketing push. It would just be on the front page of Netflix or wherever it could end up."
Fascinatingly, THR reports that Wendi Deng almost made a version of the movie after getting an advance copy of the book from Graydon Carter, though she couldn't make it work amid her divorce from Rupert Murdoch. But now, the movie is solidly at Warner Bros., with its opening weekend grosses tracking to be $20 million. No pressure!
*This post has been updated. Additional reporting by E. Alex Jung.