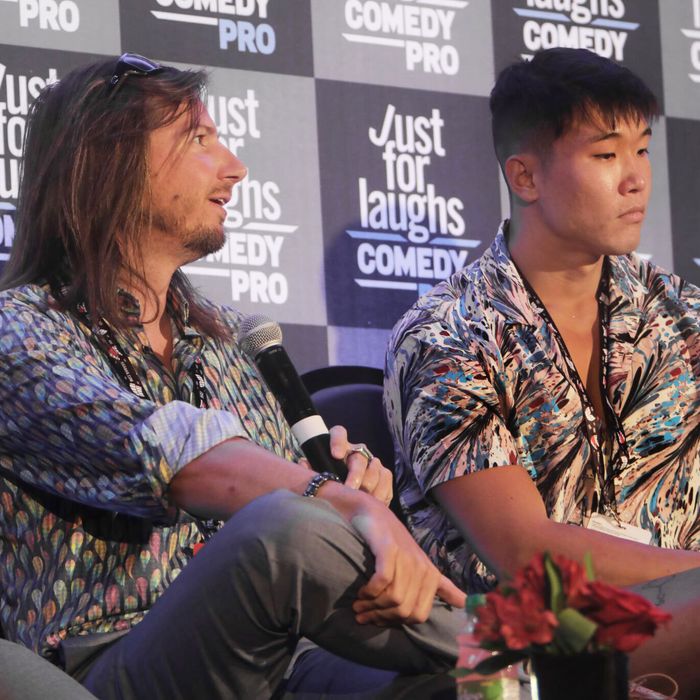 Darren Knight and Joel Kim Booster at Just For Laughs.
Photo: Courtesy of Just For Laughs
Last weekend, at the annual Just for Laughs comedy festival in Montreal, an American comedian created an international incident. Selected for a Variety showcase of Top 10 Comics to Watch, Darren Knight, a.k.a. "Southern Momma," not only insulted his peers, but also the audience, the festival, and comedy in 2018 at large. A social-media comedian with less than two years of experience under his belt but tons of followers online, Knight attempted to dictate what comedy is to a room of professionals passionate about the art form. His performance, during which he declared that "comedy shouldn't be about sexism or race," was met with silence, then boos.
Comedian Chris Redd of Saturday Night Live, who hosted the Variety showcase, later confronted Knight backstage, saying, "You bomb the whole time and then decide what comedy is? … Real comics write real jokes."
To understand Knight's downfall in the world of comedy after his performance at the biggest comedy festival in the world, one must first understand the nature of his success.
Knight, who is from Munford, Alabama, is the self-appointed "fastest rising comedian in American history." While I am not entirely sure of the previous record holder or what governing body is tracking this particular metric, his online personas, most notably Southern Momma, have accumulated over half-a-billion views via multiple social-media platforms. The ability to create an online persona and edit it into footage that has amassed that many views is impressive, but that does not always make it translatable to the stage. Outside of this, Knight achieved regional fame thanks to sold-out live comedy shows like his Southern Momma An Em comedy tour, and as the title of the tour suggests, the use of colloquialisms and southern idiomatic expressions are central to his popularity.
Other than Knight, every other comedian selected for Variety's 10 Comics to Watch in 2018 was either a woman, a person of color, or identified as a member of the LGBTQ+ community. That's an important observation to make, but the actual difference was that each of his stand-up peers had, at the very least, performed a late-night set on television. He was among comedians on Emmy-winning shows, Peabody Award–winning programs, and writers for Saturday Night Live and Netflix.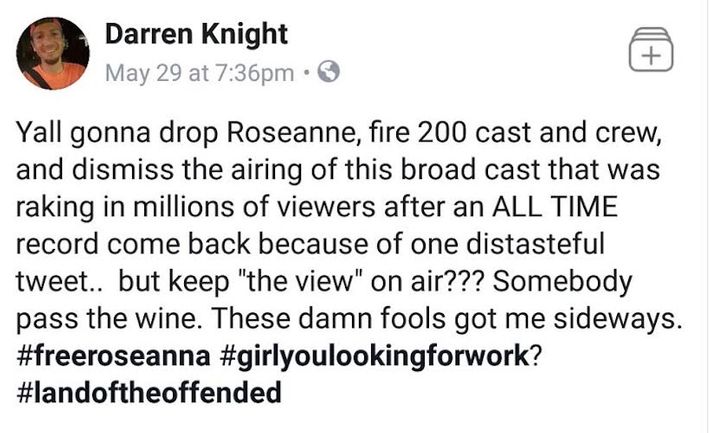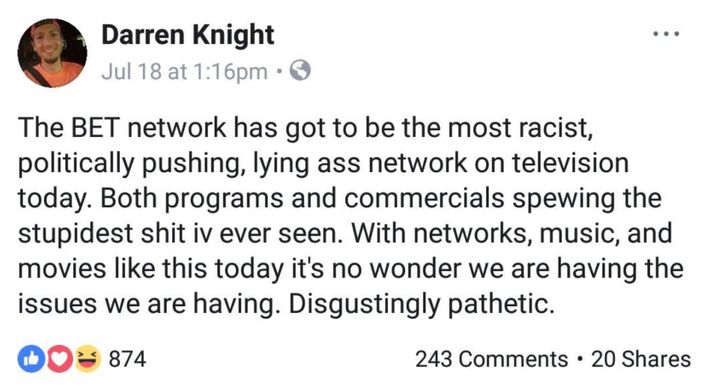 Knight's history of social-media posts criticizing congresswoman Maxine Waters, BET as a television network, and his statements regarding ABC's cancellation of Roseanne are all in line with what you might expect from a conservative "Southern Momma" and what eventually got him booed at the festival. His statements at the Variety 10 Comics to Watch panel were the first sparks that would eventually send his time at JFL up in flames. Knight's peers, a diverse collective of comedic voices (Sam Jay, Joel Kim Booster, Amanda Seales, Taylor Tomlinson, Hari Kondabolu, Dulcé Sloan, Julio Torres, Anna Konkle & Maya Erskine, and Jaboukie Young-White), all seemed to be in stark contrast to what he felt comedy should highlight. According to Seales, he was quoted as saying, "Comedy shouldn't be about attacking racists. That's ostracizing your audience."
That panel was merely the pregame to the main event. At JFL's Variety showcase, Knight opened his set with "To our wives and girlfriends, may they never meet" — a joke most commonly attributed to Groucho Marx — and followed with a wave of scatological humor and his parting advice to the audience that "comedy shouldn't be about sexism or race because that's not what people want to hear." Dulcé Sloan revealed on Twitter that Knight had been "verbally attacking" her and the other comedians all day, including calling Sloan "Precious" as he walked offstage. "That bomb was coated with disrespect," Chris Redd tweeted, "and all of a sudden it was trash day."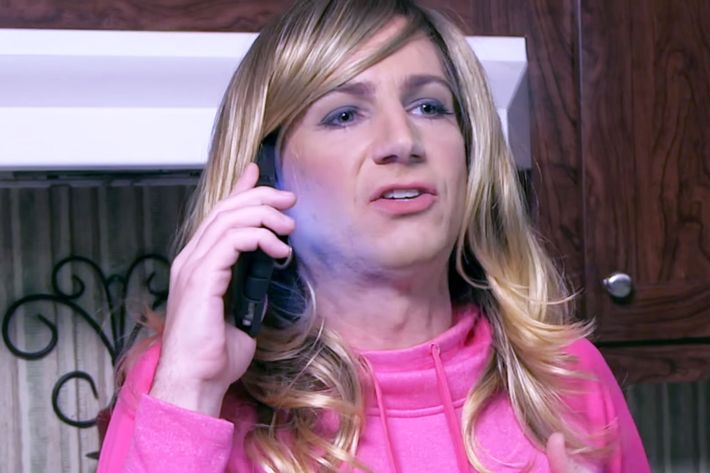 As a southern, queer black comedian, I found Knight's comments both dangerous and wildly hypocritical. His entire career is rooted in a queer, female, and black narrative. His statements attempted to further silence already marginalized voices by saying that "comedy isn't about sexism or race," but what Mayonnaise Madea fails to realize is that his comedy is drag. Full stop. His Southern Momma is explicitly female-impersonation performance art. There are even videos of him performing the character in full drag. So whether or not Knight wants to hear it, his success is queer, or at the very least queer-adjacent. Southern Momma, welcome to the Resistance.
The tradition of domestic comedy, particularly focusing on women and child-rearing, was and still continues to be a huge part of the chitlin' circuit and African-American comedy/urban rooms in general. Southern Momma only exists because of Tyler Perry's Madea character, Rickey Smiley's drag performances, Martin Lawrence, Jamie Foxx, Eddie Murphy, and so on, whether Knight wants to admit that or not. While he definitely won't be invited to any cookouts soon, it would be nice if he acknowledged the history of his preferred comedic avenue. Knight is not alone in his cashing in on Instagram and Facebook drag humor, but he does seem to be the most popular white performer in the medium. Gaslighting performers of color by telling them that comedy shouldn't be about race, only to use tools and tropes established by black comedians in order to gain success, is a level of race-baiting that I had yet to see.
His statements also managed to take the focus away from performers of color, female performers, and queer performers. In a way, this very article and others like it are in no small part a testament to his success in conveying his message. A social-media personality who utters predictable Southern Momma-isms, who started doing comedy in his car two years ago, earned more attention and focus than the talented, diverse, award-winning comics featured on the Variety showcase. Even when a white man fails, his failure seems to suck up all the oxygen in the room, and that is the saddest part of this entire fiasco.