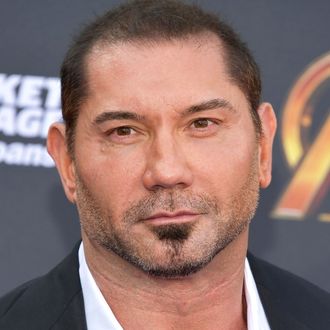 Dave Bautista.
Photo: Neilson Barnard/Getty Images
Dave Bautista is legally obliged to participate in the next Guardians of the Galaxy movie as Drax the Destroyer, but says he will try to get out of that contract if Disney tosses out the script from recently fired director James Gunn. "Where I'm at right now is that if [Marvel] don't use that script, then I'm going to ask them to release me from my contract, cut me out or recast me," Bautista told ShortList in a new interview. "I'd be doing James a disservice if I didn't."
The actor has been one of Gunn's most vocal advocates since Disney dropped him from Guardians Vol. 3 after alt-right trolls resurfaced his old tweets joking about pedophilia. "Nobody's defending his tweets, but this was a smear campaign on a good man," Bautista said to ShortList. "I spoke to Chris Pratt the day after it happened and he's a bit religious so he wanted time to pray and figure it out, but I was more like: f*ck this. This is bullshit. James is one of the kindest, most decent people I've met."
Bautista also tweeted recently that it is "pretty nauseating to work for someone who'd empower a smear campaign by fascists." The cast has signed an open letter asking Disney to reinstate Gunn, but it seems unlikely Disney will change course on the matter.